Asana is being used by project teams all over the world. Project management is a profession that is growing exponentially. Enterprises and organizations have seen the the value it brings to the company and its customers. Unfortunately, not all in the project leadership position are professional project managers, and many find themselves there without applying to the position. Many accidental project managers are overwhelmed by difficult coordination issues and tight deadlines. As a solution, Asana recently announced a new feature called Timeline to help teams see how their work fits together. For a powerful reporting and exporting tool for Asana, give our own tool Bridge24 for Asana a try, or access it in their own Integration page.
Introducing Asana Timeline
Timeline is available to Asana Premium customers. It is the latest tool that enables teams to make the most of their plans, tasks and time. Indeed, creating a plan is the first step to a successful project management, execution and delivery. However, starting from scratch to create makeshift Gantt charts using slides or spreadsheets is time-consuming and ineffective. With the new Timeline, users are able to map out their plans, share them and adjust them as needed. Since it is directly tied to work and details in the PM application, it stays up-to-date whenever they update the work.

Timeline Use Cases
Timeline can be very valuable in several scenarios. For example, teams can use it to create product launch plans. They can easily adjust it as development proceeds, while keeping everyone in the team in sync. Teams can use it to create marketing campaigns. By mapping out how each of the campaign piece fits together, they can feel more confident to be able to launch on time. Also, teams can use it on their event plans to easily spot timing conflicts. Common Sense Media, a non-profit org that helps kids thrive in today's world of media and technology uses Timeline. They are able to visualize their complex plan without additional work. Moreover, the plan stays up-to-date without them having to spend much time whenever something changes.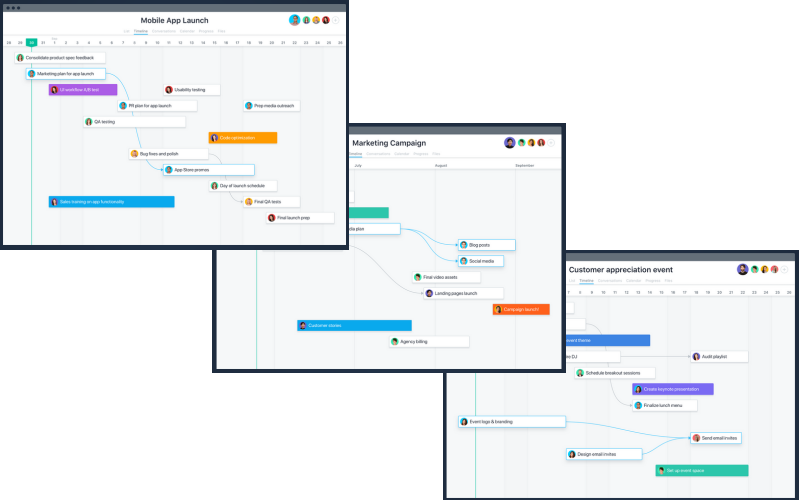 How to use Timeline
With the new Timeline view, Asana users do not need to create project timelines from scratch. Every project comes with a built-in Timeline view. All they have to do to see the project schedule is to click the Timeline tab. Once in this view, users can adjust dates by dragging and dropping the tasks to have the desired schedule. To view unscheduled tasks, they can set date ranges. When the tasks appear, they can drag them into the Timeline to shorten, or lengthen, or move its due date.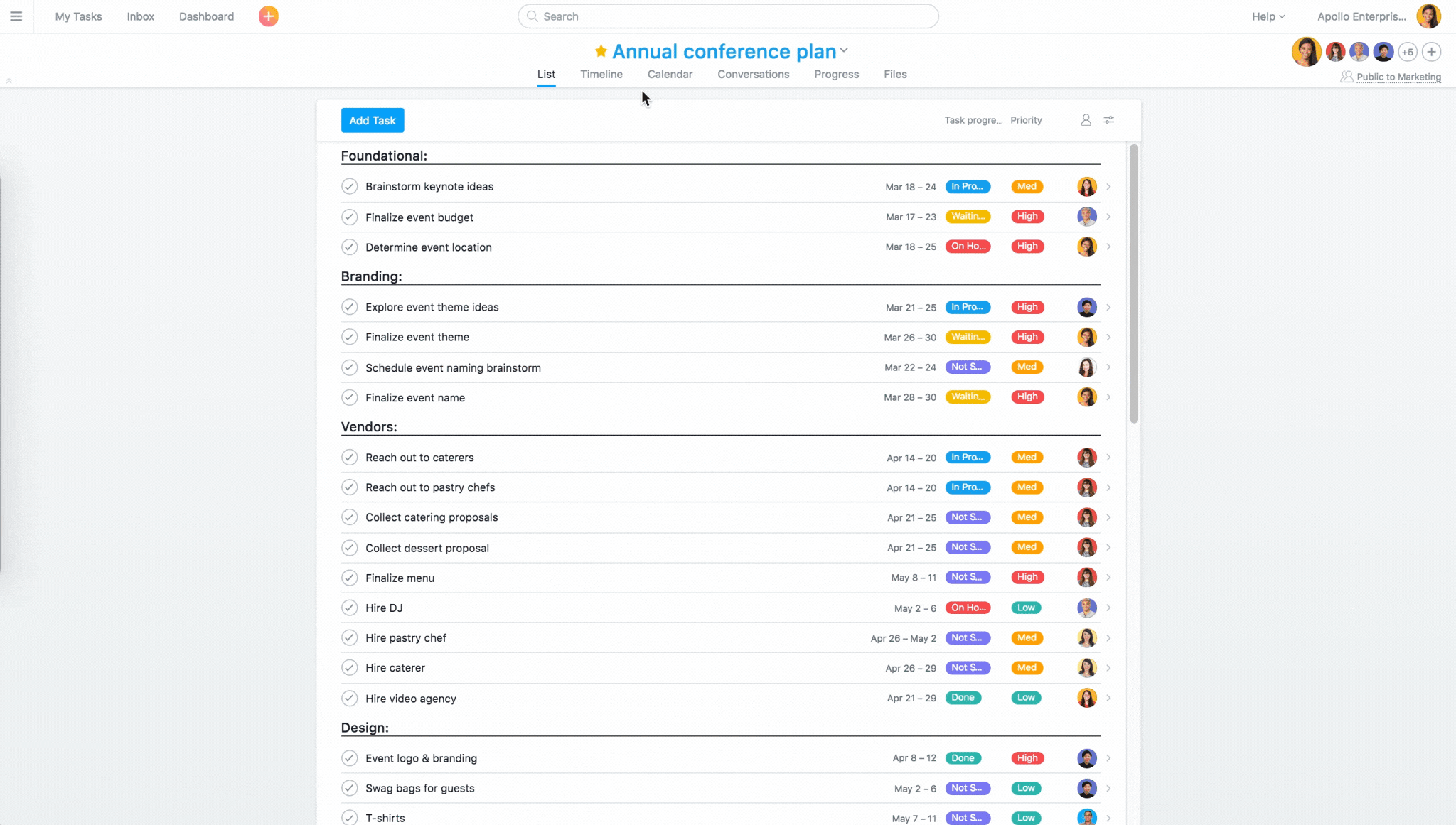 Making project updates
As work proceeds and plans change, users need to make updates which can be done in Timeline. They can select the tasks to change, drag them to push their due dates back or move them forward. Furthermore, when changes create dependency conflicts, users can see them directly and immediately on the Timeline. Thus, they can prevent them even before they start.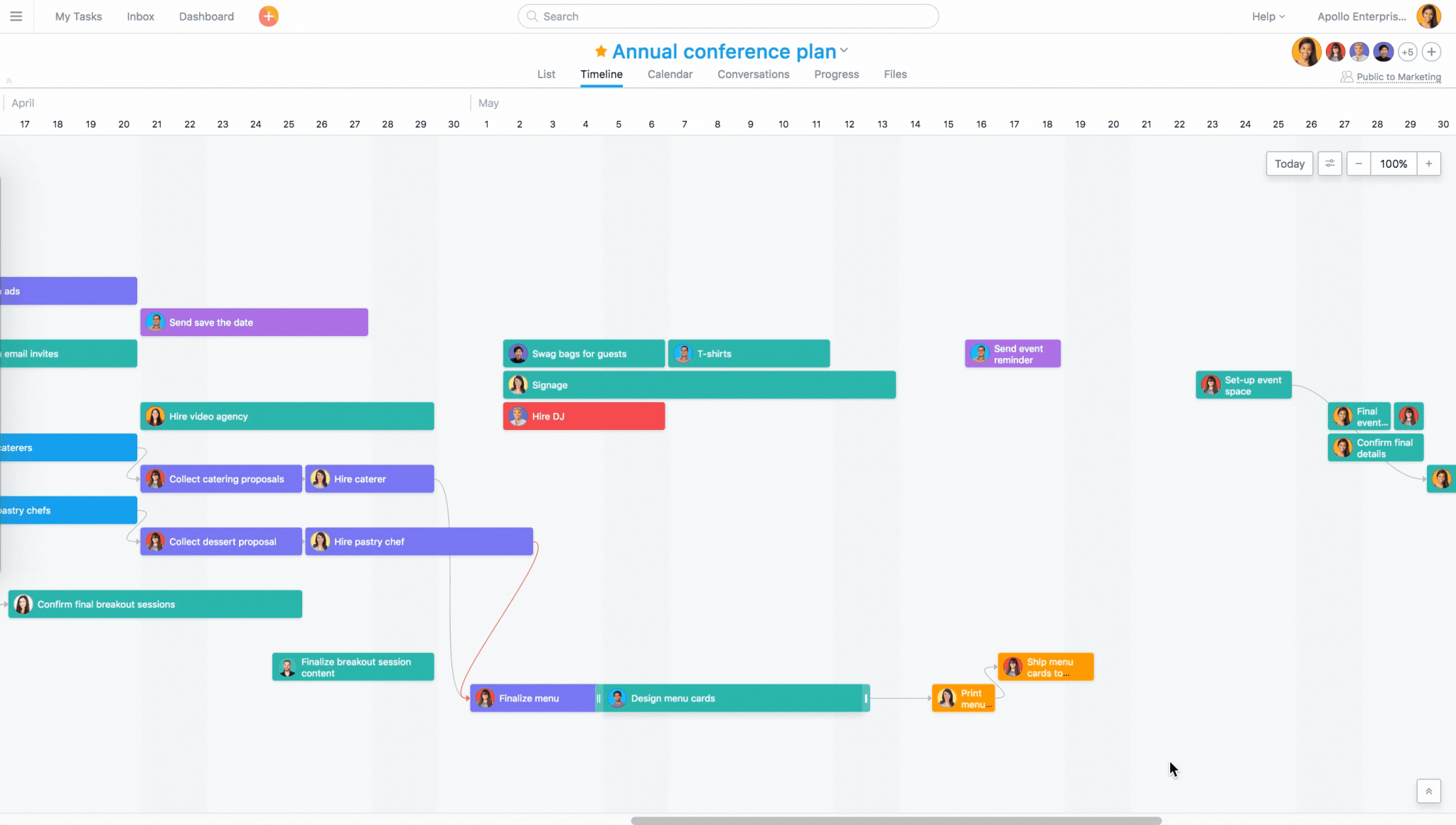 Stay on track, from start to finish
Asana introduced Timeline as the latest but not the last tool to help teams be more effective and productive. Just like The Global Autism Project, a non-profit with partners all over the globe, their team uses this new feature. With it, they are able to map out onboarding plans and set ambitious goals that they know they can actually make happen. Timeline allows teams to visualize how all the work fits together and alert them instantly of conflicts that can affect schedule.
For more information on new features and what more to expect in the future, visit them also on Facebook, Twitter, LinkedIn or YouTube.