Asana makes it easy for teams to track anything in and about their work. It is a collaboration software with beautifully designed features, so teams find it simple to use in just about anything. Last November, they rolled out the new Boards feature which is still in testing today. Users appreciated it very well, therefore, they are rolling out additional features according to the feedback they have received. Today, new Board features will enable people to filter tasks on a board. Also, users now have a quick way to view or hide project descriptions of a board. If you are looking for a powerful extension to Asana, try out our own tool Bridge24 for Asana.
New Board Filters for Tasks
Asana Boards is a great place for users to work together effortlessly. At a glance, the whole team can have an overview of all their tasks in a project. With all tasks on display, both incomplete and completed, they can have an accurate indication of their progress. However, it can also be hard to see through all the tasks, especially in a large project. To solve this, new filters are now available to help teams easily see the tasks or work they need to focus on.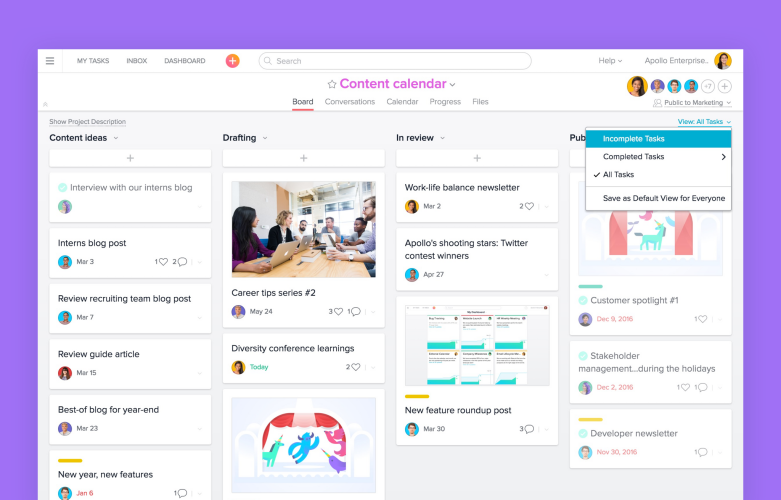 How to filter tasks
To use the different filters, Asana users should go to the top right corner of their boards and click the link View All Tasks. This will then show a drop-down menu. They have the option to filter the board and show only incomplete tasks, completed tasks, or all tasks, meaning both incomplete and completed together. Selecting the Incomplete Tasks filter will display only the work that needs to be done. When marking a task as complete, it will instantly hide it from this view. Selecting the Completed Task filter is a view to show all the work that has been finished in the project. In the View All Tasks display, completed tasks are greyed out to show differentiation.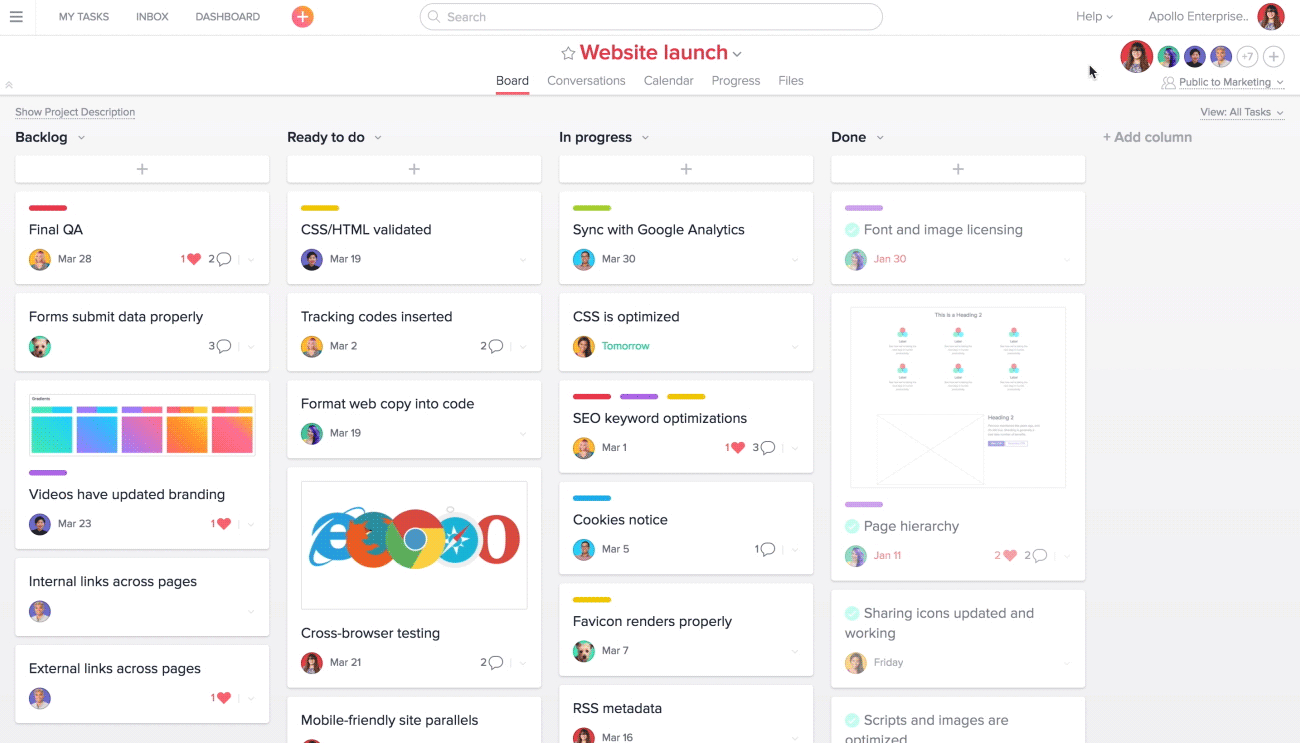 Show/Hide Project Description
Another new Asana Boards feature is the capability to instantly show or hide a project description. When users create a project, they have the option to add a project description. It is where team members can read about goals and overview of the project. In the past, users have to click into project actions, or the downward arrow beside the project name, to see a project's description. Now, users only have to click on the link Show Project Description at the top left corner of the board. This link will toggle between Show and Hide, depending on the selected view.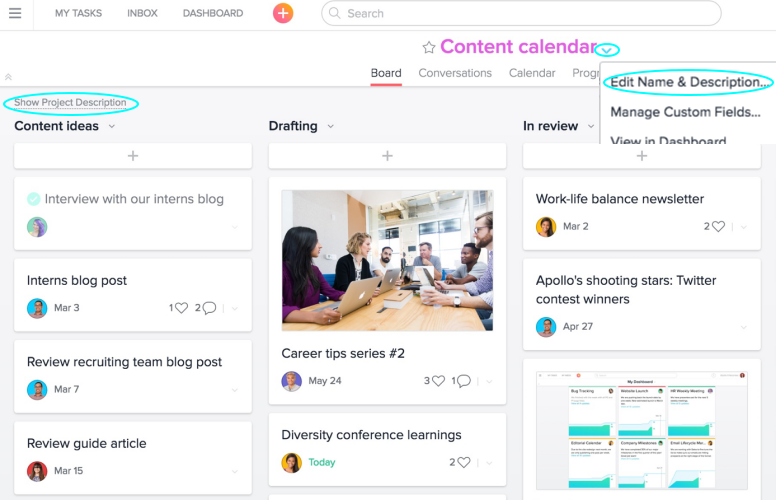 Asana Boards – A Way to Plan, Prioritize and Track Anything
The Boards feature is receiving great feedback and more feature requests from users. Truly, it has provided users another way and perspective on how they want to organize their work and reach their goals. In fact, testing of this feature will conclude in the next few months, at which time all Organizations and Workspaces will have access to Boards. For more information on this new feature and other announcements, visit Asana on Facebook, Twitter, LinkedIn or YouTube.