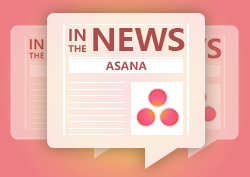 Our goal is to monitor everything in the press about the Asana collaboration tool on a daily basis. Here is a summary of articles found on the Internet about Asana on the 22nd of January, 2018. All the articles below are great articles about how Asana can complement your business needs. You have a link to each article if you want to read it, and also a Twitter link if you want to contact the author for more information.
If you are an Asana user and need a great reporting and exporting tool, we recommend using our own tool Bridge24 for Asana.
---
Why I Use a Printed Notebook for Ideas and Planning
Article Quote: "When it comes to note taking, I started with a spiral notebook back in college, then years later gravitated to a computer. I've used various note apps that evolved early, then tried Evernote, but settled on Apple Notes (It's free, simple and clean.) To-do apps were the same – I tried Wunderlist, Trello, Asana, and plenty of others before I settled on Things."
Original Article
http://www.philcooke.com/why-i-use-a-printed-notebook-for-ideas-and-planning/
Contact the Author via Twitter
---
What Makes a Good Enterprise SEO Strategy in 2018?
Article Quote: "Some of these tools can also help greatly with project management as they either have project management features built in them or they integrated with popular project management tools such as Trello, Asana, Basecamp, Active Collabs, and Jira, which are some of the ones we have used in the past."
Original Article
http://sefati.net/makes-good-enterprise-seo-strategy-infographic/
Contact the Author via Twitter
---
12 Simple Ways to Grow Your Freelance Business through Automation
Article Quote: "For example, when I get the approval from a client for an outline in my Gmail, Zapier then tells Gmail to store the attachment into my Google Drive, create a task for it in Asana, and create a reminder for the deadline in Google Calendar."
Original Article
http://blog.creativelive.com/grow-your-freelance-business-through-automation/
Contact the Author via Twitter
---
13 Time-Saving Solutions For Busy Funeral Directors
Article Quote: "During those busy days when you are out of sync with your colleagues, it is imperative to touch base and make sure everyone is aware of current cases, pending deadlines and upcoming appointments. A simple miscommunication can result in a lot of wasted time that can easily be avoided by making it a habit to stay in contact. Use group text messages or team collaboration apps like Asana Mobile to easily and effectively communicate important information to your team."
Original Article
http://www.myasd.com/blog/13-time-saving-solutions-busy-funeral-directors
Contact the Author via Twitter
---
Eight New Gmail Add-Ons And Features You Need Right Now
Article Quote: "Most people recognize that email (i.e., Gmail) still reigns supreme when it comes to work-related communications, but sadly, it wasn't exactly built to plan, manage and track work. The new Google integration with Asana easily fills this void. – Jeremy Williams, Vyudu"
Original Article
https://www.forbes.com/sites/forbestechcouncil/2018/01/22/eight-new-gmail-add-ons-and-features-you-need-right-now/#58bada098dce
Contact the Author via Twitter
---
One Way to Become a Very Productive Fashion Business Owner
Article Quote: "First, decide where you're going to store your systems:
Google Drive Folder
Dropbox Folder
Printed/Filed
Asana (Or other project management tool)"
Original Article
https://startupfashion.com/one-way-to-become-a-very-productive-fashion-business-owner/
Contact the Author via Twitter
---
5 Tips To Stay Productive While Working From Home
Article Quote: "There are some great tools out there (that are free) to keep teams on track and on time. If your company doesn't have a tool like this (Asana, Teamup, Microsoft Project), outlook or google calendars work just as well. Using these tools will keep everyone on track and you will deliver your project on time."
Original Article
https://www.robinb.style/blogs/news/5-tips-to-stay-productive-while-working-from-home-a-success
Contact the Author via Twitter
---
Startup idea — this is what you can take from your past experience
Article Quote: "Working in startup brings new challenges. The community around startups incentives everybody to use Skype/Slack/Email/PM tools/Google Docs/Asana/Dropbox, sometimes all at once."
Original Article
http://blog.nots.io/blogs/3
Contact the Author via Twitter
---
How to get into an entrepreneurial frame of mind
Article Quote: "Need to communicate with a team or stay organized? Try Slack or Asana. You know your needs! Make sure you have the systems to back them up!"
Original Article
http://millo.co/get-entrepreneurial-frame-mind
Contact the Author via Twitter
---
Essential Project Management Skills for 2018
Article Quote: "As we suggested in the introduction, a present-day project manager needs to first get the hang of the project management software their company is using and then master various other project-vital methodologies. Luckily, most of these platforms are fairly simple to use and master. We are mostly talking about tools such as Microsoft Project or Asana, although there are many other tools that are also in play."
Original Article
http://www.kellynicoleodonnell.com/project-management-skills-2018/
Contact the Author via Twitter