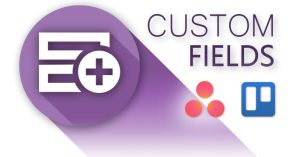 We are pleased to announce the support of custom fields for both Asana and Trello within Bridge24. Asana and Trello released their custom field features a few months ago and support for them instantly became the most requested feature from our users. We decided to implement this feature as fast as we could since we found that supporting custom fields would add amazing possibilities for reporting and exporting.
What are custom fields?
Custom fields provide a way for users to tailor their experience by adding more project fields that can qualify tasks or cards. This opens up many possibilities for workflows. For example, you can now create and use a field containing an accounting ID code, or a drop-down list of values to choose from. This flexibility opens Asana and Trello up to being much more than simple task management solutions.
Asana
Available custom field types:  number, text, drop-down list
Allows an infinite number of custom fields and is […]