Trello is an online project management and work organization software that many individuals, teams and companies rely on. Users access it in several ways: through a web browser, a desktop application, or a mobile app. It supports modern browsers from Google, Mozilla, Microsoft and Apple. The easiest way to access it without downloading any software is through the web. However, in a February 2019 announcement, Trello revealed it will no longer support Microsoft Internet Explorer 11. Furthermore, a followup announcement in March 31 clarified that new versions of Trello will be incompatible with Internet Explorer 11. Luckily, Bridge24 for Trello is compatible with IE11.
The Final IE Version
Microsoft Internet Explorer 11 will be the final version of Microsoft's Internet Explorer browsers. As a component of the Windows OS, it follows the lifecycle policy of the product on which it is installed. Microsoft Edge is now the default browser in the latest Windows operating systems. However, IE11 still accounts for 2.37 percent of the total browser market share, according to a 2019 report.

Impact on Trello Users
Trello's recent announcements impact some of its users on Internet Explorer 11. This can affect users on IE11 in the middle of a project. As a result, they can have issues in how they track, manage or execute their work. Downloading desktop applications may not be allowed for some. Using mobile apps only can be insufficient to manage a project. If users switch to another browser in the middle of a project, they may face unexpected challenges or issues.
A Temporary Solution
As a temporary solution, these affected users can temporarily switch to an older Trello version that is known to be compatible with IE11. However, using IE will allow users to stay for 30 days only on this older Trello version. To make things worse, they will see a nagging banner that will continually remind them that support for IE11 is ending. Extended support for Internet Explorer 11 ends on July 1, 2019, according to the Trello team. They recommend that users upgrade to a compatible browser as soon as possible.

Unfortunately, Trello's temporary solution is temporary and limited. It will not solve the problem of IE11 users in the middle of a project that may continue beyond July 2019. What happens if the project schedule extends up to the end of the year? Their solution will not help users who need the latest version of Trello. What happens to the team's output, productivity, or client engagement if an important latest feature is missing? The temporary solution definitely does not help teams who cannot change or upgrade to another browser because of previously signed agreements or contracts, because of regulations, or dependencies with existing systems.
The Bridge24 Solution
Bridge24 offers a seamless true solution to this Internet Explorer problem of Trello users. First, they can continue using IE11 and also enjoy the latest features and better performance of an up-to-date Trello version. Bridge24 for Trello is fully compatible with IE11 without any glitch or compromise. Therefore, Trello users can continue to access their project boards and experience real-time update with two-way sync between applications. Moreover, aside from experiencing the latest Trello version, users gain access to enhanced reporting and exporting capabilities that only Bridge24 users have.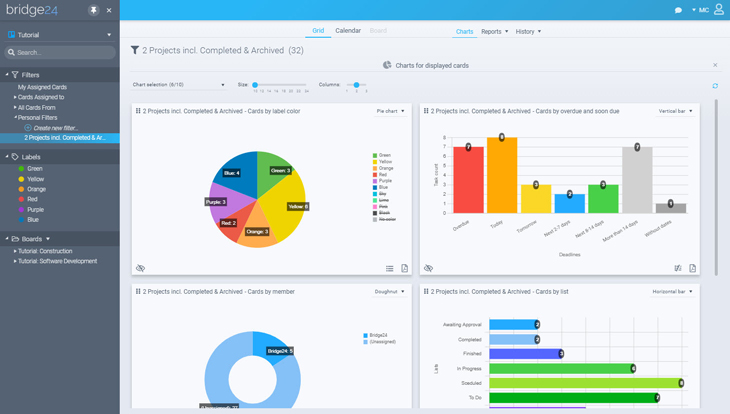 Bridge24 provides users an additional Grid View to filter, sort, group and search cards. Furthermore, they now have access to interactive charts whether using IE11 or some other browser. They can stack charts, use different chart types, drill down on a segment, and then export them to PDF easily. They also have access to predefined reports from filtered cards, use advanced reporting with 2-level grouping, and export these in multiple formats. Trello users on IE11 can also export cards and card history to CSV or Excel formats. Bridge24 supports other major browsers as well, so you can continue to experience the same powerful and easy-to-use features when you decide that the time to upgrade has come. To learn more, visit Bridge24 also on their Facebook, Twitter, or YouTube page.