Trello is an online productivity app that lets users manage projects and organize work in a flexible and visual way. In the first section of this article, we learn about how the team at Bloguettes, a social media training and resource company, is using Trello and loving the way it has made work for them easier. In the second section, marketing director Nina shares how she uses Trello on a weekly schedule. Finally, a before and after app review of the productivity tool is presented by three team members. To know more about their latest posts, follow them on their Twitter account.
Why We Love Trello
Bloguettes is a site/company that helps people develop their personal or their business's online and social media presence. They manage and share a great amount of information such as articles and videos which require organizing and easy collaboration. This first video shows how the different department heads use Trello. Nina at marketing described how the tool helps her create custom schedules, helps her organize with colored labels, and saves time while allowing others to make changes in real time. Amy at graphics shared how it works seamlessly with images since they use Instagram, how it is easy to attach more than one image, drag-and-drop items if changes are required, and put descriptions with any image. Shanna at editorial stated that it is easy for her to write captions because of attached images, as well as keep track of tags and links.
How To Use Trello
In this video, marketing director Nina shows step-by-step how she uses Trello starting from creating a new board. She then creates a weekly schedule using lists to hold activities or cards for each day of the week. As she creates a card for each activity to be done for Monday, she also creates a colored label that correspond to a type of activity. This already helps her organize by easily identifying a specific activity by the color of its label. For example, she knows that a blog post is labeled red and they need to post one every day. She also showed how to edit details for each card, such as an event, place a link at the description, and post a comment for the other members. She then showed how to upload an image from her local computer to Trello that will be used for the event. Finally, she showed how to prioritize cards with drag-and-drop to put one card at the top of the list.
App Review: Trello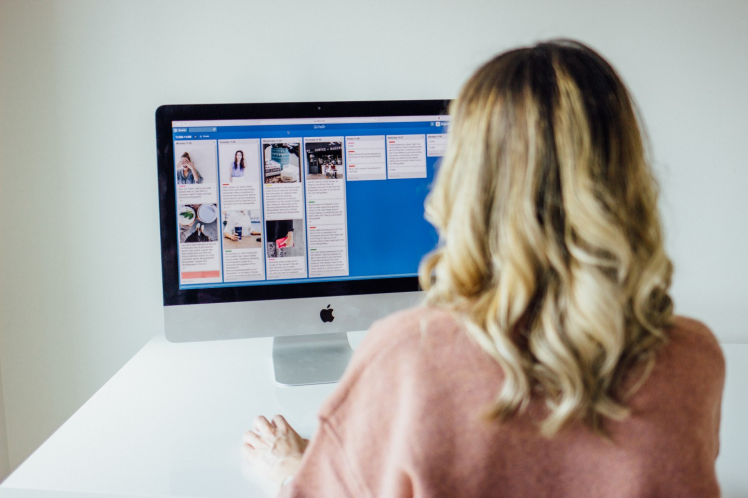 The last article is about how the three members of the Bloguettes team described how they were doing their respective work before and after using Trello. Nina stated that before using Trello, she was using a shared master calendar for scheduling campaigns and notifying the rest of the team for the needed supplemental materials that should go with it. It created a problem for her, especially in finding a central place to host all the materials from different departments. Gabi, who was in charge of photos previously used lists or emails to make sure everything is done on time. Shanna is in charge of putting captions and has to make sure she has one as well as updating Nina's running Google spreadsheet. Trello made it easy for all of them to work with the team and accomplish their work.