Asana provides users several views to help manage their tasks, schedules, and other project information in a more understandable and sensible way. Some of the views are list view, board view, progress view, and even a files view that filters tasks with attachments. Another view available is the Calendar view that shows tasks with due dates in a calendar format. A few days ago, the latest version of this PM app introduces a more powerful calendar that will help show a more accurate view of one's work. For a powerful extension to Asana, give our own tool Bridge24 for Asana a try, or access it on their Integration page.
Enhanced Calendar View
The enhanced Calendar view in Asana lets people visualize when their work is actually happening, and this is in real-time. In truth, schedules change and dates shift all the time, but instead of passing the responsibility to the user to update it in multiple places, the Calendar does it for him or her. Calendar view is now available in both iOS and Android apps. Together with the ability to add Start Dates in Asana Premium account, teams can see when work needs to start, when it is happening, and when due. Simply knowing when a task is due is just not enough.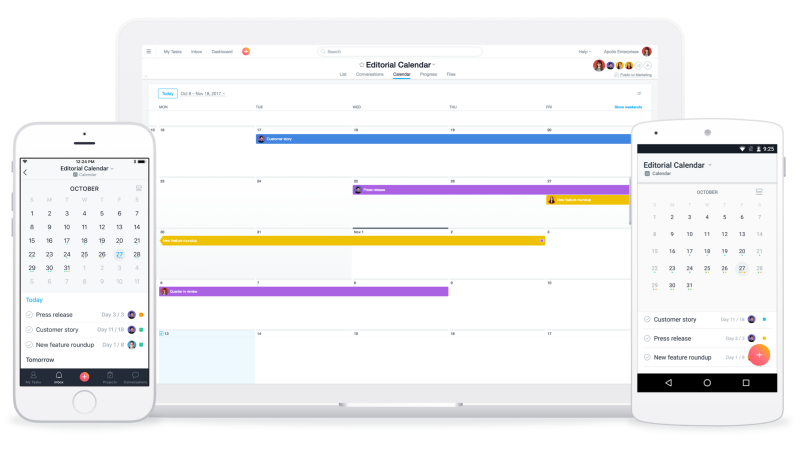 Calendar View on Mobile
The more powerful Calendar view allows users to see any project or items in their My Task in a weekly or monthly view right on their mobile devices. Thus, they are able to make better use of their time. For example, while in between meetings, or waiting in line, they can quickly scan their workload for the next 2 weeks. It is quickly accessible on their mobile device and in their preferred view. Furthermore, the latest enhancement allows them to edit start dates right in the Calendar.
How to View Your Calendar on Mobile
Viewing the Asana Calendar on mobile devices is easy in a few steps. First, they should download the latest version of the PM app for iOS or Android. Next, sign in and open the app. Go to any project or My Tasks. From there, select Task List or Board under the selected project name or My Tasks. Then, select Calendar. The Calendar will default to a month view. However, users can simply click the button on the top right of the Calendar. It will switch to a weekly view, and show more of the scheduled work for the following days.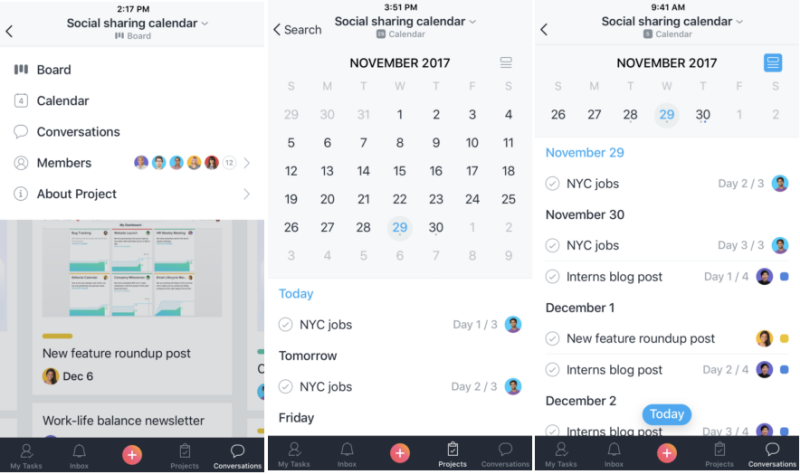 See the Most Up-to-date View
The latest Calendar view in Asana gives the user the most updated information regarding work and schedules of when work is happening. It adjusts automatically to provide an accurate view even when deadline changes. Start Dates also inform people when work needs to start, in addition to when it is due. All these are accessible and available now in one simple view.
Visualize Work, Deliver Projects On-time
Bene Cipolla of Birchbox stated that the Asana Calendar has helped their team visualize their work ahead. Thus, they are able to assess their workload better and deliver projects on time. They are also able to check across the next few months or drill down into the week. With this, they can easily see if they are on track to complete their goals.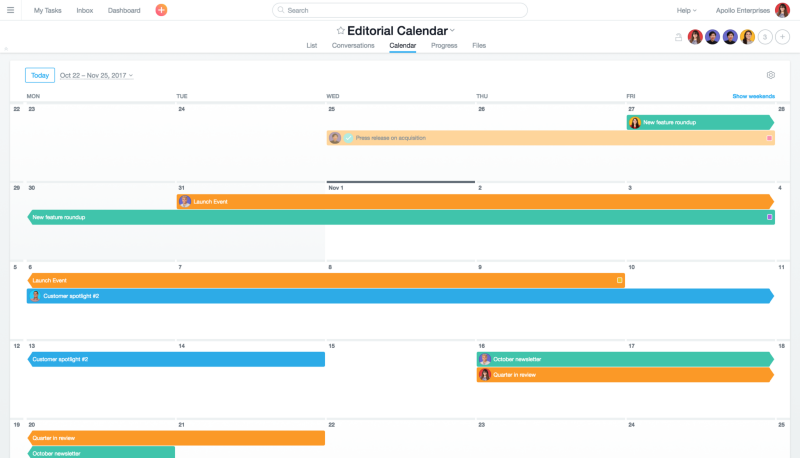 In the near future, users will be able to add start dates directly from mobile. To learn more about this new mobile feature and other announcements, visit also their Facebook, Twitter, LinkedIn or YouTube page.