Power-Up Your Data
Some apps are very simple, yet rigid. They may allow minor flexibility or refinement. With Bridge24 gain greater control of your data to get what you want, when you want it.

Find that Elusive Feature
Have you ever wanted to (fill in the blank) in your task or project management app? Well, Bridge24 may already have what you are looking for. Powerful features to compliment your current system. 

Boost your Productivity
Connect…simple. Access your data without compromising it…simple. Get things done…simple. Increase your productivity with Bridge24…simply awesome.
Dynamic Connectivity
Instantly view and interact with your data between Bridge24 and your PM application. This live connection ensures that you are using the most recent data in your views, reports, and charts within Bridge24.
Also, any actions taken within Bridge24 will instantly be applied in the connected application. It doesn't get any easier to connect and derive more value out of your data.  Begin today!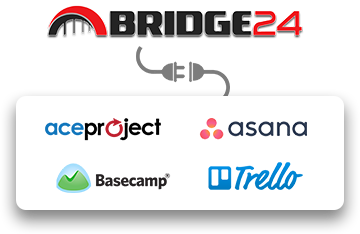 The Story Behind Bridge24
Nowadays, everyone wants a simple, clean application and experience that is not only cost effective but great at doing the daily operational activities. Developers and product managers take out everything but the essential. In doing so they streamline the application, however, they also strip out functionality that you no longer can access. Great care is made to rest true to their principles and pretty much forget about any of your requests ever making it into the application. What is missing? Why not have a suite of addons available to extend this powerful core application? Welcome to our world. Bridge24…delivering you the powerful addons you crave.
Here is a List of the Main Features
One-Click Connection

Search Tasks with Several Criteria

Save & Manage Task Filters
Fully Dynamic Grid Features

Freeze Multiple Columns in the Grid

Sort Tasks on Multiple Columns
Add Single/Multiple Tasks
Didn't Find What you were Looking For?: Give us Feedback
Bridge24 is here to cater to your needs. Make sure you provide us feedback and tell us what is working (and what is not) as well as what you are not able to get done within your existing PM application.  We'll get on it!
Testimonials
"Finally, addons that bring real value to my Basecamp App"
"I have been searching for a simple add-on that makes my life a little easier. Don't get me wrong, I love Basecamp and we are dedicated to it, but when I need to do something a little out of the ordinary I now have Bridge24. These guys really understand my unique data management needs. It extends Basecamp functionality perfectly. Every Basecamp user should be using this!" – Russell S.
a
There are a number of features that are missing in AceProject that I now have access to within Bridge24. Nice work!
One click and all of a sudden I see my data and work with it in a way I never could within Asana. This is so easy and it brings in such rich functionality.
Just the ability to see all of my assigned cards across many boards in one centralized location…Bridge24 is worth it.
Become a Bridge24 User Today!