Bridge24 offers enhanced Reporting and Exporting capabilities for your application
Luke Green

"The filtering and display tools are just so easy! Simple, intuitive, and allowed me to get to the view I needed within minutes!"
Luis HM

"Massive-data oriented, powerful filters. It is the tool for analysis."
Robin Carter

"Totally painless interface with asana, with drag & drop features for reports."
Rinat Nazmutdinov

"I really like the connector. I prefer your view rather than Trello."
Rinat Nazmutdinov
- Trello user
Richard Corbeil

"I found bridge24 by searching for "Trello excel export" after trying some power-ups listed on Trello's website. Bridge24 (power grid) is the best product around to export filtered data to excel; the only one supporting custom fields that I know of."
Richard Corbeil
- Trello user
Justin Ralston

"Been looking for a better query/reporting tool with bi-directional updating for a while that works with Asana. Just logged and all I can say is awesome! Bridge24 is exactly what I have been looking for and is going to help me a lot."
Justin Ralston
- Asana user
Carlos Junior

"To be honest, I think that its better to work in then Trello."
Carlos Junior
- Trello user
Chad Boerboom

"The export module is awesome! Bridge24 is easy to use, and the layout is very intuitive!"
Chad Boerboom
- AceProject user
Jaime Cruz

"The link between Asana & Bridge24, it is just awesome!"
Jeanine Scott

"Bridge24 is a lifesaver! We use Everhour and Asana, and Bridge24 fills in those holes that neither of the other two provide for project management."
Jeanine Scott
- Asana user
Shaifeez Siddik

"Moving a task from one status to another by just drag and drop (using the Kanban view)."
Shaifeez Siddik
- AceProject user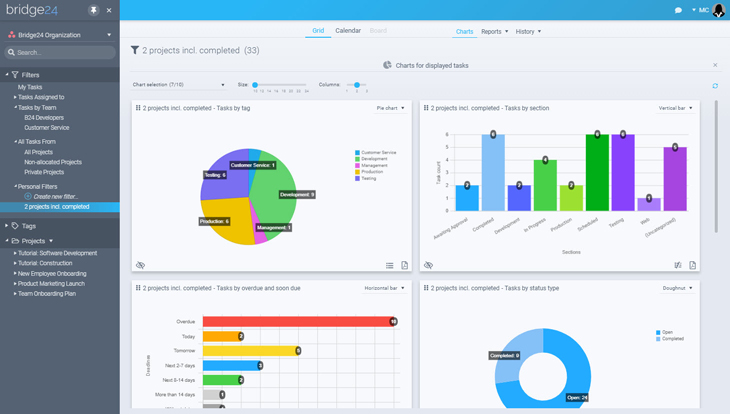 What is Bridge24?
Bridge24 is a complementary power application currently available for Asana, Basecamp, Trello and AceProject. It dynamically connects to your account and provides incredible features to visualize, filter, edit, export and more. Bridge24 is built for project planners and managers, normal day-to-day users and those requiring reporting capabilities for their light project management application. Bridge24 is filling the feature gap.
Is Bridge24 Free?
Yes, when signing up for Bridge24 you are provided a free account that includes all features with some limitations.  Upgrade to the Premium plan to remove these limitations.
How does Bridge24 connect to my Data?
We use the official APIs (Application Programming Interfaces) created by the providers to connect to your account and retrieve/display/update your data. Access rights are maintained with your connection.