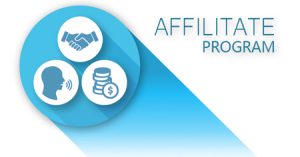 Bridge24 is continually picking up steam, thanks in part to those users that spread the word about our great product! A number of new features have been added to help disseminate information to others including a simple invite and also an Affiliate program. The Affiliate program allows you to collect a 20% commission if users you tell Bridge24 about decide to purchase a Premium subscription through your affiliate link.  
Affiliate Program
Telling your friends or colleagues about Bridge24? Or writing a blog post to provide your readers with information about the features and power of Bridge24? Why not provide them your Bridge24 Affiliate link! You can earn a 20% commission on users that use your link to navigate to the Bridge24 site. It is really easy. Simply sign up for the Affiliate program from the Refer a Friend panel of the Profile area.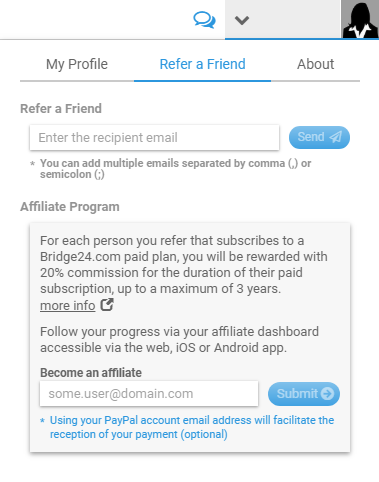 Happy New Year everyone! 2017 went out with a bang, and we are looking forward to a great 2018! Our continued resolution that is always top of mind: Continue to listen to our users and add more value within Bridge24.
A New Website for a New Year!
If you haven't been to the site in awhile, the look and feel has been completely revamped. It has a much more light and airy feel to it and now matches the similar feeling you have from within the Bridge24 application. Messaging is clearer and more straightforward for new users.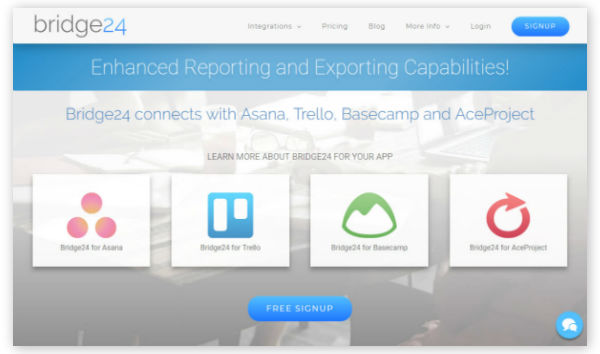 Asana Start Date Support
If you are using an Asana Premium workspace, then you were recently provided with additional functionality allowing the input and use of Start dates in addition to the existing Due dates. The field has been made active within Bridge24! This allows you to access, report and export this field from the grid, board and calendar views.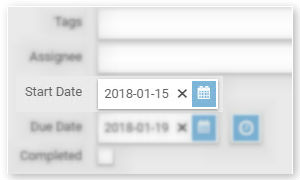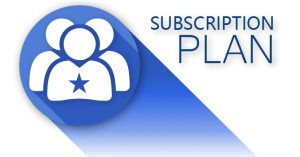 We have been working on refining Bridge24 and adding more features and value over the last year. Bridge24 is now at a stage of maturity moving out of our free beta period towards a new Subscription based model.
Plan Information
After much consultation with our current users, we have introduced 2 available selections opting for a simplified subscription model, a Free and a Premium level: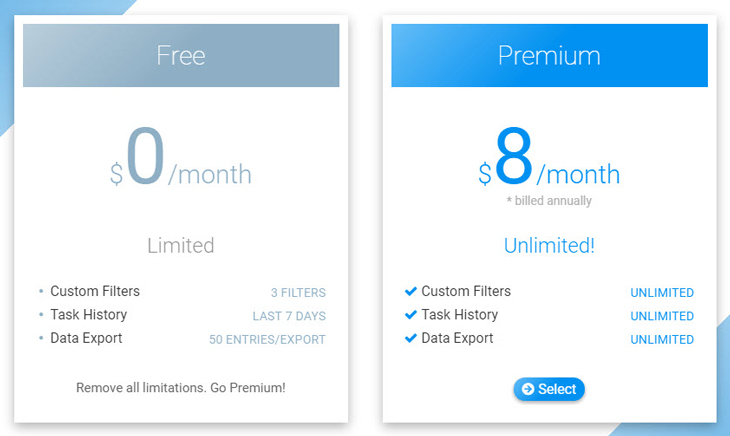 You are automatically subscribed to the free version upon creating your account. You can use the Free version for as long as you would like. You can see from above the reason to upgrade to the Premium level allows the removal of 3 limitations in the Free version, namely:
Custom filter limit set to 3 filters
Task History retrieval set to the last 7 days (other time periods outside of this period are blocked)
Data export limited to 50 entries in the export file
To Upgrade, simply click on the Go Premium button, or unlock icon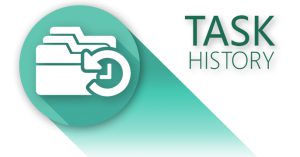 Bridge24 is proud to announce the release of the Task History (Activity Stream) for your connected account. Having access to project and task history of your data can answer many fundamental questions for events and actions that have taken place. The history can be used for your investigation or reporting purposes for Asana, Trello, Basecamp and AceProject. Consult the Asana task story, Basecamp or Trello activity stream history, or AceProject task history, in a convenient and powerful grid view that includes date range, assignment, event filtering and grouping.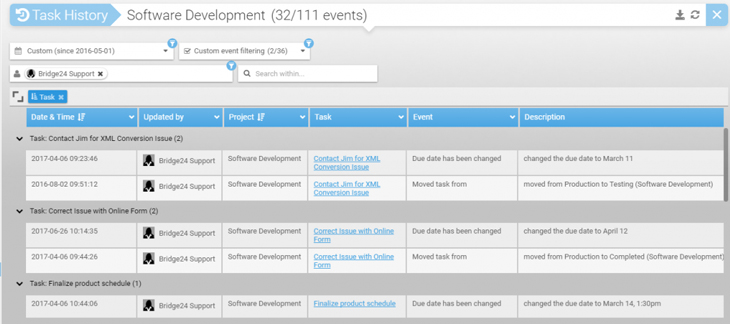 The History is useful for:
Accountability – Did last week's assigned tasks get completed?
Verification – Find all actions taken last Monday to confirm who made the changes and when
Performance – How many tasks were completed last month by each assigned user?
Reporting

Extract a list of all activity in 1 or several projects in a custom date range
What has occurred over the duration of a task?
What was done yesterday […]