A heavily requested feature for Basecamp 3 users of Bridge24, we are excited to provide access to the Gantt Chart view. This view is very flexible in that it can use any date field as a punctual date or as a start and end dates. This allows you, therefore, to view a timeline of any activity in a continuous calendar across all Projects, and dynamically filter as required. Additionally, a new Calendar view is also now available.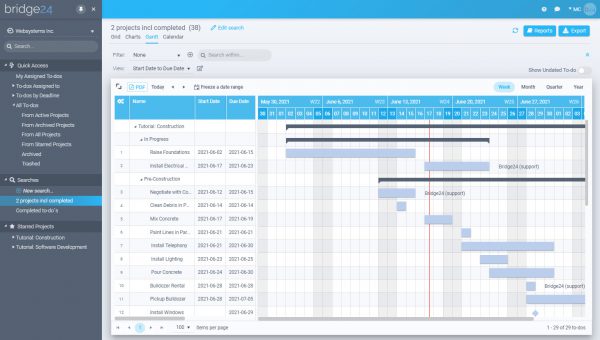 How to use Gantt View
1) Active Search results
The Gant view is based on the Active Search and Filter results currently in the returned selection set. The Gantt view is able to display to-dos across multiple projects. Click on the Gantt view to display the chart.
2) Set Date(s) to use
The traditional use of a Gantt chart is in planning, where the […]