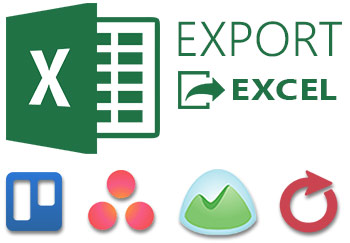 Ever think to yourself that "there must be a better way to get the information I want out of my application?". This month in Bridge24 we are releasing the ability to export your information from your connected AceProject, Asana, Basecamp 3, or Trello application to Excel or CSV.  Many programs do not allow control of the information exported, such as: not exporting comments, a limited quantity of tasks, not exporting subtasks, or only bulk download of all of the data. Bridge24 allows you to filter and visually format your information across all your projects and easily export.
You can now, for example:
Filter one or more projects between certain dates then export
Export a filtered list of your assigned tasks, to-do's or cards
Group by project, by user and more into a coherent and structured list, then export
Show/hide and arrange columns that you want in the export
From the Calendar view, export the items from the current period displayed (Day, Week, Month)
From the Kanban view, export all tasks from a project
A few special features for exporting include:
Attachment or document information, including the URL link address on a supplemental tab
Comments placed on a supplemental tab on each line
Subtasks and checklists placed on a supplemental tab (including multi-level subtasks for Asana)
Optional export to a generic CSV file format
View and export of custom fields from Asana and Trello
To use, simply display the information and columns you wish to export in the Power Grid. You can re-order the columns, show/hide columns, turn on grouping, multiple column sorting, and of course set a custom filter. Then click on the Export icon at the top right of the Grid or Calendar View.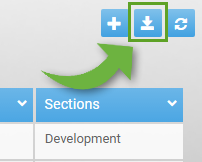 From the Export dialogue choose your settings and click on the Export button.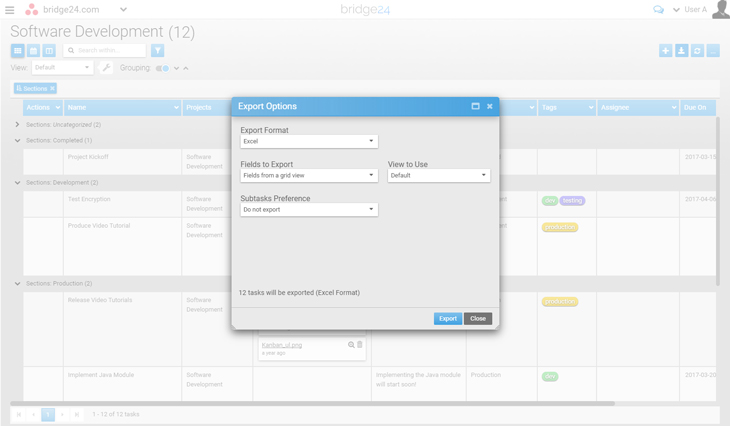 The output for Excel is an .xlsx that can be opened in Excel and ready for further manipulation. The screenshot below shows an Asana export. You can see 4 tabs; one for the main tasks, another for the subtasks, then the comments, and finally the attachments.

Bridge24 Quick Introduction Video
[su_youtube url="https://www.youtube.com/watch?v=_LMuzJ4bW_Y"]