After several requests from our Trello customers, we are pleased to announce that you can now view cards from all your workspaces simultaneously. Previously, you had to select a specific workspace, but now a new option is available to you: "All My Workspaces".
How to display all cards from all workspaces?
On the left-hand side panel, instead of selecting a specific workspace, you can now select "All My Workspaces". The image below shows a search from two boards of two different workspaces. The grid view indicates 105 cards grouped by two workspaces.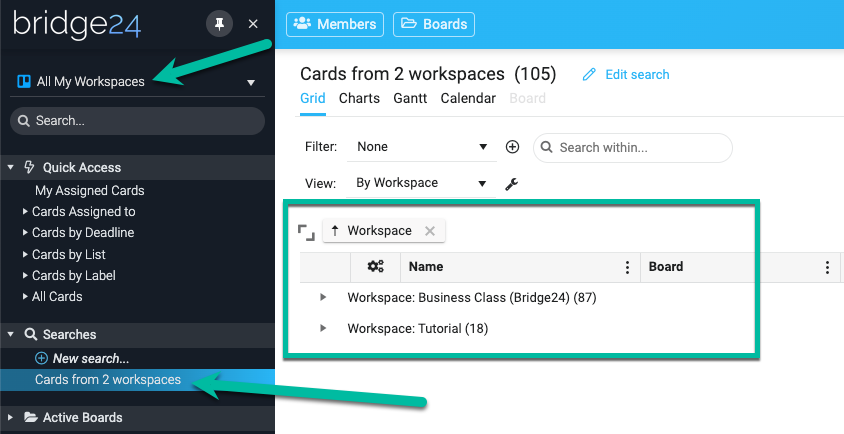 Where can I see my cards by workspace?
Most views can show your cards by workspace.
Grid: The workspace column can be added in the grid view. You can also group by workspace and sort by workspace;
Charts: Create a chart and see your cards by workspace (vertical bar, pie chart, etc.);
Gantt: The workspace column can be added to the Gantt view;
Reports: Generate a task report with the workspace as a column, or group/sort your report by workspace;
Export: You can export your cards to Excel with the workspace column.
Can I create a search to get cards from multiple workspaces?
Let say you have 10 workspaces and you want to search cards from only 2 workspaces, simply create a search (see the image above). By creating a search, you can select boards from different workspaces and get the desired results.
Is there a limitation on this new "All My Workspaces" feature?
The only thing you can't do is to share a search. A search can only be shared to someone when you are on a specific workspace. When you select All My Workspaces, you won't be able to share a search.