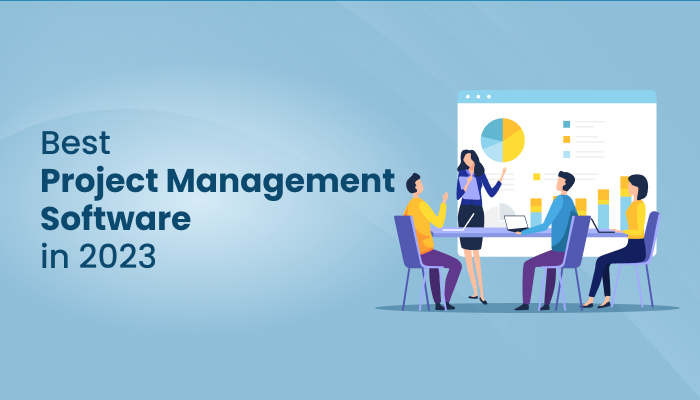 Project Management Software has seen significant evolution over the last ten years. Advancements in technology, cloud computing, and the increasing need for remote and flexible work have all influenced the development of Project Management Software. This has resulted in features such as real-time collaboration, mobile compatibility, more advanced reporting and analytics, and increased user-friendliness.
Additionally, integrating Artificial Intelligence and Machine Learning has become a crucial aspect of modern Project Management Software, providing enhanced productivity, performance, and overall efficiency.
Recommended article: Top 10 Best Project Management Software & Tools
The Top 10 Project Management Software
Project management software commonly includes tasks assignment and tracking, team collaboration and communication tools, scheduling and deadline management, and progress tracking and reporting. Other popular features include resource allocation, budgeting and cost tracking, and document and file management. Some project management software also offers integrations with other tools, such as time-tracking and project accounting software.
1. AceProject

AceProject – Project Management Software is a web-based project management tool designed to handle projects from start to finish. It provides a comprehensive solution for individuals, teams, and enterprises to manage critical workflows and eliminate uncertainties. With the flexibility to suit any project, this online collaboration and time-tracking software can be easily deployed as a software-as-a-service.
AceProject provides various features to manage projects end-to-end. It includes task management, time tracking, resource allocation, Gantt charts, document management, and customizable reports. Enterprises and teams can use this software to streamline project management processes and improve productivity.
AceProject offers a range of flexible packages to suit different needs and budgets. Starting with a free Basic package that includes 3 users, unlimited tasks, 3 projects, and 1 GB of online storage, users can choose from various paid plans, including the Standard, Advanced, Silver, and Gold, starting at $24 per month. Each package accommodates a specific number of users, and the pricing is not based on the number of users. For instance, the Advanced package supports up to 30 users. Upgrading or downgrading to a different plan is possible at any time.
2. Trello

Trello is ideal if you are starting your business or managing projects. It is a simple application with visual boards, columns, and cards based on the kanban system. Working on the click-and-drag interface of Trello is like having an online whiteboard with movable virtual Post-it notes. It is very flexible and will allow you to manage individual projects and ongoing workflows.
Freelancers and small teams can easily get started. Although looking very simple, it can handle task details, file attachments, due dates, checklists, and hyperlinks. Furthermore, the free plan allows you to make use of 1 Power-Up. A Trello Power-Up is integrated with another application but allows you to bring the other app's features inside your board.
The free plan includes unlimited boards, lists, cards, and users, but only 1 Power-up, 10MB file attachment, and simple automation. Paid plans like the Business Class with more features start at $9.99 per user per month on an annual payment. Still, it has limited reporting and exporting capabilities.
3. Basecamp

Basecamp will meet the needs of any business to organize tasks and improve communication. It was one of the pioneers in the online productivity platform when it launched in 1999. With a continued focus on keeping things simple, it now has over 3 million users on its platform. Just on version 3, everything that has been designed and included in the software is to help make it easier for the customer.
Using Basecamp, you will have to-do lists, schedules, document management, charts, reports, notifications, and several ways to communicate and collaborate with your team or clients, all in one application. Use the message board for company-wide communication, Campfire for real-time group chat, Pings for direct messages, and Check-in questions for regular reporting. Having it all centralized in a single workspace makes it easy to search, track, and clarify so that work is more visible and people are more accountable.
4. Wrike

Wrike is an online project management software suitable for small- to medium-sized teams. If you need more than just tracking day-to-day tasks, this software has Gantt charts, dashboards, and built-in reporting tools. With more features, you also need more time to learn how to set the project up and navigate the pages. However, the pages, controls, and menus are visible, and the interface is functional.
Aside from project teams, Wrike is also used by marketing, creative, product development, and professional services teams. It helps simplify project planning, improve visibility, streamline workflow, and centralize communication among the team. Wrike also has a time log view and time tracking features, which are available only on paid Business and Enterprise plans.
The PM tool has a free plan with limited core features for up to 5 users. Paid plans, such as the Professional plan with up to 15 users in sets of 5, start at $9.80 per user per month annually. Relative to the features included, its paid plans are higher than some of its competitors.
The free Personal plan is limited to 3 projects, 20 users, and 1 GB of storage space. The Business plan at $99 per month includes all features and unlimited users. Web, desktop, and mobile versions are available. Due to the same fixed pricing, a bigger team can get more value than a smaller team.
5. Zoho Projects

Zoho Projects is the online project management product of the Zoho suite of applications. It has many features at a very affordable price, giving users greater worth for the money spent. Features include task management, task automation, time tracking, charts and reporting, issues tracking, and social task management. You can easily create tasks, assign them, and track them through completion. Zoho Projects also have milestones, dependencies, a Kanban board view, and a Calendar view.
From simple projects to more complex ones, it has a Gantt chart, resource utilization, and even integration with Analytics. You can integrate it easily into dozens of other Zoho and third-party apps. If you need issue tracking and workflow features, these are built-in, along with automation and further customization of features.
Pricing depends on the number of users, so you pay only with what you need but can easily scale. With the higher plans come additional features. A 10-day trial period and a free but limited plan for up to 5 users are offered.
6. Liquid Planner
Liquid Planner is a smart and exemplary project management tool for teams and companies looking for the most integrated features. Aside from traditional project management functionality, it incorporates smart scheduling that helps deal with constant project updates and changes. Consequently, when schedule changes, resources are affected, and you get resource management features that accurately show the current workload and risks of missing deadlines.
Liquid Planner promotes cross-project visibility with its dashboards and card view. So, users gain instant insight regarding project progress, risks, and budgets. It is collaboration-ready with at-mentions and hashtags alongside tasks and projects for proper context. Other features include integrated time and budget tracking and advanced analytics for building reports.
It does not offer any free plan, and paid plans start at $45 per month per user on an annual contract. With more integrated features, it is more complex to learn as well. That is why it includes onboarding packages with its paid plans. The software as a whole is ideal for large organizations that manage multiple projects.
7. Teamwork Projects

Teamwork Projects is an optimal tool for teams looking for a simple platform with powerful capabilities. It promotes simplicity by reducing the complexity of collaboration. You can easily see what everyone is working on, who they are working with, and what comes next. You don't have to review lists and charts to know these important things.
Teamwork Projects lets you plan tasks, subtasks, and milestones with a Gantt chart or in-list view. Choose from task list templates to start quickly. It has a built-in massage function, which lets people follow task progress or share content with notebooks. Use a board view to visualize task flow, track time, organize everything with tags, bill clients with invoicing tools, and get high-level or detailed reports.
It offers a free plan with basic PM functionality for up to 5 users. Paid plans start at $9 per user per month annually, with a minimum of 5 users. It includes most features and integration with many popular apps.
8. Microsoft Project

Unsurprisingly, this list includes Microsoft Project, especially if you are looking for PM software for big projects. The software has been around for decades and has been the de facto standard for planning projects in the past for many companies. In its present version, it looks similar to other Office apps. Still, because of the depth of its features with limited tutorials, it remains a favorite only of seasoned project managers.
Microsoft Project has task management, portfolio management, and resource management tools. It has built-in templates, project planning, multiple timelines, a roadmap view, and ready-made reports. You can use it to evaluate project proposals, model different portfolio scenarios, and share reports. It also has tools for resource requests, heat maps, and resource analytics for monitoring purposes.
It offers cloud-based solutions, which start at $7 per user per month on an annual contract, and on-premise solutions, beginning at $620 for a desktop application. Microsoft-centric organizations gain more value, as integration with other non-MS apps is limited.
Conclusion
Project Management Software enabled teams and organizations to increase the rate of successful project delivery and help form the modern workplace. It is now easier to work with team members wherever they are, and people are most productive at the time. This list is a starting point, as many choices are available. Look for more options that offer a free trial to understand better if the tool is the right fit.