Trello is an online tool that lets users organize their projects into visual boards, lists, and cards. The application is a great help not only to individual collaborators, but also to teams of different sizes. The free version is used by a wide range of users, such as freelancers offering professional services, educators teaching a class, or a family member planning a vacation. Paid versions, such as Business Class and Enterprise are available for teams and comes with additional features. If you are looking for a great reporting and exporting tool for Trello, we suggest trying out our own tool Bridge24 for Trello.
Trello Business Class
Trello Business Class is a shared space for teams. They can collaborate, communicate, and share information more securely due to its additional privacy controls and other administrative tools. It is ideal for businesses that want greater control of their boards and data. Users are able to view team activity across boards. Individual team members are able to make use of the same powerful centralized Trello platform, but also get the additional benefits of an upgrade equivalent to Trello Gold. Rather than upgrading one user at a time to get additional features, Business Class allows the upgrade of the entire team while providing business-grade administrative permissions and security for them.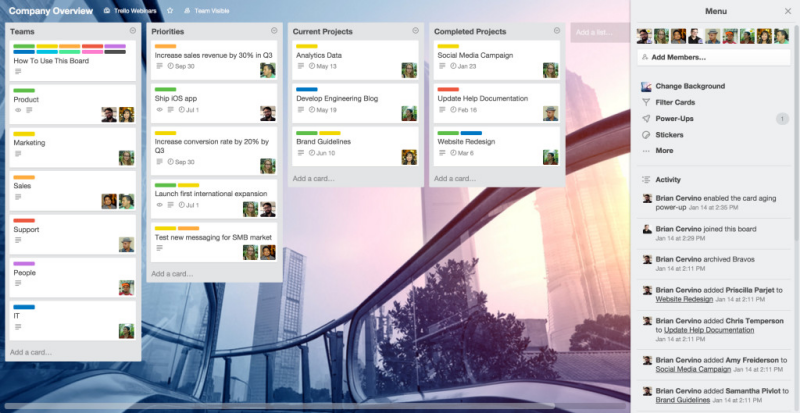 Business Class Features – Unlimited Power-Ups
Power-Ups extends the power of Trello by bringing integrations into users' boards. With the free version, only one Power-Up is allowed. Upgrading to Trello Gold enables an individual to activate up to 3 Power-Ups. With Business Class, team members have access to unlimited Power-Ups they can enable. Thus, teams become more equipped to solve their unique business needs with the right integrations and features. Using just one platform, teams do not have to open multiple programs and jump back and forth between apps. Moreover, they can customize their boards to use just the right applications and functionality for particular projects.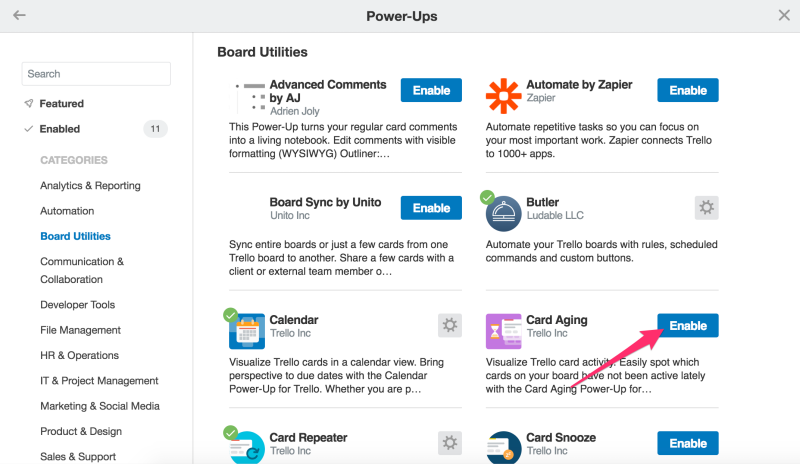 Teams Boards Page
Trello Business Class includes unlimited Team Boards, or boards that are available to all team members. As teams get larger, the number of boards that need to be managed also gets bigger. With Business Class, there is no limit to how many team boards can be opened. Also, the Team Overview page shows the user his or her team's boards, members, and settings.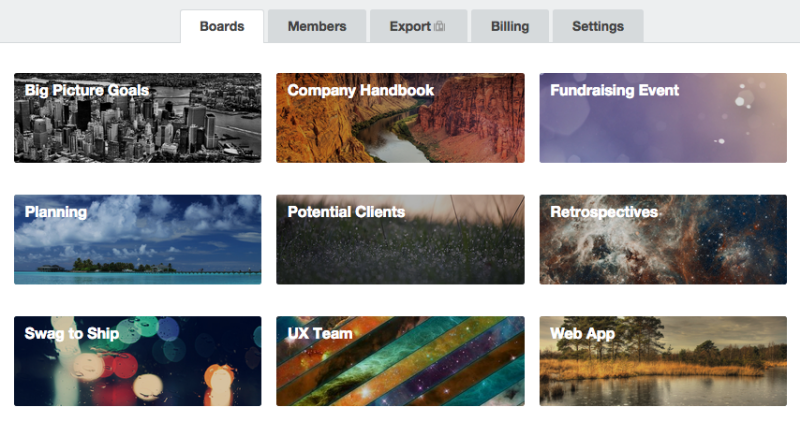 One way to manage team boards better is through Collections. Collections feature is an easy way to group boards together in meaningful categories. They are completely customizable, can be filtered, and teams can create as many as they want. The board tiles display key details, such as when the board was last active, the number of members on the board, and the number of times it was starred. Users can sort team board tiles in these various ways.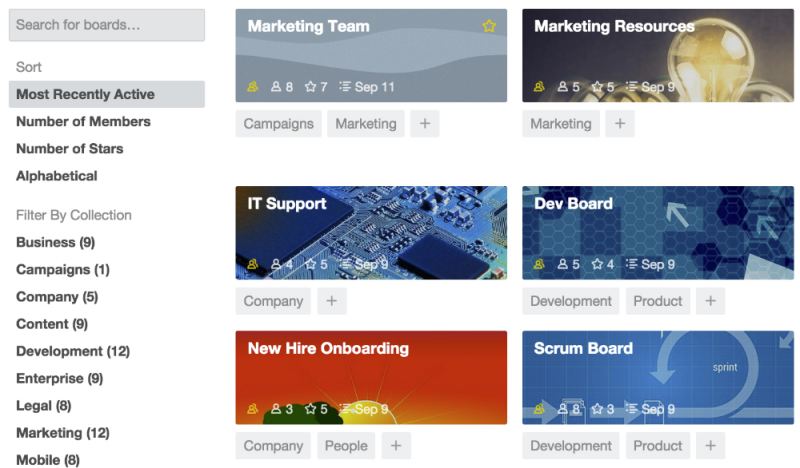 Security and Admin Tools
Trello Business Class offers additional administrative features to keep business data safe and secure. For example, team membership restrictions limit membership in the team to only people with the right domain and email address. Next, board creation restrictions set the permissions for who can create public boards, team visible boards, and private boards. This makes sure that an internal board does not become publicly viewable by accident.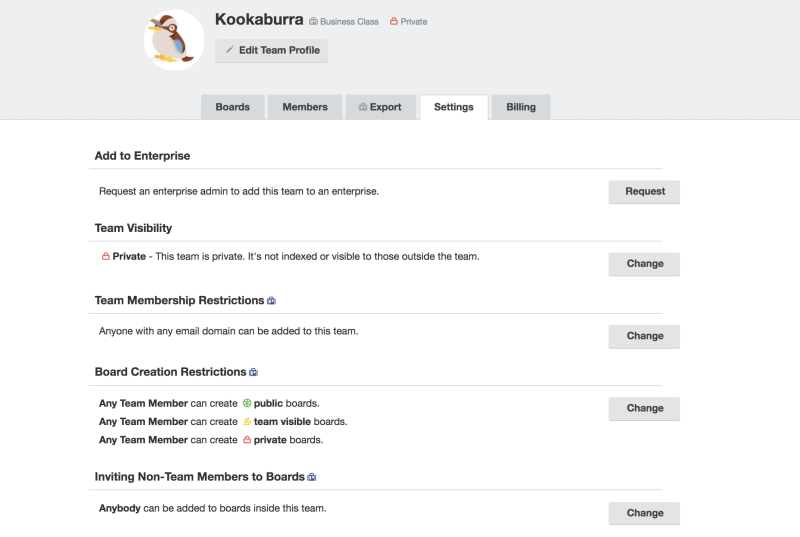 Also, users can choose to allow the addition of anyone to team boards, whether or not they are a member of the team. The opposite setting is to allow only team members. Team admins have additional options in managing members. Aside from removing a member from all boards, they can also deactivate former team members without losing any history of their work. Deactivating removes the user's access from the team and its boards, but admins can still see the cards they were working on. Thus, they can re-assign them easily to others.
Simple Export
Trello Business Class offers a quick way to export all data simultaneously from where all boards are in one place. The Bulk Data Export feature exports the team's data all at once in JSON or CSV format. Users can then import these to a spreadsheet. All the cards' attachments will also be saved in their native file format, organized in folders by board. Additionally, users will have a history of any past exports available for easy access.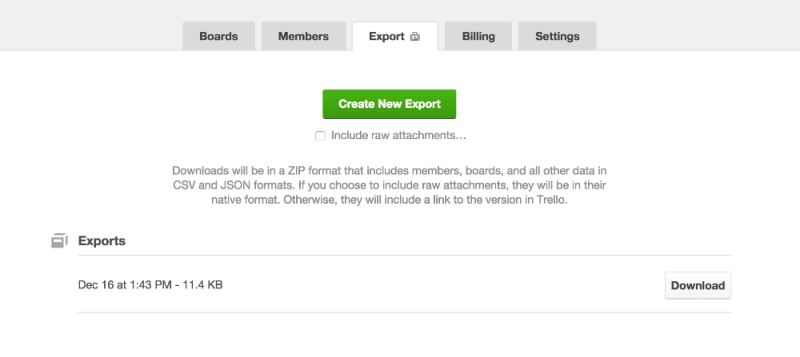 Other features
Another feature available in Business Class is to add Observers to team boards. An observer only has read-only or comment-only access to a board, so they can see content but not edit it. This feature allows the sharing of information, for example, to clients and vendors, restrict their access to viewing only, without having to make the entire board public. Every team member also has equivalent Trello Gold features and more that include:
a higher 250MB per file attachment limit
custom backgrounds
stickers
emojis
saved search
advanced automation features by Butler
2 factor authentication
Google Apps sign-on, and more!
Business Class Pricing
Trello Business Class costs $9.99 per user per month on an annual billing, or $12.50 per month on a monthly billing. All users in this plan will have priority email support with one business day turn-around time or less. A 90-day no-questions-asked money-back guarantee is also available.

Online Team Software for Today's Business
Some of the companies that use Trello Business Class are Red Hat, Fender, Adobe, Google, Kickstarter, British Red Cross, and National Geographic. Steven Buckley of BurgerFi described Trello Business Class as an amazing tool for collaboration across departments. Andreas Slogar of DB Systel GmbH described it as simple, intuitive, and fits in perfectly with the company's agile way of working. To learn more about the different features, plans, and other product announcements, follow Trello also on Facebook, Twitter, Pinterest or LinkedIn.