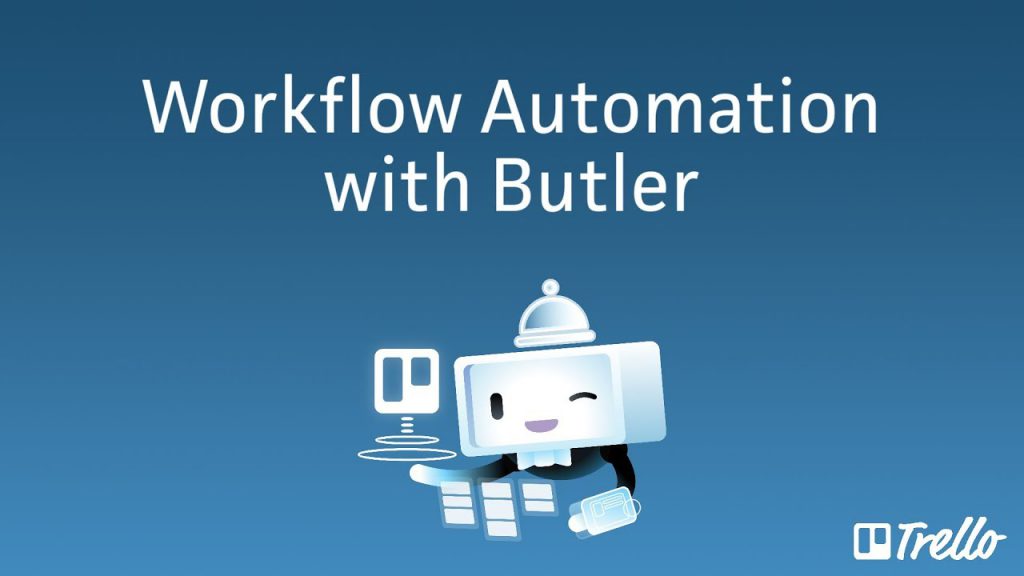 Trello users no longer have to deal with tedious clicks, and endless card drags when trying to bring order to their boards. Thanks to Trello's adoption of the Butler automation suite, users can now make board and card actions happen automatically. Butler is now a part of Trello's core features, and it's helping teams to ramp up their productivity by allowing them to build a seamless process for any workflow.
Trello is a web-based project management application that is simple on the surface. It's easy to learn and use, very adaptable, and features powerful capabilities that can be used in an infinite number of ways, whether for business or personal tasks. Trello can also be enhanced by connecting it to other tools. One such tool is Bridge24 for Trello, which offers a global overview of all your projects while allowing you to easily export and view the information you want in a more interactive way.
About Butler
Butler works like an assistant on your board. It reacts to the instructions you give it effortlessly. If you have any process that you had to do repeatedly, Butler allows you to do it without even having to click a button. It lets users build rules, buttons, and scheduled commands that can trigger different actions on their Trello boards. The good thing is that you don't need any special coding skills to create Butler commands. Just open Buttler's command window and set what you want it to do.
Butler is readily available for all Trello users, including those who hold a free account. You can also get more advanced automation features by upgrading to Business Class or Enterprise plan. To start using Butler's automation powers, click its icon at the top of your Trello board or in the board menu. Below are some of the ways you can use Butler's capabilities to automate your board.
Set the Rules
In Butler, you can create rules that will automatically react to actions you and your team members take on the board. For instance, after completing a project and you move a card to the 'Done' list, Butler can help you mark all the remaining checklists in the card as done, mark the due date complete, and remove all members from the card, without you having to lift a finger.
Creating a rule with Butler is super simple. All you need to do is to fill in the fields for what you'd like to occur when a particular action is triggered. In the example above, moving a card to the 'Done' list will trigger three automatic actions: the marking of the checklist, the labeling of the due date as complete, and the removal of team members from the card.
Users can create a trigger for actions like:
When a card is added or moved
A member is added to a card
When custom field data is updated
Card descriptions are updated
Attachments and labels are added to cards, and so much more.
When a trigger is set off, it can activate actions like:
Moving or copying cards
Adding or removing attachments and labels
Setting or adjusting due dates.
Renaming cards or including comments
Adding or removing members from a card, and so much more
Create Buttons to Accomplish Work Faster
Butler allows users to create buttons that can be clicked to trigger multiple actions in the card and board level. For example, at the card level, you can set a button that, when clicked, will move the card to a particular list, assign it a due date for three days in the future, invite a board member and add a label. You can have a button that will move overdue cards to a given list and filter them by label at the board level.
To set up a button, first, confirm whether you want a card or board button, and name it. Then add the actions you want to happen when the button is executed by filling in the details. You can create card button actions that can do any or all of the following:
Move or archive a card
Add/remove due dates and labels
Label all due dates 'done'
Rename cards, add comments and update card descriptions
Add, check, uncheck and reset checklists
Add or remove members
Board button actions can include
Setting up cards with descriptions in particular lists
Making, arranging, and archiving lists
Moving and archiving a list's cards
Filtering a list's cards by name, date, time on list, votes, labels, and custom fields
Make Time Work for You
Users who have Trello Gold, Business Class, and Enterprise accounts can enjoy more of Butler's automation feature, and use them to bring order to their boards and lists. With any of these Trello accounts, you can program Butler to run commands according to your schedule. You can create commands based on a card's due date or calendar date. Callendar commands can be set to execute at a specified time of the day, week, month, or year. For example, if you usually take on a new project each week, you can set a calendar command that:
Runs every Monday at 9:30 in the morning
Archives all cards in last week's list
Moves the cards from the 'Next Week' list to the 'This Week' list
Due date commands can be made to run when a card's due date draws closer when the due date arrives, or at a specified time after the due date passes. These commands can help a team easily spot incomplete cards before they are due. You can set a due date command that triggers the following actions when an unfinished card is overdue:
Place the undone card on the top of the list
Put a red label on the card
Notify the team through a comment on the card
Conclusion
Butler is an excellent tool that helps Trello users get the most out of their platform. It allows individuals and teams to handle repetitive work in their boards and cards simply and efficiently. It can also scan your board and recommend the buttons that you should create to make your life easier. With Butler, your team will finally focus on the work that matters. Of course, with teams focusing more on efficient workflows and productivity, working with tools that improve Trello's capabilities is always a big plus.
Bridge24 for Trello is the professional reporting and exporting tool of choice for users looking to get a new perspective on Trello tasks. It enables users to rapidly view, filter, sort, and group tasks across all Trello projects and export tasks in convenient formats like Excel and CSV.