A business is nothing without a skilled and motivated workforce. It is vital to recruit the best people and train them properly. Small businesses and startups often struggle to onboard new employees effectively without productivity suffering as a result.
Creating an onboarding standard operating procedure (SOP) will ease your new hires into their roles while lessening the load on your existing staff. Here's a tried and tested strategy that will help your workforce grow without negatively impacting operations.
Why do you need an SOP?
The first things a new hire needs to know are what their role is, how they will fulfill it, and where they will fit into the organizational chart. Providing that information will always take time. That's a given.
Yet, the more time you spend onboarding a person, the less time you spend delivering on tasks that will help grow the company. Ideally, you want to minimize the amount of time you spend onboarding employees while providing them with the maximum amount of information so they can do their job independently.
An effective onboarding process will help you achieve this objective. In the remainder of this guide, we'll cover how to create effective onboarding SOP for your organization using project management tools like Trello.
How do you create onboarding SOP?
The first step is to define your new hire's role. I suggest breaking down the role into tasks. You then need to outline how the person will complete these tasks. To stick with the previous example, a graphic designer might need:
A list of branding guidelines (color schemes, logos, etc.)
Instructions for using the task management system, such as Asana or Trello.
Login credentials to your stock image library.
Credentials for Adobe Creative Cloud.
Access to project management tools.
Along with role-specific requirements, list the tools every employee uses, such as time clocks, cloud storage or file sharing apps, the HR and payroll system, or a password management tool.
You need to create a place where you can share this information. For example, if you were hiring a writer, you might provide a style guide and a guide to using your content management system.
Your onboarding guide should also have an FAQ section, which includes pertinent information such as the names and contact details of HR and payroll, the process for booking PTO, and where to order office supplies.
You can create different boards for these areas of your business.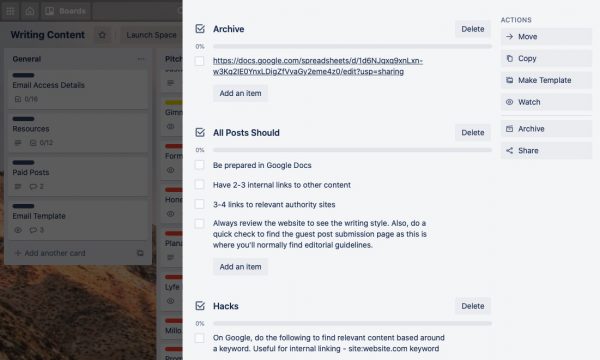 Creating these standardized onboarding documents and processes using a content management system will help your new employees settle in and get to work more quickly. If an employee knows what to expect and what is expected of them, they'll be able to get up to speed and be productive straight away.
Your onboarding knowledge base isn't set in stone, of course. Things change all the time. You'll need to update it as your company grows and expands.
Choose your recruitment channels and standardize your job descriptions
Now that you have an onboarding SOP in place, you can start the recruitment process. It's crucial to be intentional and strategic about where – and how – you advertise for your new hire.
LinkedIn is a great place to start. Not only can you post the job opening, but you can peruse the profiles of people in your industry and personally invite qualified candidates to apply. Who knows – someone in your network might know the perfect person! You might also wish to use industry-specific jobs boards.
As part of standardizing your onboarding process, you should create a standardized format for job ads to ensure they contain all the critical information, including working hours, place of work, salary, main tasks, and benefits. When describing a role, be as specific as possible.
It's easier to attract and filter suitable candidates with thorough and robust job descriptions. And it is easier to create those compelling job descriptions when you have a standardized format for them.
Standardize your screening process to hire the best candidate
Once your applications have come in, it's time to narrow down your candidate pool, create a shortlist, and hold interviews. Shortlisting applicants can be a time-consuming and challenging process, so standardizing it as much as possible will save you time.
Each role will have slightly different requirements, of course, but a system will help you to hire the best person for the job. I recommend you first set the candidates a test. This will help you shortlist people based on their performance.
The second stage of recruitment can involve a simple scoring system, using their resume and cover letter to assess how well they meet each requirement on a checklist. Your checklist might include prior experience, length of time spent at previous jobs, promotions received, or references from a previous manager. This will help you pick the best person based on how they performed on the test and their professional work experience.
Once you've put together a shortlist of candidates who meet your criteria, it's time to interview. We won't dive deeply into the interviewing process here. You should ensure that you are using the same set of questions and scoring criteria for each candidate. The onboarding process begins in earnest once you've chosen your favorite candidate and they've accepted your offer!
Be well prepared to ease your new hire into their role
Hopefully, you followed the process outlined in the first section of this article, and have an onboarding process and the relevant documentation in place for your new hire before they begin. I've illustrated how you can use online project management tools to make this information accessible to everyone.
The onboarding process starts before the new employee's first day. It involves ensuring that everything is ready for them when they arrive, from the forms they have to complete to their computer and login information.
As your new employee prepares for their first day of work, you can use email sequences to remind them of any pre-employment requirements, such as previous employment records or background checks. Standardizing and automating this process ensures that you don't miss anything, making their experience as smooth as possible.
Something I've found useful in welcoming new hires is to give them a welcome kit. This kit contains their onboarding documents, but also a "Welcome" from the team, and maybe a small welcome gift (like a box of chocolates or a branded coffee mug.) This is an easy and affordable process to implement. It makes the new hire feel welcome and ensures every new employee receives the relevant information when they join.
A standardized training process is essential. This process might include scheduling time for the new hire to shadow senior colleagues, asking them to watch specific videos or complete online training materials, or even sending several new hires on an induction course. Once they've completed all mandatory training, they can get down to work. The key is to streamline the process so that they acclimate and can start being productive more quickly. This video offers some useful tips for your employee's first week.
Check-ins are crucial for new employees, and a standardized system ensures the new hire gets the attention they need from their manager. Weekly check-in meetings are ideal in many roles. You should also create a standard review process, meeting with your employee to discuss their progress at the one-month, three-month, and six-month marks. You can also solicit feedback about the hiring process and use the results to improve it. Putting these systems in place should be part of your business development strategy.
Creating an onboarding SOP for improved employee engagement
Very few businesses get hiring right when they first start doing it. Recruiting well is a skill. Creating an SOP for your recruitment and onboarding will ensure a fair and equitable hiring process, attract the best talent, and retain great employees.
Remember the critical steps to follow in creating an onboarding SOP:
Make a list of the roles you need to fill and break each one down into the main tasks and the tools required to complete them.
Standardize your job description format to ensure you include all vital information, and decide strategically where to advertise.
Create a standardized screening process, including a criteria checklist, a sample task, and interview questions.
Use an email sequence to prepare your new hire for their first day.
Ensure everything is ready for the new employee when they arrive for work, including any equipment they will need.
Use a "welcome kit" to welcome your new hire to the team and ensure they receive all their onboarding documentation.
Standardize your training process.
Create a check-in and performance review process.
Remember that onboarding doesn't stop on the first day or in the first week. It is a continuous process of ensuring that your new hires are adjusting well and have everything they need. Make an employee welcome, and they'll settle in more quickly and feel more prepared to do their job.
First impressions count. Therefore, to attract and retain the best employees, you need to get your onboarding process right. Systemizing your process and documentation means you can get it right every single time.