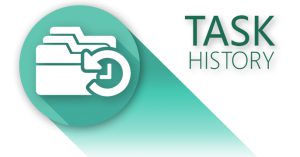 Bridge24 is proud to announce the release of the Task History (Activity Stream) for your connected account. Having access to project and task history of your data can answer many fundamental questions for events and actions that have taken place. The history can be used for your investigation or reporting purposes for Asana, Trello, Basecamp, and AceProject. Consult the Asana task story, Basecamp or Trello activity stream history, or AceProject task history, in a convenient and powerful grid view that includes date range, assignment, event filtering, and grouping.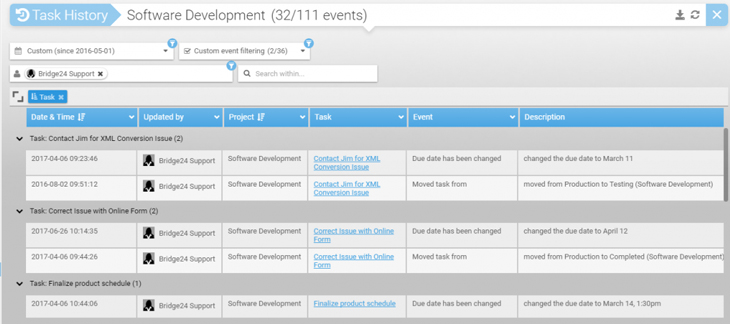 The Task History is useful for:
Accountability – Did last week's assigned tasks get completed?
Verification – Find all actions taken last Monday to confirm who made the changes and when
Performance – How many tasks were completed last month by each assigned user?
Reporting

Extract a list of all activity in 1 or several projects in a custom date range
What has occurred over the duration of a task?
What was done yesterday grouped by user

Statistics

Create a month to month comparison of activities for the year
How many tasks were closed last month?
How long was a task in a certain state?
What events can be viewed?*
Status changes – Task changes from the status "In Progress" to "Completed"
Creation/modification dates – When a task was created or modified
Assignments – Who was assigned and when
Document actions – When was a document uploaded or deleted
Other actions – Name changed, archived card, hearted a task, etc
*differences in events exist between providers 
How to access the History?
There are a few different ways to access this feature:
From the edit task panel – Use the drop down menu to open the task history of a specific task
From the left panel – Under each project in the treeview, click on the drop down arrow to access the Project History for all tasks in the project (except Asana)
From the grid view – For any task list in the grid view, select from the drop down action menu to access the History for displayed tasks (all providers)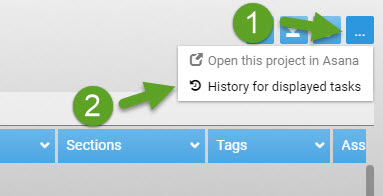 Once the task history is displayed, use the filters at the top as well as grouping to present the information that you are searching for. The date filter, assigned user, and event filters are provided. You can also use the Search within textbox if you are looking something specific in your results.

Exporting the Task History
Export ability will be added in the near future. You can only consult the history at this time.