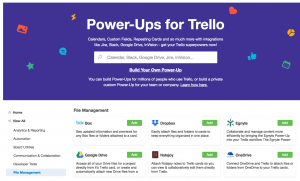 Trello is a popular project management software that is being used by numerous organizations and businesses for their collaboration. It uses boards that, at one glance, provide a view of the project, specifically of what's being worked on and who is working on it. It is easy to use and convenient because its concept is like that of a whiteboard that is filled with sticky notes that contain tasks. Added to these tasks are the attachments and photos, as well as comments from the members of the team.
Though Trello is already a great software by itself, its features can still be enhanced through what are called power-ups. These power-ups allow users to integrate their favorite apps into Trello and add features to their boards. Furthermore, these empower users to pull information from outside services right into Trello which are pertinent to their project.
For those who don't want to use power-ups, Bridge24 for Trello is also a good choice for enhancing Trello's features.
Top 10 best Trello power-ups
Trello is not only for business use as people also love using it for their personal affairs, even for planning their next family vacation. It doesn't require the user to be a tech genius to maximize its features and uses. But for those who are using the software for work and project management, here are the top 10 best Trello power-ups that we have seen.
1. Appear in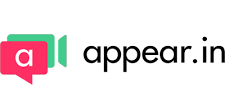 Messaging back and forth between team members can be both frustrating and time-wasting. Appear.in allows teams to conduct video conversations among themselves with just one click, right on their Trello board. This power-up makes it easy to discuss in real-time and has the tools and documents that teams need right in the same software. For the regular version, up to 8 people can join the group call but the premium room can accommodate a maximum of 12 people. To let people join the call, the leader simply has to send the link to the room and this will be opened on a browser.
2. Dropbox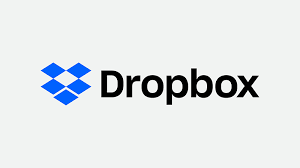 Users that take advantage of Dropbox can definitely incorporate it into their Trello account. By adding this power-up, users can bring their folders and files into their Trello cards. They don't anymore have to go to the Dropbox website to access the files as they can do this right on Trello! Users can enjoy real-time previews for the files and folders that have been attached to the Trello cards.
3. Calendar

It is easy enough to see tasks and their deadlines on Trello. Fortunately, with Calendar, this becomes even better as users can see their cards with due dates either in a monthly or weekly view. It is very simple to use as the cards only have to be dragged anywhere around the calendar to update their deadlines automatically. And to make sure that no task is missed, completed tasks can be marked.
4. Private Notes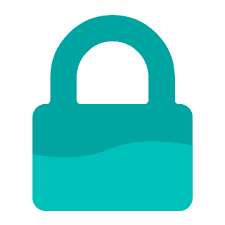 Private Notes is perfect for users who want to make notes on their Trello cards that only they can see. Whether these notes are for the team, customers, stakeholders, or clients, these can be stored and will stay secure within the app. This can also be used for making notes for oneself, such as to-do lists and day-to-day updates on the team's projects.
5. TimeCamp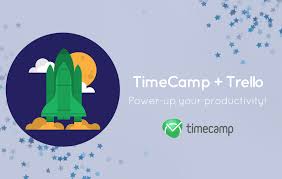 Tracking time has never been easier on Trello with the TimeCamp power-up. It allows users to track their time in Trello either by using the timer or by manually inputting their time. It is also a good tool for managers to track the members who worked, how long they worked when they worked, and what they worked on. Managers can also export time reports using TimeCamp.
6. SurveyMonkey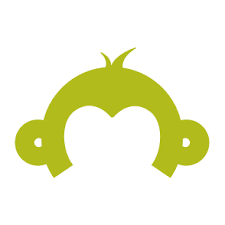 SurveyMonkey makes collecting feedback much easier, whether it is from customers or from the team regarding company culture. Surveys can now be attached to Trello cards so that they can be filled out by colleagues, customers, and the community. Then, the admin can access the results without even having to leave Trello.
7. Card Aging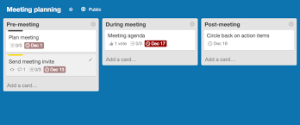 Card Aging keeps Trello from being too overcrowded with cards that aren't any more being used. It helps monitor which tasks have not been touched for a while and which need to be finalized. Forgotten tasks will just 'fade away' in the regular mode while those in the pirate mode will tear apart just like an old pirate map.
8. Countdown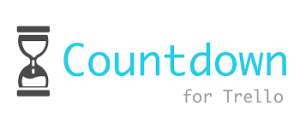 Countdown is a Trello power-up that lets users add a countdown timer which is first displayed in blue and turns red when the time is up. This power-up is useful, especially when a product is launched or an event is happening. For events that are too important, the countdown can be pinned to the bottom of the board where everyone will see it.
9. Slack

Trello is basically a project management software. Slack, on the other hand, is a communication tool. Put the two together and you will get a tandem that ensures that all your projects are completed without any lapses. Slack can be used for brainstorming and the results can be turned into actionable items in Trello.
10. Voting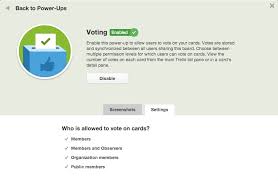 From the name itself, it allows users to ask for their teammate's opinions by voting. Through this power-up, members can upvote and managers will have a general idea of the people's preferences. Though it is not as important as the other apps, Voting makes the members feel that they are important and their contributions are valued.
Conclusion
Trello power-ups definitely boost the software's capabilities. Though it is already good enough for many project management teams, using these power-ups lets them do more.