Basecamp is a cloud-based project management and collaboration tool that helps keep teams stay on the same page. It is compatible across platforms and devices, so users can work whenever and wherever they are. In a span of a couple of months, they have released exciting new features for their Android app. Users are now able to work more smoothly with their to-dos, leave video comments, go to a smarter notification center, and reach out to others easily and in style. If you need a great extension to Basecamp, we recommend you use our own tool Bridge24 for Basecamp.
Smoother To-dos
Basecamp To-dos is one of the core tools of the application, and it helps keep everything on track. Working on a mobile device has advantages and disadvantages. People can continue working even outside the office, but they have to work on a smaller device. In previous versions, creating to-dos and re-ordering them was less fluid. However, the development team really put in some hard work so that it is easier to use and functions more smoothly.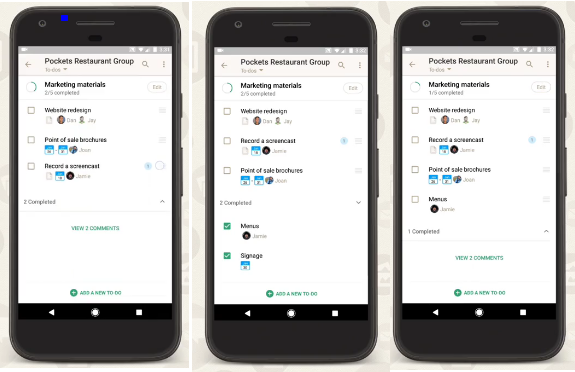 Video Comments
Another new feature is the ability to add video comments. Users can post their short video comments on messages or on their Check-ins. This enhancement really puts a face on the message. They can give a more personal touch as they leave comments and provide updates as if they are together with the rest of the team in a meeting. On the other hand, it can be as short as showing a thumbs up to support an idea, an endeavor or a colleague.
New Hey! Menu
The most recent update for the Android app comes in Basecamp for Android 3.4. On top of the list, a new Hey! menu is available. Users can see all their new @mentions, messages, comments, to-dos, events and Campfire chats in a central location. This great time-saving tool just got better by making sure the user is notified by anything new for him or her. In effect, a user has to go in only one place to stay in the loop, even when outside the office.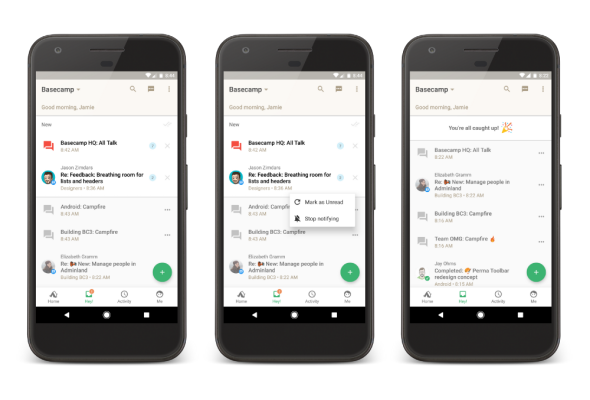 Improved Pings
Another major improvement in the latest Android app is an easier way to use Pings. Basecampers can communicate in several ways. But to keep things specific to another team member, Pings are preferable over the Message Board or Campfire chat. Each Ping with an individual will get its own color and profile picture, so there will be no chance of mistake.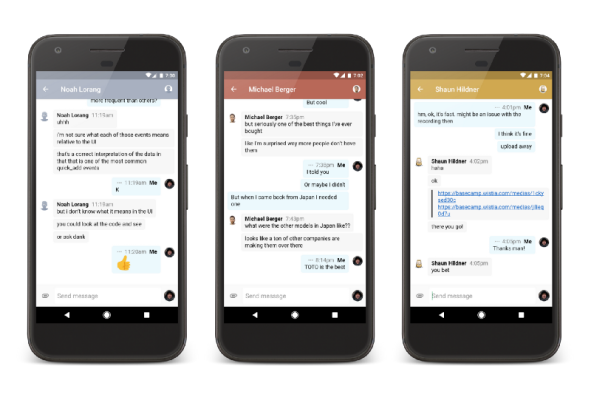 Also, during group Pings, users can clearly see who are participating just by tapping the colored toolbar. By tapping their profile picture, they can also see that person's timezone and other information. Moreover, each member can send a Ping from any screen in the Android app.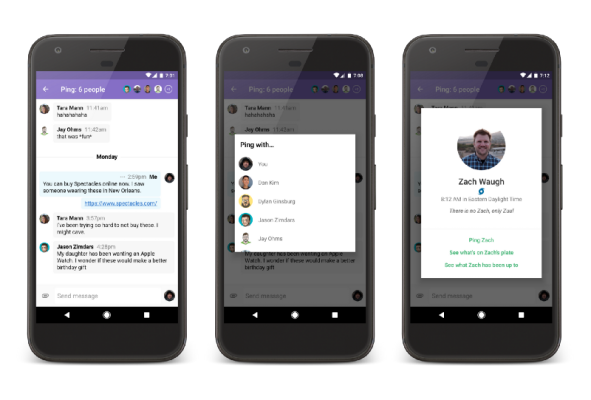 More Fixes and Fine Tunings
Aside from smoother operations and personal touches in the communication tools, the team also included adjustments for better experience. Now, users can simply swipe right to go back to the previous screen. In addition, version 3.4 now provides to-do list descriptions. Drafting and saving messages are now easier and happens more smoothly, too. For more of the latest mobile updates and other announcements, visit Basecamp on Twitter, Facebook, Instagram or YouTube.