Basecamp is helping companies and teams manage projects and communications in one central place. As a result, people have a better handle of their business, and teams are more self-sufficient. The PM and collaboration software makes it easy for all its users by being available across platforms. It also has desktop apps aside from its web and mobile apps. The latest version of Basecamp 3 desktop app now includes better navigation buttons. Another major enhancement in the software as a whole is the automatic check-in having more date and time options. If you need a great extension to Basecamp, we recommend you use our own tool Bridge24 for Basecamp.
New Navigation Buttons
Basecamp 3 desktop app is available for the Mac and Windows platform. It is an alternative for users who usually open many tabs in their browsers. The desktop app is a separate application and therefore provide users continuous communication and gets their attention through the right notification. The latest version has new navigation buttons to enable users go back and forth the different pages in their account. The back and forward arrows are at the top left of the navigation bar.

New Page and Account Menu
With the presence of the new navigation buttons, new menu items have been added to facilitate other actions. For example, a new Page menu will allow users to see a list of pages they have recently viewed. Also, they can easily copy the address of their current page, so they can paste it and share it with others. Another improvement in the navigation is on the Account menu. Users who have multiple accounts can find their list of accounts in the new Account menu. From there, they can easily switch between the different accounts.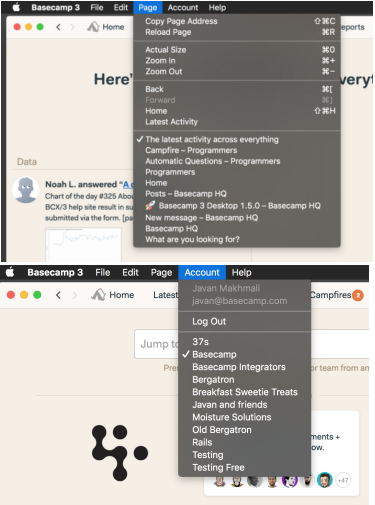 Flexible Automatic Check-ins
Basecamp 3 is a productivity tool that supports better organization and higher efficiency. For instance, automatic check-ins can replace the holding of status meetings or regular requests for updates. Instead, users can easily post an answer to a question each day, week or month. They can write what they have worked on for that day or what they plan to finish that week. Users can also ask and answer questions that allow the team to know each other better.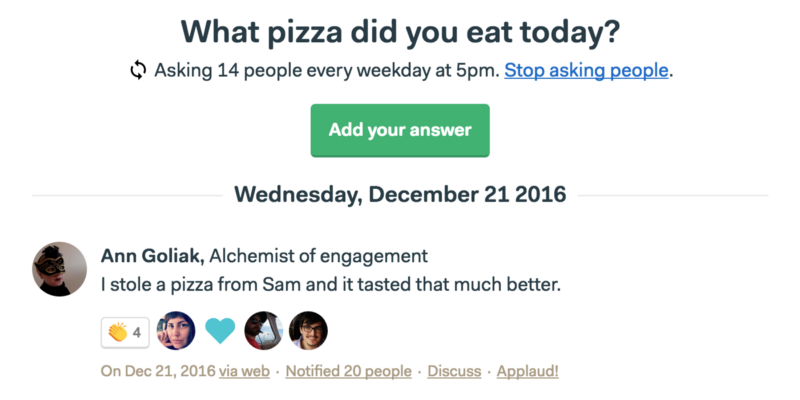 Previously, automatic check-ins are limited in the days and time questions are sent. Users see the question either everyday, or every Monday or Friday, at 9am or 5pm. The latest version now allows users to pick any specific day of the week they want to send the reminder. They can send it either daily, once a week, every other week, or once a month. Furthermore, users have more option at what time they want to send the check-ins, either at the start of the day at 9am, an earlier time at the end of the day at 4:30pm, or any specific time.


Working Hard to Work for You
Basecamp continues to provide updates to the software as a whole, and to the different applications, whether desktop or mobile apps. Better navigation are among the top requests from desktop app users. On the other hand, automatic check-ins are one of the favorite tools of users. In these updates to Basecamp 3 and its desktop app, users will be able to manage projects and teams more easily. To learn more about the latest features and other updates, check out Basecamp on Twitter, Facebook, Instagram or YouTube.