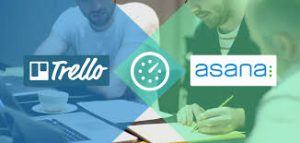 Trello is another interesting tool that touts itself for being able to get your projects collaborated and organized into boards. Launched by Fog Creek Software in New York in the year 2011, the software has a unique arrangement with a powerful visual project management system in place. The tool works on the Kanaban model and functions similar to a bulletin board, where you can pin virtual cards of dimensions 3×5. It has some handy features like automatic email notifications, customizable permissions, file storage, fast search, real-time collaboration, information back-up, with the latest addition being editorial calendar. It has over 10 million users worldwide, which includes giants like PayPal, Kickstarter and Google.
Both Asana and Trello are loved on account of their user-friendly interfaces and easy-to-use features besides the option of free subscription.  However, they are different in many aspects. Let's take a detailed look.

Asana is a mobile and web application developed to assist teams keep a track on their work. It was founded by Dustin Moskovitz, co-founder of Facebook and Justin Rosenstein, an ex-engineer of the social giant, in the year 2008 in San Francisco to manage the internal co-ordination of the company. Ever since its release to the public in 2011, the tool has won accolades and is now used by 140k people worldwide. Built with the purpose of enhancing collaboration and productivity, Asana has replaced some obsolete tools for communication besides trimming the need for businesses to be dependent on emails and meetings. Furthermore, the task management-packed features like multiple workspaces, task commenting and email bridge to name a few, the software has a host of 3rd party integrations and has remained successful in drawing the attention of some big clients, such as Dropbox and Pinterest, Mashable and Udacity.
Pricing
Asana can be used free for a maximum of 15 people. If you are ready to let go certain features and paid customer support, the no-pay plan of Trello is a more powerful and permits unlimited users, boards and attachments (the maximum size per upload is 10MB). Asana's premium plan ranges from $21 per month for 5 members to $417 per month for 15 members.  On the other hand, Trello's premium subscription starts from $3.75 per user per month and goes up to $20.83 per user per month when paid annually. For more details, you can check out Asana's and Trello's pricing at their respective websites.
When you compare the two, you'll find that the pricing plans of Asana are relatively higher. Moreover, the free plan of Trello is better than the other. Trello looks cost-effective, but if you require a task manager with some substance, Asana should be your first pick.
Ease of Use
Since both Asana and Trello are packed with task management features, both are effectively streamlined and can be used easily. Also, both the tools do not fail to give their best when it comes to user-friendliness. There are no learning curves and both can be mastered easily and quickly. So when you compare the ease of use between Asana and Trello, both end in a tie.
Product Features
Both Asana and Trello are on par with each other as far as the basic functionality is concerned. They have a limited set of features and enable file sharing, task management, and ordinary correspondence within the organization.
Integrations and Add-Ons
The winner in this case is clearly Asana since it consists of an open API besides fantastic integration, some of which are mentioned below:
Pivotal Tracker
Chrome Extension
Google Drive
Dropbox
Usersnap
WordPress
Trello integrates well with some programs like:
Zapier
OneDrive
Dropbox
Box
Google Drive
Support Team
Both companies have a good presence on social media and come up with useful and instructional articles on a periodic basis. However, Asana falls short with respect to their customer support. A point worth considering is that they are biased towards their paid customers-which is deplorable.
In contrast, Trello treats each and every customer equally, whether free or premium. They take their time to answer questions on social sites instead of directing users to their official support channel.
Final Verdict
Even though the features of Asana cannot be matched by Trello, the latter offers a much more powerful free subscription, and is built with improved aesthetic appeal. Users who are on a tight budget will surely favor Trello since Asana looks expensive.
That said, both these companies provide the best task management system and fare equally well. Despite this, Trello has received better customer feedback than Asana, and has a higher number of customers, which go on to show that the former is a clear winner.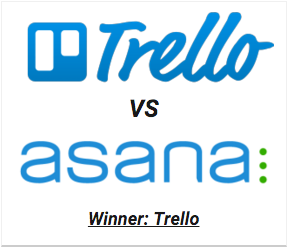 Original article
http://www.merchantmaverick.com/asana-vs-trello/
You can reach them by Twitter.