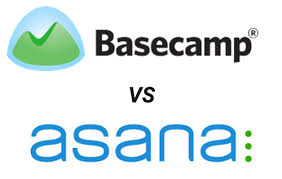 A bevy of project management and collaboration tools which have sprung up in the last few years have made it possible for managers to get their work more organized coupled with greater collaboration abilities. Today we will take a close look at the top two tools used by businesses of all sizes worldwide-Basecamp and Asana- and make an unbiased comparison between the two.
Basecamp
Trusted by millions worldwide, Basecamp is a secure, private space online where people collaborating on a task can organize and deliberate on everything they need to get the project completed. It was initially launched by 37 Signals, a private web application firm, on February 5, 2004 followed by a new version, which was rolled out in 2015. They have more than 8,000,000 paid customers, with a staggering eight million running projects at the moment. Approximately 97% of their customers state that they would earnestly recommend the software to their friends and colleagues.
Even though the Chicago-based company boasts of a massive fan base offering an array of excellent features, it does not indicate that they don't have any competitors. In fact, their most threatening rival currently is Asana, a powerful task and project management solution used by the likes of Ernst & Young, Pinterest, MailChimp, BBC Worldwide and Tesla to name a few.
Asana
Asana was created by former Facebook executives Justin Rosenstein and Dustin Moskovitz in 2008 while trying to build a tool that fostered effective collaboration. They were instigated to come up with this tool on discovering that files, documents, emails and wiki were restricting the "scope of their ambitions." Slowly Asana, which is headquartered in San Francisco, started replacing daily meetings, reducing emails and increasing efficiency overall before it was released to the public in the year 2011.
Basecamp and Asana have many characteristics which are almost similar. Both are web-based applications with a clean, user-friendly interface built to streamline task management. However, there are some noticeable differences between the two. Let's now take a look at both the software and find out how they stack up with respect to integrations, pricings and other important aspects.
Pricing
Getting started with Basecamp is absolutely free. When you are prepared to create your second account, you can choose from three alternatives. These include a fee of $29 per month for internal teams, $79 per month if you use the software with clients, and finally the "Enterprise Pricing," which begins at $3000 per annum. The first and second options are almost the same and both include 100GB of file storage. However "Basecamp with clients" gives you access to the Clientside feature so that your internal communication is segregated from client communication. The "Enterprise Pricing" has a file storage capacity of 2 tetrabytes, a personal account manager, a guaranteed uptime SLA along with a live demo for your entire team lasting over 60 minutes. And yes, Basecamp is free for teachers. The best thing about Basecamp is that they don't charge per user.
Asana is always free for teams up to 15. The free plan is, however, limited, and if you require some of its premium features and great tech support, you should go for one of the premium plans, which ranges from $21 per month for five members to $417 per month for 15 members.
As is apparent, the clear winner in this case is Basecamp. Asana does have a free option, but if you want all the best features of the tool, you need to switch on to the premium plan. On the contrary, Basecamp allows you to sign up any number of users and do not charge per user as mentioned above, which is relatively cost-effective than the other.
Ease of Use
Basecamp and Asana are both well-balanced as far as user-friendliness is concerned.  They are simple and easy to use besides having straightforward and intuitive interfaces. Both offer the same features like easy sign-up procedures, email integration, fantastic mobile apps, notifications which can be easily configured, and a range of keyboard shortcuts.
There is no steep learning curve associated to both the tools, so if you have basic computer skills, learning how to use them should be at the back of your hand within minutes.
Product Features
Basecamap and Asana are humble task managers possessing some of the most pragmatic project management features, even though none of them offer tools like risk calculation or resource management. It is possible to comment on specific tasks or projects and start thread discussions with the both the software. Furthermore, you can use them to copy common tasks or build project templates.
There are some minor differences though. For instance, when it comes to reporting, Asana has recently added a handful of basic analytic tools like a dashboard that assists to keep an eye on the progress of a project. Basecamp does not have a reporting feature but gives you access to edit text documents collaboratively-a great characteristic that is used by many industries.
Integrations and Add-ons
The winner in this case is Basecamp since it offers a huge number of apps, integrations and add-ons like:
Paymo
Tick
Dropbox
Chrometa
Harvest
Project Viewer
Asana also has an impressive list of integrations, some of which are mentioned below:
Google Drive
Dropbox
Chrome Extension
Fancy Hands
CloudWork
Support Team
The customer support services at Basecamp and Asana are the same. They have a decent presence on social sites and offer self-help tools, such as instructional articles, blogs and searchable databases. Basecamp has a better reputation, though, since they are fast at responding to support requests. Moreover, they give equal treatment to all their users. In this aspect, Asana is slightly biased since it prioritizes the queries of users who pay more.
Final Verdit
It's difficult to make a comparison between the two programs since they are fairly equivalent as far as ease-of-use, integrations and features are concerned. That said, Basecamp has an edge over Asana since it's cheaper and offers better customer service. You'll be spending way less with Basecamp even though it doesn't have the reporting feature, and this is why we have awarded it with the winning title. If you need great reporting with Basecamp or Asana, signup to Bridge24 right now.
Original article
http://www.merchantmaverick.com/basecamp-vs-asana/
You can reach out to them on Twitter, Facebook, LinkedIn or Google+.