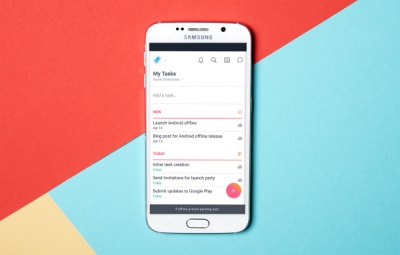 Asana work management application is providing teams the tool to work together regardless of the location of each team member. Be they in the office using their desktops or on the go with their mobile devices, Asana users are able to see the big picture as well as know the immediate details of the work they should be doing. Very recently, it was announced that Asana on the Android platform now allows users to work even when offline. Internet connectivity may be sporadic, but users can still do many productive things uninterruptedly.
What Users Can Do Offline
With offline access to the Android app, users can continue to move work forward. Even without Internet connection, users will be able to create tasks, conversations and projects. They can assign tasks for themselves or for their teammates and set due dates. Also, they can add or remove followers, tags or tasks from projects. They can complete, delete or heart tasks. They can check and heart their notifications and conversations, add or delete comments, invite teammates, and archive or unarchive their inbox.
What Happens When Using Asana Offline
The latest version of the Asana Android app provides some visual reminders to indicate that users are working offline. Any task or comment that has not been synchronized will show next to it a light grey cloud icon with a little 'x'. There will also be a tally of the actions performed while offline appearing at the bottom of the app. When the user gets online, these changes will synced until all tasks and comments are once again updated and becomes live.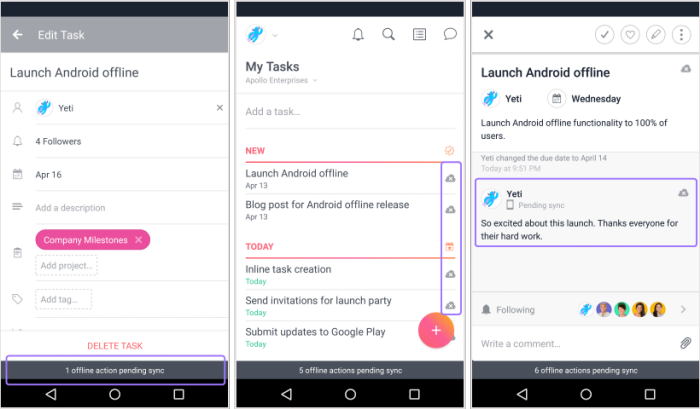 Also, when connectivity resumes, the grey banner at the bottom of the app containing the count of the offline actions will count down until all actions have synchronized with Asana. They grey clouds will also disappear as the tasks or comments become live. It is important to remember though that projects or lists that have not been loaded before going offline will not load their corresponding tasks and conversations in the app. However, users can still add tasks to that project while offline.
Adding A Task Offline
The latest Asana Android app also now enables users to add tasks on a list quickly. An 'Add a task…' prompt is visible at the top of any list. Going to the prompt, adding a task, tapping the enter button, then repeat are all the steps needed to create a list quickly, jot down several to-do items, or add a few reminders on the My Task list. All these are possible even when offline.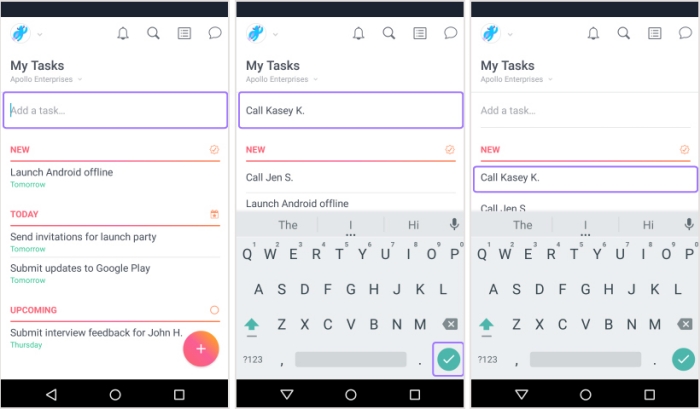 What Was, Is, and Will Be
The Asana Android app celebrated its first year early this year, and it is the first of its two mobile platforms to have offline access. Getting on top of work even while on a plane, train or any location without Internet connectivity has become a necessity now more than ever. Thus, it will be up to users, and not an Internet connection, to choose when and where they want to stop working. In the meantime, iOS users can expect an update with their Asana app soon.