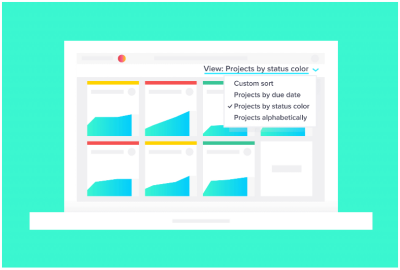 Asana is a work productivity tool that helps people think and feel better about work. It provides a place where not only teams are enabled and empowered to collaborate effortlessly, but also provides the platform where people can work with clarity and focus to produce great results. Early this month, the Asana team worked on a couple of frequently requested features, and users are excited by the amount of time saved and insight gained from the results of these improvements.
Dashboard Views Improvements
One of the feature improvements made was on the My Dashboard. In general, dashboards provide a high-level view of the team's progress regarding the projects they are working on. By displaying several progress charts in one view, dashboards instantly provide status of projects, but more importantly keep the team on the same page and allow them to quickly decide how and when to move forward. My Dashboard displays project cards with the most up-to-date information, providing the team a reference point of where they are and allowing them to shift priorities if needed.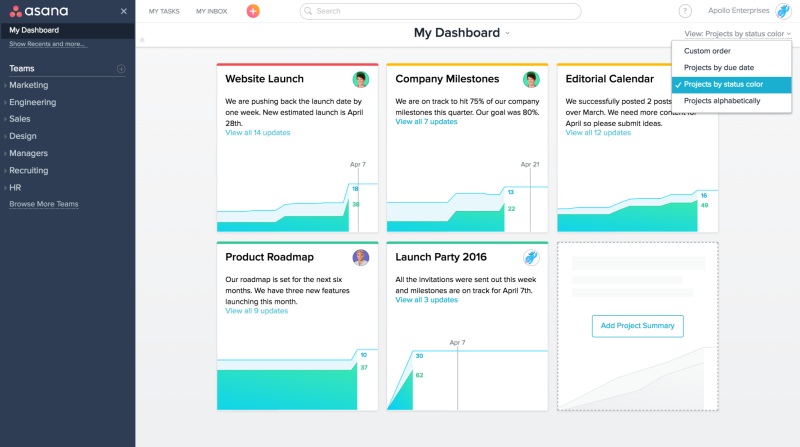 The enhancement on Asana dashboard views now allow users to view projects in different ways such as by due date, status color, or alphabetically. Users do this by first going to My Dashboard at the top of the side panel at the left end of the screen. Then go to the right end of the screen and click View. From there, they can select the different possible options. One example in applying this feature is to sort by status color indicating projects with issues, and addressing them first in the next meeting to change them to green status. Another application is to sort by due date to make sure projects closer to deadlines are given priority.
Advanced Search Improvements
The second Asana feature improvement was on advanced searches. Search and search views are very useful features that allow users to find any task, project, tag, person and other information. The work productivity tool has several types of search. A basic search will look for a name or title of any object in Teams, Projects, Tasks and subtasks, and Tags. A full text search will go across every text field to find a match. An advanced search lets users use a specific criteria to find tasks and conversations, or create a view that lists finished and unfinished tasks, for example.
Search by Date Range
In Asana, when a user clicks into the search at the top bar, there is the Advanced Search option from the drop-down menu with the wrench and screwdriver icon in front of the option. When users select this, they will see more options and parameters to use in their search. For example, searching by date range is done by selecting the parameter Between in the Due Date section and then typing the date range that the search will focus on. This will provide a more refined result than simply searching for items within the next number of days or within the past number of days.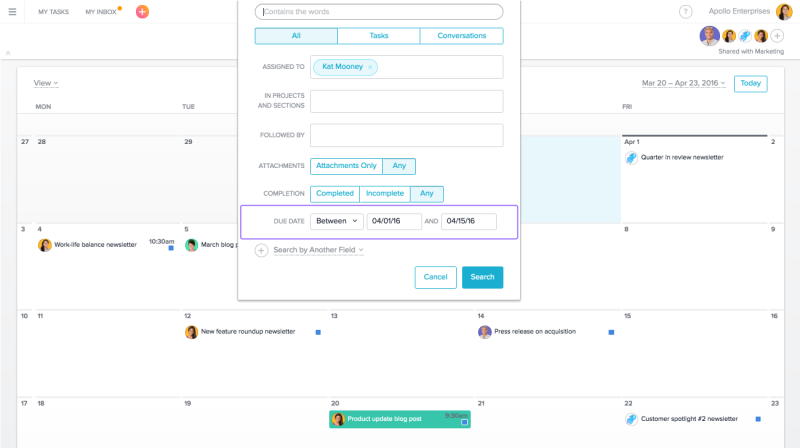 Search by Project Owner
Another advanced search option is to search by project owner. Using the same first two steps, the user will notice a section at the bottom for Search by Another Field. By selecting this, the user will see a drop-down that lists more sections including People and under it the option 'In projects owned by'. This narrows the search further for items where the project owner is identified.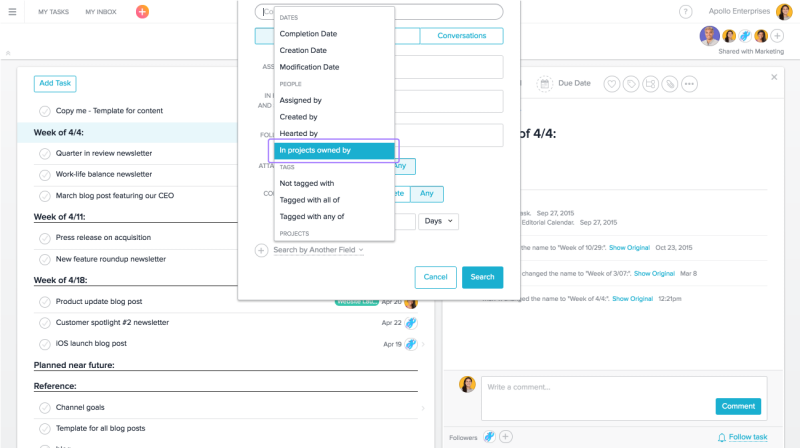 Asana feature improvements and updates provide users with a better way of managing and organizing information. The new Dashboard views and advanced search features all help users to find information faster, gain better insight and make informed decisions. Days when project managers and team members work on hunches and guesstimates are over.