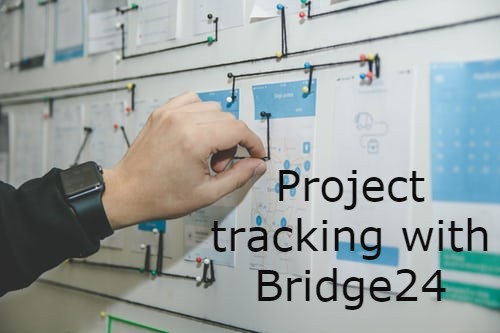 Project management is a continuously growing industry with more teams joining it and online collaboration tools being developed. In fact, according to the Project Management Institute, there were only more than a hundred of this software back in 2000. Today, more than a thousand are available options for project management teams. It is believed that one of the reasons for this is the temporary nature of projects. This means that every project is unique and each of them may require various tools. Another reason is user satisfaction wherein a user will keep using a tool for as long as it meets its needs. With this, it can be concluded that what project management teams need is a tool that can adapt to the different types of tasks and hold many features that are easy to use. These can be found in Bridge24.
What is Bridge24?
Bridge24 is not another project management tool in the market but is an online application that bridges various project management software. Thus, it has the word 'bridge' in its name. It aims to provide users with additional features by enhancing what is already there and bridging the gaps, especially in reporting and exporting. Bridge24 can be used with Basecamp, Trello, Asana, and AceProject which are among the top software in the market today. Unfortunately, because of the many features they offer, some of these have been compromised and Bridge24 is there to help. Aside from this, it also offers more options and simpler navigation at a more affordable rate.

What does Bridge24 do?
When a team uses Bridge24, they can have the tools that allow them to do the following:
search and filter the specific information they want to see
update the values as necessary
create comprehensive reports and make use of charts
export reports and charts into CSV or PDF formats, among others
How to keep track of projects with Bridge24
The strongest feature of Bridge24 is bridging the exporting and reporting gaps of certain project management software. However, there are also numerous other features of Bridge24. In order to know how users can keep track of their projects using Bridge24, let us specifically use Asana for this purpose.
On the left panel menu, users can see predefined filters which let users see the tasks that have been assigned to them or to their team. Along with this are tags and projects which, when clicked, show data which have been categorized with tags that are specific to a project. Users can also create their own filters.
There are many available views in the main dashboard but the default view is the grid view. This view is a simple spreadsheet-like view where users can see the task list. Users can move the column headers and arrange them according to their preference. Also, they can add new columns and sort the content of columns. When users click the column header, they are able to group by columns and add subgroups. To see these tasks in Asana, users simply need to choose 'open in Asana'.
Bridge24 also has the Calendar view where users can edit dates directly in the calendar. All they need to do is drag and drop the end date and this also updates in Asana.
Since Asana's exporting features are limited, Bridge24 addresses that through its suite of interactive reports. These include pie charts, doughnut charts, polar charts, and horizontal and vertical bar charts. Users can use these charts by using their own section, status, assignee, and tasks completed. Additionally, users can also use the graph by tag and create a chart on that.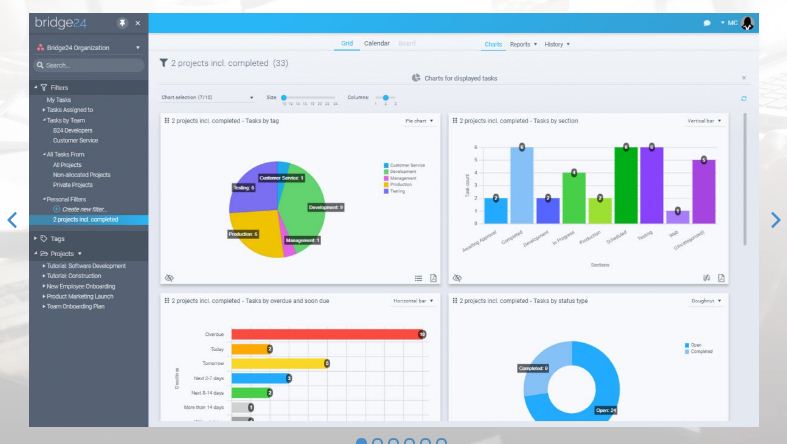 5. One of Bridge24's best features is task history where users can pull up information on who changed the task and what was done to it. They can simply click the icon in the Actions column of the grid view.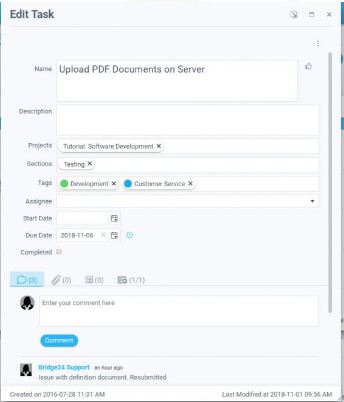 Bridge24 exporting and reporting features
As mentioned above, exporting and reporting are the strongest features of Bridge24. With this app, there are two types of reports—the simple report and the advanced report.
Simple reports are those that contain a list of tasks. This is useful in case there is a need to give a member a spreadsheet of the tasks assigned to him or her.
The advanced report, on the other hand, provides more information. There are four extra columns that can be added to the report. This type of report contains detailed information and pertinent data that clients and executives want to see to have a picture of the project's progress.
The new Bridge24

Because Bridge24 listens to the feedback and requests made by its users, it has updated its features and capabilities. These help users keep better track of their projects using the app.
More charts and reports have been added to the app, including archived status, completion status, tasks by label color, and label name.
On the left navigation view, users can now have quick access filters by deadline category.
Using the new Grid drop-down selector, users can have rapid access to all tasks, to-dos, and cards.
Reports have unlimited fields.
Users can create reports grouped by custom fields.
Conclusion
Bridge24 is very useful in enhancing the features of already-popular project management tools. It allows users to track the progress of their projects and provides tools that teams can use to relay this information to the right people. Bridge24 also effectively enhances the features of Trello, Basecamp, and AceProject.