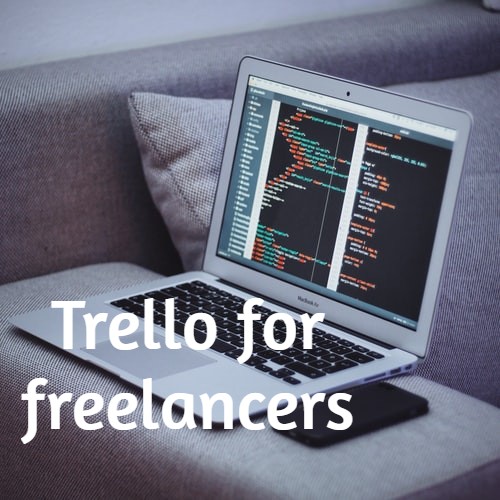 Freelancing is one of the popular career options that people prefer today. There is a lot of good reasons for this like having one's control over his time and being the boss of one's job. Freelancing means the harder you work, the more clients you get, and the bigger your money. Sometimes, this career is called contract job or contract work, consultancy, or independent contracting. However it is called, freelancing is a lucrative job.
Since freelancers are usually their own boss, a lot of people expect them to be free and answer to nobody. However, the opposite is true because they take responsibility for everything they do, including when they lose a client. Freelancers have a burden on their shoulders to be efficient, reliable, and organized.
In order to achieve all these, freelancers can definitely make use of project management software like Trello.
What is Trello?
Trello is one of the many project management software today that teams need for their project needs. The good thing about it is that it can also be used by individuals, specifically by freelancers. Its features are easy to use and flexible that anyone can use it even for their personal purposes.
Trello is an online collaboration tool that uses the Kanban-style of listing which was developed by Toyota. It basically looks like a whiteboard with post-its that can be moved around the board. Its basic components are called the board or the project itself, the lists or the stages of the project, and the card or the tasks related to the board. Users can also attach files to the cards for additional information.
How freelancers can use Trello
As freelancers need to be organized, Trello proves to be a helpful tool. Freelancers can do what project management teams can do such as setting up different boards for different projects. These boards can be filled with cards that carry every task related to the project. Then, they can create columns or lists for the stages of the project. For freelancers, they can also add their members to the boards or cards to assign them their tasks.
To one side is a checklist that they can check off as each task gets completed. It is also interesting to know that all Trello items can easily be duplicated, including the lists, cards, checklists, and boards. Templates can be created so that users can have a model for their future use.
Some important tips for freelancers when using Trello
To make the boards look more enticing and organized, freelancers can also color-code them. Each card can have its own color; labelling each color to avoid confusion. Doing so will make it easier to identify the purpose of each card and make the entire board aesthetically enhanced.
The beauty of Trello is that it allows users to attach photos or images. All users have to do is attach an image which will become the card cover. It will appear every time they view it on the board, as well as across the top of the card when users view the individual cards.
The calendar can also be used for freelancers who don't like the simple view of cards. To use the calendar view, users have to enable this extra feature through what is called a power-up. Even if this is activated, users can still freely switch from the board view to the calendar view and vice versa. The calendar view is suitable for those who want to see cards based on deadlines.
Freelancers can also filter the cards to easily find what they are looking for. They can filter their cards based on due dates, members, and labels. This filtering option allows users to see only the cards that are assigned to them, only the cards that are due on a specific date, or the cards related to a specific client.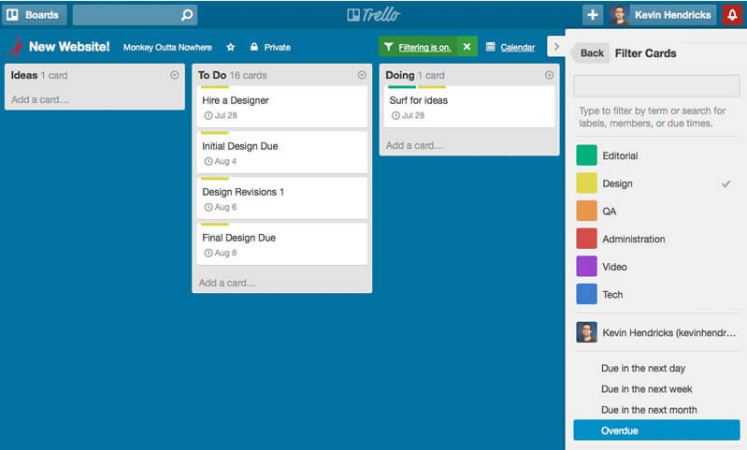 Trello also has power-ups which are integrations that help improve its functions. When freelancers use them or activate them in their Trello use, processes become easier and seamless. These power-ups are available for various uses such as for time tracking, calendar, voting, and more.
For freelancers that do a certain type of project often, they can use the template feature of Trello as already previously mentioned. They can create a template board and duplicate it so that it can be used every time a similar project comes up. It saves time as all the user needs to do is change the title or project name of the board. After the board has been set up, the freelancer can invite the client to join the board. Then, he can assign the cards to the client that contains his tasks. The due dates should also be arranged here. (3) freelance to freedom project
Trello is also useful to freelancers who are also schooling at the same time. The software helps them organize their classes in the easiest way possible. The board will have to be course being taken while the lists are the subjects or classes. Under each list are cards that correspond to the tasks required for every subject. At one look, the user will be able to know what needs to be done. Plus, since boards can be created for projects and courses, they can avoid getting confused with what they need to do for work and for school.
Conclusion
Because of the Kanban-style of Trello that has been proven easy to use and efficient, many other tools have started creating their own board views. However, Trello still proves to be the easiest to use and the most convenient. Plus, its affordable pricing plans add an advantage to the users as it fits the budget even of starting freelancers.