A refreshing redesign of the Bridge24 interface is now available. We have worked hard to improve the look and feel as well as increase load speeds and make more fluid. Simply login to the app to start using!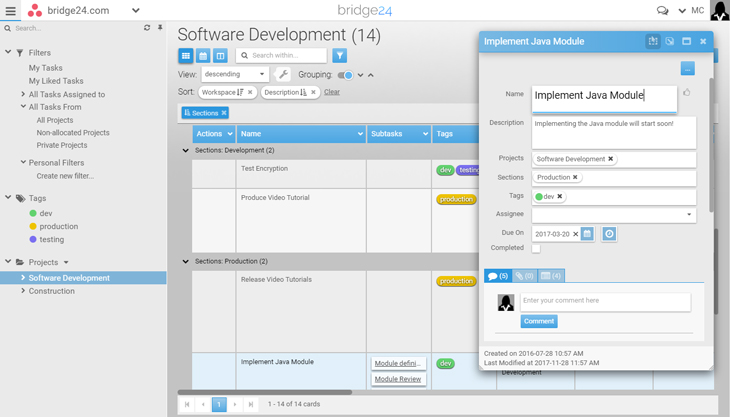 Design
A flatter design was chosen to bring it more up to date, and to make it clearer and lighter to view and navigate the interface. A number of settings have been re-positioned and modified slightly to be used more efficiently. Standardizing the design allows us to more quickly integrate new features moving forward.
Not only has the design improved, but general performance has increased as well. The grid is now smoother to scroll as well as transitions between views are much more fluid.
Enhancements Available
On loading information or refreshing, progress bars were greatly improved to provide better knowledge of the state of the application.

AceProject: Added some missing fields on the Edit Task Panel (including the group, type, and priority)
Edit panel enhancements including display of created and last modified edits have been added

There is a cancel on progress dialogues to interrupt the transfer if required.

You may also notice tooltips and labels that have also been more liberally placed.

Notifications and error handling has also greatly improved.

Alternative "Dark" theme, accessible through the settings menu on the upper right.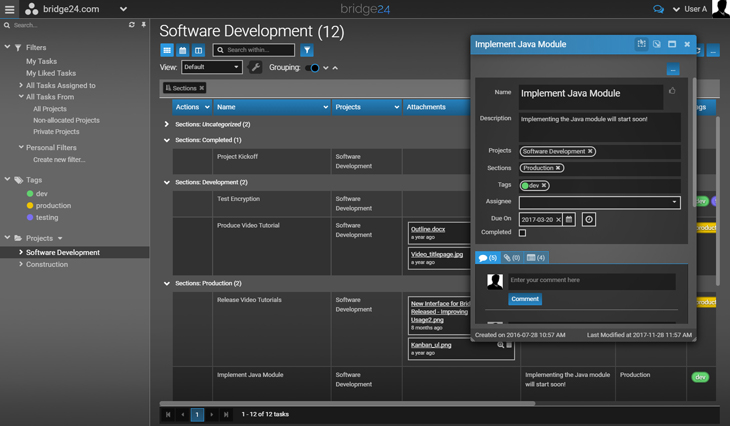 (Note: To benefit the most from the improvements, Google Chrome browser is recommended.)
Chat with us!
To communicate with us efficiently, an online chat messaging system has been integrated into the interface. Online chat is available when the icon near the top right is active (blue).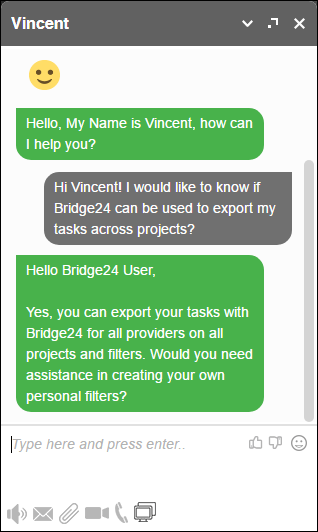 Offline messaging via email is available through the same window when the chat is not active.
There are a few details left to clean up. We hope that if you spot any errors, you will give us a heads up! Perhaps through the online chat!
Up-and-coming
Account sign-up/registration with centralized storage of settings. Currently user settings are stored in the local cache of your browser. You will soon have the same settings and experience no matter what browser or computer you log in from.
The app and design elements make use of CSS, so that changing the skin colors, or any visible element will be easy. This opens the doors to tailoring the interface without a lot of work. A contrasting light interface is envisioned in the future (stay tuned).
Read our Release Info page for more details.
Feedback desired!
Take the time and voice your opinion on what you want to see in future versions of Bridge24:
Graphics and dashboards for displaying statistics and KPIs for your account usage?
Greater import/export functionalities?
Customizable reports (scheduled reports, template reports, etc)?
The Bridge24 Team!