Trello visual project management software is a productivity platform that provides information at a glance. Through a system of boards, lists and cards, users are able to manage their projects, workflows and tasks in an interactive and collaborative way. It is very flexible and works well with other applications through integrations. Also, an open API allows developers to get creative and further customize the PM platform in how they want to use it. Thus, developers all over the world have created small programs or extensions that enhanced the functionality of Trello when opened with the Chrome browser. If you are looking for a brilliant extension to Trello, we suggest trying out our own tool Bridge24 for Trello.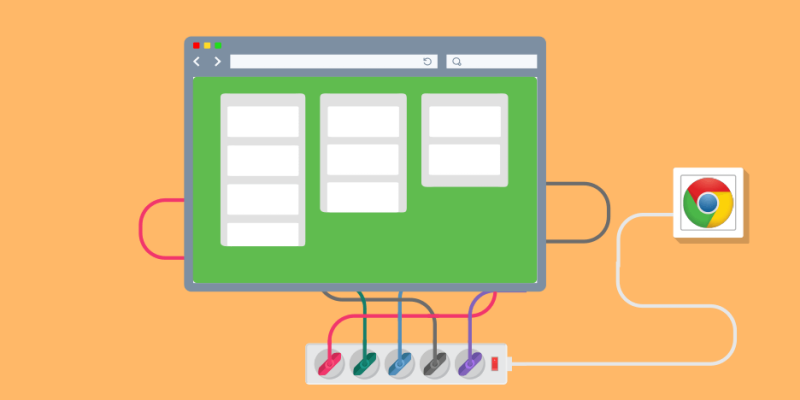 Chrome Extensions for Finding and Adding Things
The Official Trello Extension
Trello has their own official Chrome extension that enables users to search and access boards very quickly. When users type "t" followed by the spacebar on the address bar (Omnibar), they are now searching directly in Trello. Typing any portion of a name of board will show a list of results. Selecting one will instantly display that board. Users can also create cards from any web page using the Trello icon in the top right corner. Another way to create a card from any web page is by using a special bookmark link.
Contact this vendor on Twitter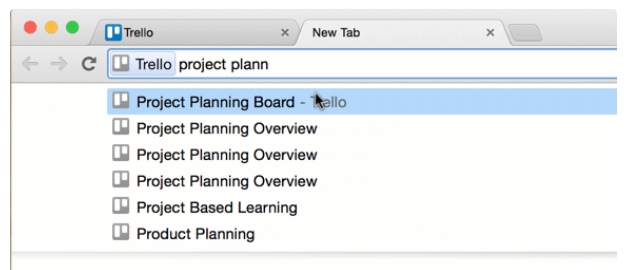 Gmail to Trello
This Chrome extension allows users to create new cards from Gmail. A new button "Add card" appears when opening an email. Thus, users just need to read their email and then click the button to create it as a card.
Contact this vendor on Twitter
Capture for Trello
Capture is a Chrome extension that takes a screenshot and then puts it in a Trello card. Users can draw rectangles to clip web pages. They can also draw arrows of different colors to point what is important in the screenshot.
Contact this vendor on Twitter
Marker for Trello
Marker is another screen capture program. Users can also annotate the screenshots before turning them into cards. They can also attach a screenshot to an existing card, add labels, assign it to teammates, and set due dates. It is valuable when tracking bugs, so that important information are captured and easily recreated.
Contact this vendor on Twitter
Chrome Extensions for Organizing and Sorting
Trelabels For Trello
Another set of Chrome extensions for Trello are programs to help users organize and sort their tasks. One of these is Trelabels, which show label titles in card fronts. A button enables users to change styles and choose from five available styles including the default.
Contact this vendor on Twitter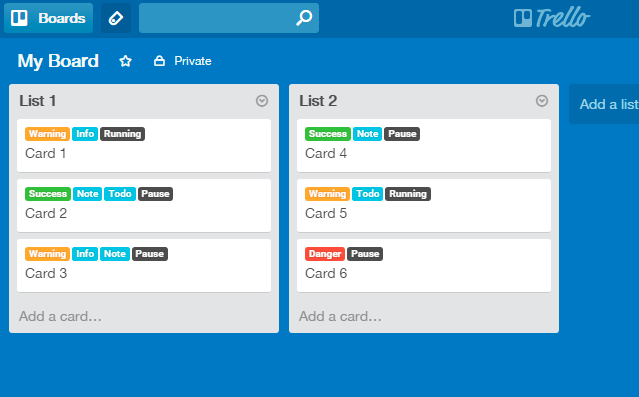 Card Color Titles
A similar but simpler extension, Card Color Titles for Trello displays the label title in the card front.
Contact this vendor on Twitter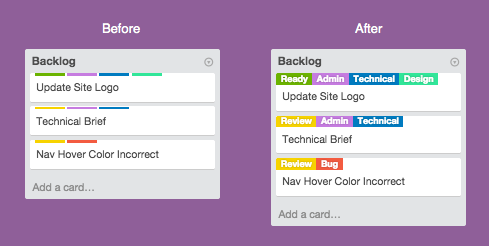 Cardcounter
Cardcounter is a useful program that shows the number of cards in every list. This provides perspective to the quantity of tasks in a given project stage. It also supports WIP limits used in Kanban methodology.
Contact this vendor on Twitter
Ultimello
Ultimello includes a number of features to help Trello users in organizing their projects. For instance, it provides a card count on lists. Users can sort cards on lists by due date, titles alphabetically, labels, creation date, and others. More features are being added.
Contact this vendor on Twitter
Trellists
Trellists is a great feature especially when boards contain a great number of lists. Instead of scrolling left and right, a bar is added at the top that displays a link of all lists. Clicking on that link displays the respective list. Also, user can show or hide lists by clicking the list name in the bar.
Contact this vendor on Twitter
Chrome Extensions for Planning and Scheduling
Corrello
Corrello Chrome extension is also available aside from its Power-Up. It is a dashboard for agile teams. It shows burndown charts, open bug counts, cumulative flow diagrams, cycle time charts, and more.
Contact this vendor on Twitter
Plus for Trello
Plus for Trello adds useful project management features to the visual display of the PM platform. Some of the features are weekly reports, scrum management, time tracking, and more. Furthermore, users are able to see spent vs estimated time, support multiple teams, export and other useful features.
Contact this vendor on Twitter
Trellius
Trellius is a Chrome extension that allows users to view both calendar and a board at the same page. It has an interactive calendar where users can drag cards to the calendar, either to specify a date, or create a new one for that date. Users can also create events, plan longtime tasks, or display their project's timeline.
Contact this vendor on Twitter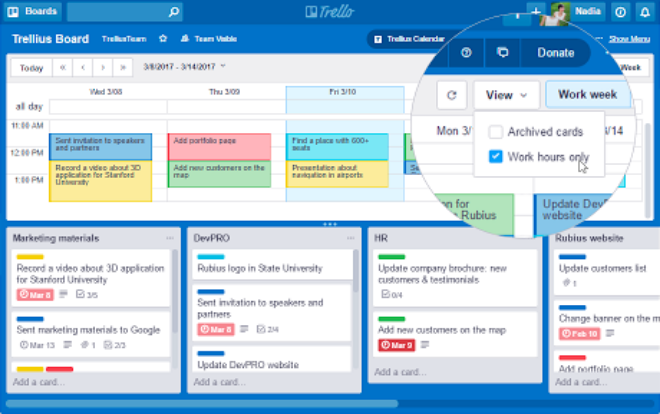 Chrome Extensions for Accomplishing and Completing Things
GTD: Trello Card Links
Trello Card Links is a simple program that allows users to paste links directly on the card front. In brief, it is a productivity tool that saves time from opening the card just to click a link. Users can paste multiple links on the card front.
Overdue Trello Cards First
This Chrome extension forces Trello cards that are overdue to the top of the card list. It solves a problem that when sorting cards by due date, overdue cards usually go the bottom of the list. This program has one feature only, but a very useful one.
Contact this vendor on Twitter
Pomello
Pomello is a productivity app for Trello in Chrome. Indeed, it is based on the Pomodoro Time technique of breaking work into short intervals divided by short breaks. A user's task from his or her Trello list floats on top of the screen to help them stay in focus. Also, a timer is shown beside it to remind the user when it is time for a break.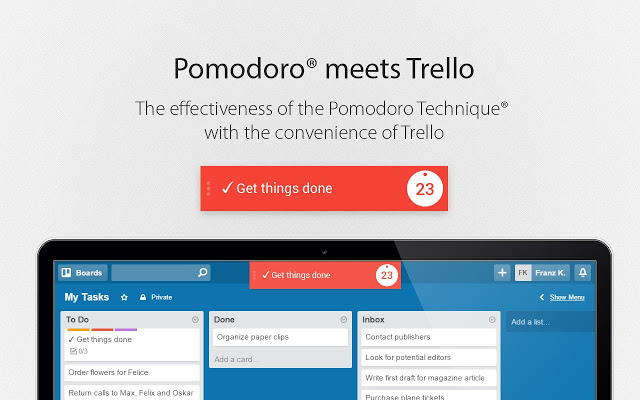 Taco
Taco Chrome Extension works with Trello and a number of other services such as Gmail, Basecamp, Zendesk and others. When a user opens a new tab, the program displays tasks from all other services. Users can choose which tasks to display, and they can edit the label for the next action, or simply mark it done.
Contact this vendor on Twitter
Trello provides the flexible and dependable platform for managing projects successfully. To learn more about the latest Chrome extensions, power-ups and other updates, visit Trello on Facebook, Twitter or Google+.