Trello helps teams get a new perspective in collaboration and organization. This free application is useful for projects of all sizes for various function teams in many industries. It is a simple visual kanban-style board, but is also very flexible. It integrates with many applications that extends its functionality to provide a more comprehensive solution. Power-Ups bring in other apps' features into Trello boards, and they have a new directory. For a brilliant extension to Trello, we suggest trying out our own tool Bridge24 for Trello.
Power-Ups History
Power-Ups are integrations that can be enabled to expand the basic features available in Trello boards. They provide additional features within the boards to customize the application for a user's specific requirement. For example, a Calendar Power-up will show cards with due dates on a calendar. In 2013, there were just a total of 3. In 2016, the Power-Ups platform allowed developers to create their own for many special purposes. Today, there are more than 80 publicly available, including from Slack, Google Drive, and Bitbucket, to name a few.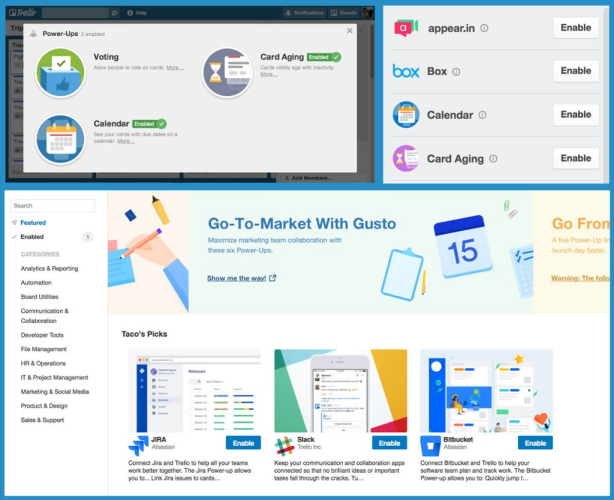 A New Look
The new Trello Power-Ups directory takes a bigger space for its own. Previously, it was a list on a narrow board menu. Now, it displays on a wider screen, with a left side navigation. Here, users can search for a specific Power-Up. They can also manage those that they have enabled, or browse by category. A Featured section highlights some of the more popular ones. Articles on how to maximize their capabilities are also available for reading.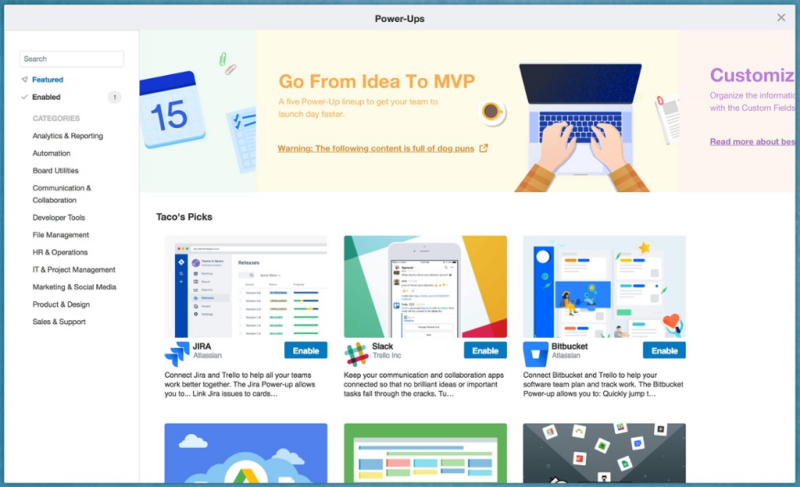 To access the new directory, users should go to Menu on the right side of the screen, and click Power-Ups. It will then display the new window. From the Featured section or from any category, available Power-ups are shown. Users can enable them by clicking the Enable button next to it. Once enabled, its settings can be changed by clicking the gear icon that appears on the top right of that Power-Up. Users can enable one Power-Up for free. Those on Business Class and Enterprise teams can enable unlimited on their boards.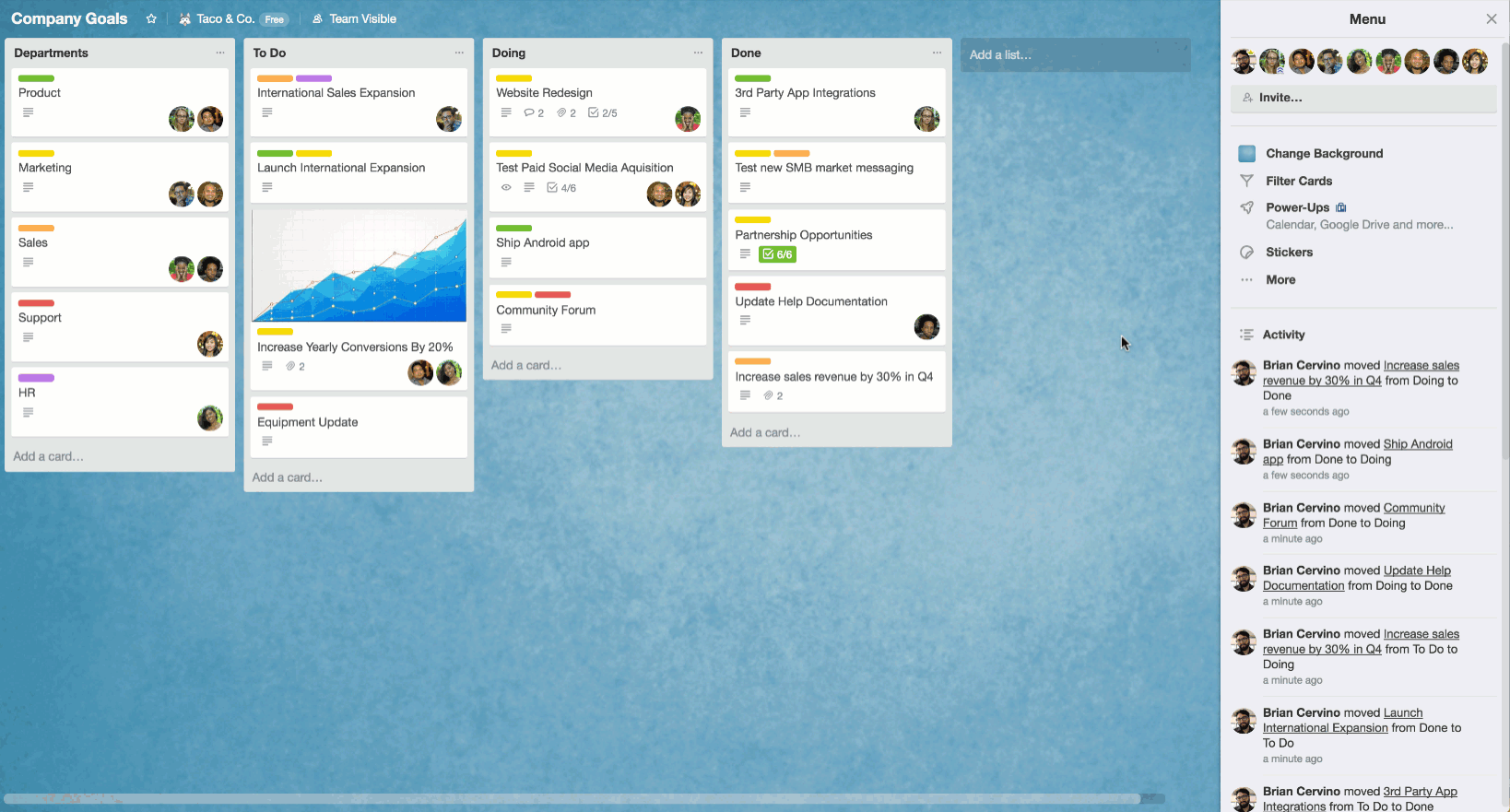 The new directory provides an easier way to discover, enable and manage Power-Ups. A separate window and the new layout is clearer, more intuitive, and delivers a better user experience. Thus, users will spend less time searching and more on boosting productivity. If a team has their own private custom Power-Ups, they can manage and enable those in the Custom section.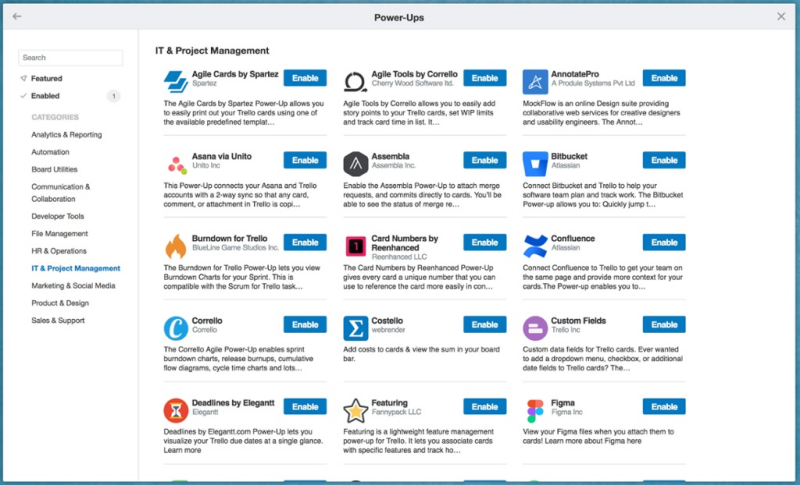 More in the pipeline
The new Power-Ups directory is a better way to prepare and accommodate more integrations coming along the way. The platform has made it easier for more creations and developments to be available. Indeed, a growing list of developers and partners have made it possible to boost not only productivity with Power-Ups, but grow businesses as well. Similarly, continuous improvements and more informative content will also appear as time goes on.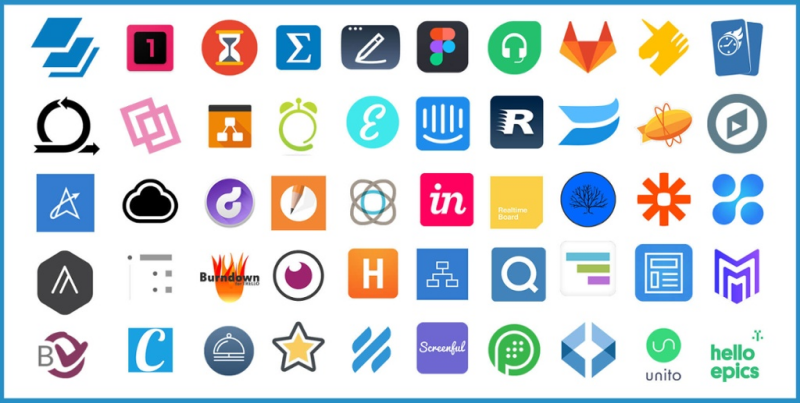 For more information on the new directory, Power-Ups, and other feature announcements, check Trello also on their Facebook, Twitter, or LinkedIn page.