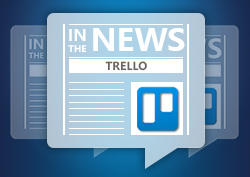 Trello is a leading visual collaboration and workflow application that is helping users all over the world improve their productivity. It is very flexible and is being used in a variety of situations, such as in making the perfect to-do list. After learning the strategies for writing a perfect list of to-dos, we give the readers an article about the 5 free tools every business needs. Rounding up our news list, a software engineer and father shared how he discovered a Trello board to get kids excited, and how he is equally excited from his son's response.
The Perfect To-do List – And How to Make One with Trello
In today's multi-tasking environment, where everything seems to compete for people's number one attention, having a to-do list helps make it more manageable. Turbine, an online application that enables users to make simple purchase orders, shared an article that provides a strategy for creating the all-powerful and perfect to-do list. The 7-point strategy enumerates the characteristics of this ultimate list, and tip number 6 suggests the use of an app like Trello that enables people to make an electronic visual list for everything they feel they need to do. Trello works on mobile devices and has reminder features that makes it very effective. Other strategies for making the perfect to-do list includes making it action-oriented and time-driven.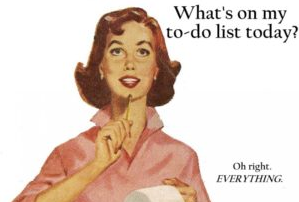 Contact the author Jessica Lawrence: Twitter
Read the original article from TurbineHQ
Trello is one of 5 Free Tools Every Business Needs
Jeanne Grunert, an award-winning writer and marketing expert, shared an article with Booker blog readers about 5 categories of software tools and her recommendation for each that are essential for any business. Booker is an online business management software that helps companies grow their customer base, book appointments, process payments and other business processes. In Jeanne's article, one of the categories is project management, and Trello is the author's choice to help businesses track their teams' progress. With this visual PM and collaboration tool, people will be able to track who has completed what tasks and when. Also, its workflow features allow users to determine what still needs to get done. Other categories that are considered essential for business are office tasks, communications, email and job boards.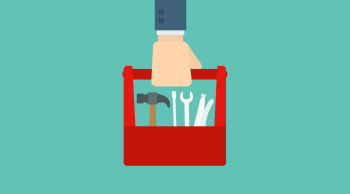 Contact the author Jeanne Grunert: Twitter
Read the original article from Booker Blog (Twitter)
A Trello Board to Get Kids Excited
Aditya Inapurapu is a software engineer who maintains his iAditya.com blog where he shares his interests and passions in life. In a recent entry, he shared how his 8-year-old son Ameya has done well in school, and as a gift, he installed the Trello app in Ameya's mini iPad. After showing his son some basics for creating cards, labels and moving the cards, the child took it from there and created an amazing board of activities he plans to do for summer. The blog post also shared some of Aditya's thoughts about its iWatch app, the page views for his post, and some ideas about education, parenting and how the collaboration tool in general is keeping both father and son's time full of activities for the entire summer.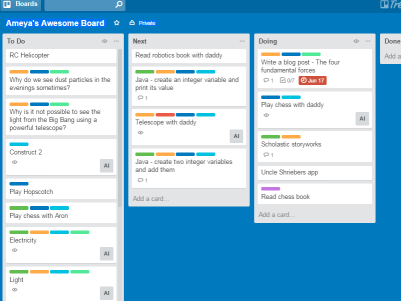 Contact the author Aditya Inapurapu: Twitter
Read the original article from iAditya.com