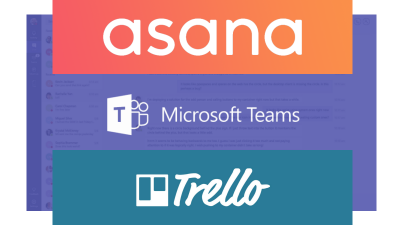 Project management tools such as Asana and Trello play an important part in achieving project goals, which is how many companies today conduct their business. As the work landscape continues to evolve, project teams are relying more and more on collaboration features and messaging apps to efficiently manage their tasks and complete them in time. Most PM tools have communication and messaging features or a way to integrate to one. Late in 2016, Microsoft launched a communication application called Teams. More recently, they announced integration with Asana and Trello. If you are looking for a powerful extension to Asana or Trello, we suggest trying out our own tool Bridge24 for Asana, and Bridge24 for Trello.
What is Microsoft Teams
Microsoft Teams is a new team communication service especially for users who rely on Office 365 services and OneDrive. The new application enables users to share messages and attachments. A user can start a private conversation or a group chat called 'channel'. Channels can be created based on a certain project or by teams. For instance, a channel for the design team in the company can hold all the conversations regarding design work. It has threaded conversations where users can reply to any message at any part of the conversation. They can also use '@' mentions for more directed response. Microsoft Team also integrates with other services such as Word, OneDrive, and Skype, among others.
Asana for Microsoft Teams Integration
In March this year, Asana announced its integration with Microsoft Teams. This allows teams to add their Asana projects to their group chats. MS Teams provide the messaging platform where project teams can communicate easily. However, it does not guarantee that the exchange of information can lead to action. Also, intended action may sometimes get buried in the conversation or simply fall through cracks where no one assumes responsibility for. The Asana integration allows users to chat with the rest of the project team while looking at the task list. From one application, they can see all the tasks, assignments, and due dates. Moreover, they can complete the tasks when they are done.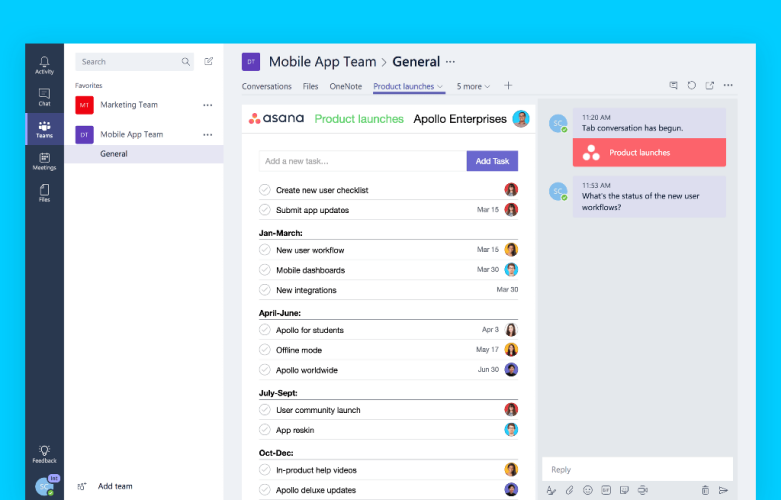 How to Add Asana projects
To add Asana projects in Microsoft Teams, users simply have to follow a few steps. First, they should log in to their Teams account in Office 365. Next, users should click the '+' button in the top navigation to add a tab. When the Add a tab dialog appears, select the Asana icon and connect one's Asana account to the Teams account. Users can now choose which Organization or Workspace project they want to add. They can also create a new one. Users should finally click Save to add the project as a tab. All project permissions remain the same. The team members will be notified of the addition of the Asana project. Users can add as many projects as tabs as they want.
Trello for Microsoft Teams Integration
More recently in April, Microsoft Teams included Trello integration. Trello is a very popular project management application with its highly visual platform. Indeed, the integration enables Teams users to access their Trello boards from their messaging application. From a single application, they can see the latest activity on the board, create a new card, add images to a card, move cards, archive them and everything else. Although Microsoft has a similar application called Office 365 Planner, Trello has more features and also a mobile app.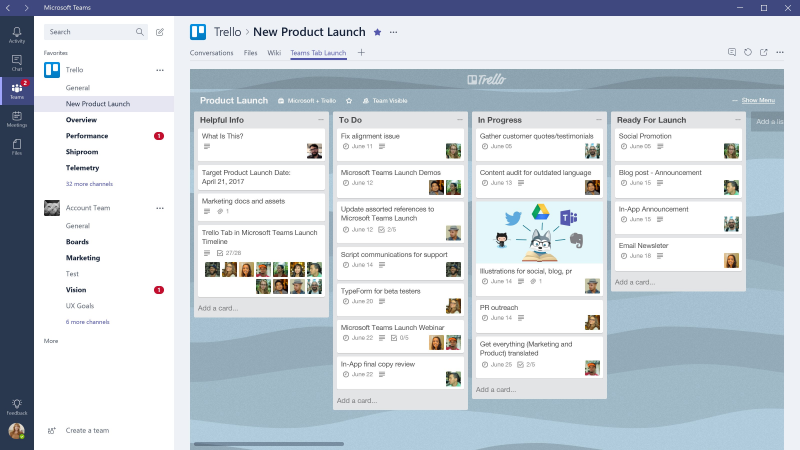 How to Add Trello boards
Adding Trello boards is simple and follows the same procedure. To begin with, users should click the '+' button in the ribbon to add a new channel. From the Add a tab dialog, select the Trello icon and log in to Trello. After the accounts have been connected, users can choose the boards they want to add to Teams.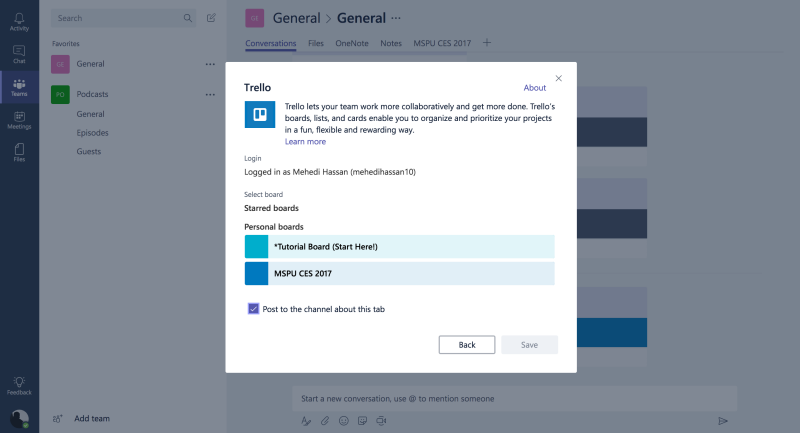 Work and Collaborate Any Way You Want
Integrations are very helpful and an easy way to get work done. Nevertheless, the choice of software tools are sometimes a matter of preference, or sometimes a matter of policy. Whatever the case, it is now easier to work with different apps from a single platform. Integrations eliminate the need to switch between applications. Also, teams that use Asana or Trello with Microsoft can collaborate better and achieve the desired project goals. Visit Asana on Facebook, Twitter, LinkedIn or YouTube. Visit Trello on Facebook, Twitter or Google+.