Asana project management and work tracking software is helping modern organizations keep everyone on the same page. It has become a platform of choice for teams and companies for tracking not only well-defined projects but also ongoing work. Last September 2016, Asana released custom fields for its Premium customers, enabling them to track just about anything. The feature received great feedback, and thus, custom fields received an update several weeks ago. For a powerful extension to Asana, we recommend trying our own tool Bridge24 for Asana.
Edit from a project's task list
Asana custom fields help users track progress and priorities, especially for projects with a great number of moving components. Previously, users have to click into the task details to edit a custom value, and this is still possible today. With the latest update, they can now edit field values from the project's tasks list displayed on the main pane. Therefore, updating and managing custom field values at the project level is now easier and quicker.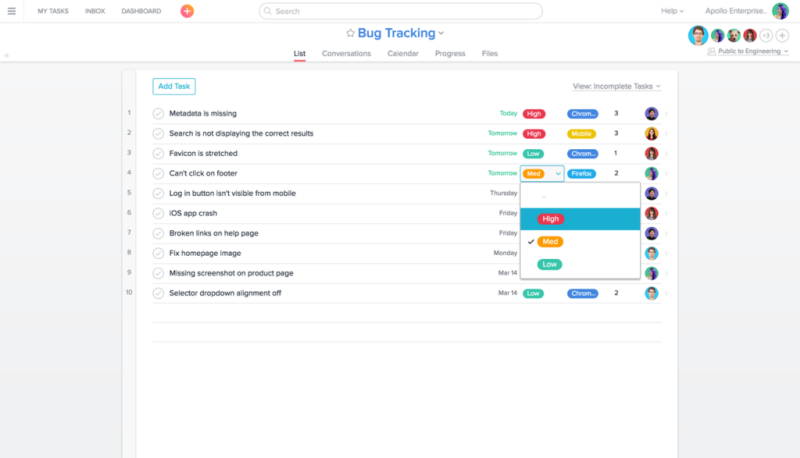 To edit in project view, users simply need to hover over a custom field in the project's task list. This will display the field name. They can now choose the field they want to update. Users can click on the field to update the value, either by choosing another value or entering a new one. The task list will display up to 5 custom fields only. To change the current display, users should go to the Manage Custom Fields section in the project actions menu. From there, they can click on the gear icon next to the field to change which ones will be shown.
View custom fields in Calendar
Asana makes it possible to display tasks in Calendar view. This is convenient especially for certain projects such as an editorial calendar. However, displaying when a task is due may not be enough. Now, custom fields by color are shown on a project's Calendar, which allow for easier tracking of task information even at a glance. Moreover, it is now easier for users to see additional context of the task, such as specific channel, stage, or author in an editorial calendar project. To view fields in a Calendar, users should click on Calendar in the project header. Then, they simply have to hover over a colored box to display the field name and value.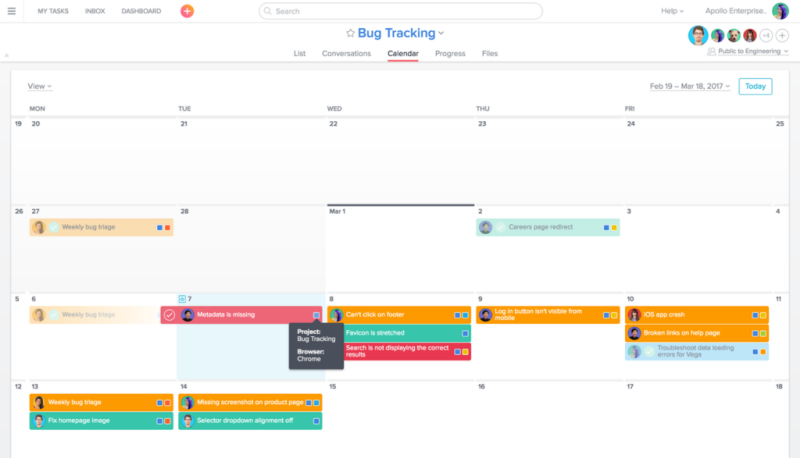 Fill in values from Quick Add
The Quick Add or + button in the top bar is a great time saver. With the latest update on the custom field features, it is even faster to create a task with custom values. Users can fill in the custom fields while creating the task. It eliminates the extra step of clicking into the task after it has been created just to fill in the custom field values. The only thing to remember is to fill in the project field during the task creation in order to show the custom fields for that project. Again, to add field values in Quick Add, users should click the + button (Quick Add) in the top bar, and then select task. Fill in the project field to display the custom fields for that project. Then, enter the values for the custom fields and create the task.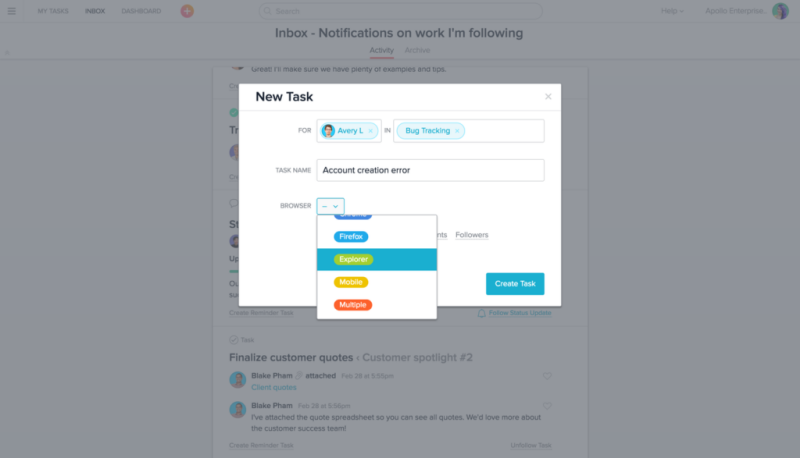 Tracking is now easier than ever
Asana users can upgrade to Premium to enable custom fields. Custom fields further enable users to track different types of work specific to one's business and organization. This latest update makes tracking and managing workflows for individual users and teams easier. For more information about the latest updates and other announcements, visit Asana on Facebook, Twitter, LinkedIn or YouTube.