Basecamp project management and internal communication application is a simple and centralized system that helps people run their business smoothly. With a minimalist and contextually designed software, companies are able to assign, track, and chart their to-dos without the confusion and complication of using multiple products. And it makes it easy for all types of users with a clear and consistent menu, navigation, and Home screen. Recently, it introduced a new menu called My Stuff that makes working on a bunch of things more smoothly. For a great reporting and exporting tool for Basecamp, we recommend you use our own tool Bridge24 for Basecamp.
The Problem at Home
The Basecamp 3 Home screen brings together access to all of the person's drafts, bookmarks, and assignments. Home is the go-to place to start the day, or to come back from a pause. When users load the Home screen, they get to see all their important links where they can get back quickly to their assignments, bookmarks, drafts, and other responsibilities. However, there is a problem when they are in some other screen, like creating reports or reading answers to check-in questions. To get back to Home, they have to leave the page where they are at and view a new page. This can disrupt a thought process, a workflow, or an engaged activity.
My Stuff – Always Available
A new dedicated menu called My Stuff solves this disruption process. The inspiration for the solution came from their mobile apps. Now, users can easily access all their important links without leaving their current page. The links have left Home and are now accessible on My Stuff. Therefore, users can easily view their assignments, bookmarks, and other links just by clicking on the menu on the top.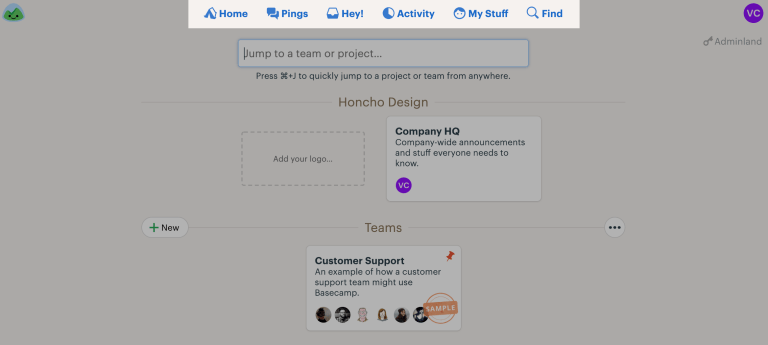 Now in one place
When Basecamp 3 users click on the My Stuff menu, it will display all the links up top, easy for them to see. They can click the links to get to their assignments, bookmarks, schedule, drafts, their recent activities, and their boosts. Additionally, the menu will display a small collection of pages that the user has recently visited. These pages can be recent files and documents, messages in the Message Boards, and other pages.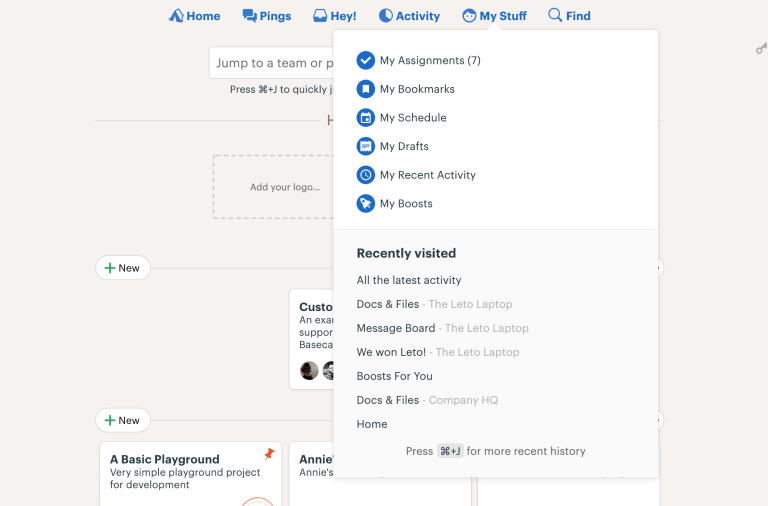 Shortcut Navigation
The new menu will help users navigate the application as smoothly as possible, so they can concentrate on more important work. While adding the menu, the Basecamp team thought of making it even more useful, so they added keyboard shortcuts. Thus, users can navigate without taking their hands off the keyboards. As we know, the Find shortcut is Command + / (or Ctrl + /). Now, for the My Stuff shortcut, it is Command + ; (or Ctrl + ;). After the menu opens, users can use the up or down arrow keys to navigate and select their links. Then they can hit Enter and be transported to the new page, without having to use the mouse.
Warm and Wonderful Reception
The new My Stuff dedicated menu was warmly received by Basecamp 3 users. For many, it was a great idea and a welcome effort that will provide convenience and efficiency. Some also took the opportunity to share their wishes for additional features. These include using the J and K keys for navigation, additional visual cues on the different navigation actions, and some issues with non-English keyboards.
Basecamp – Making it easy
Basecamp is helping teams and businesses get organized in once central place. At the same time, it makes it easy for its users to navigate the system, access any page or screen, discuss ideas and collaborate. Then, they can really be all on the same page. For more information on the latest release and other updates, follow them also on Twitter, Instagram or YouTube.