Asana Training and its services
Asana Training was founded by Todd Cavanaugh and they specialize in deploying and optimizing Asana as a project management platform. They offer a Masterclass especially for project managers, small business owners and project team members. It is self-paced and accessible over the Internet. They also offer on-site training seminars, virtual training seminars, workspace audit, and employee onboarding. This article is a summary of an interview by Todd Cavanaugh with Michael Claassen about Bridge24.

Bridge24 with Asana Interview
What is Asana?
Asana is being used by a great number of teams and organizations around the world. They are able to collaborate and track the progress of work using a central online application. However, in spite of its popularity, not everyone is in Asana. Thus, there is still a need to export information to others, such as an executive team, or for an offsite meeting. Here, they might still prefer reading reports in Excel or in printouts. Unfortunately, Asana's reporting and exporting features are very basic, according to Todd Cavanaugh of Asana Training. For a powerful reporting and exporting tool for Asana, give our own tool Bridge24 for Asana a try, or access it at Asana's Integration page.
Asana Reporting and Exporting Limitations
Users of Asana have been pointing out the reporting and exporting improvements they would like to see for a time now. But working on them seems to be not a priority for the company at the moment. Although teams are able to export their data into CSV by project, the format is poor. Also, the tasks and subtasks do not appear in any discernible order. They can print a list view or save it in PDF format. However, it is not customizable, so there is additional work of printing subtasks and task descriptions.
The Bridge24 Solution
Bridge24 provides enhanced reporting and exporting capabilities for Asana and a few other project management tools. It provides a separate interface that allows more functionality. Users can easily build and save custom filters for sorting, viewing, and combining project data in flexible ways. They can apply 2 levels of grouping, and indent subtasks up to 5 levels down. They can add 4 additional fields including custom fields in reports, and more.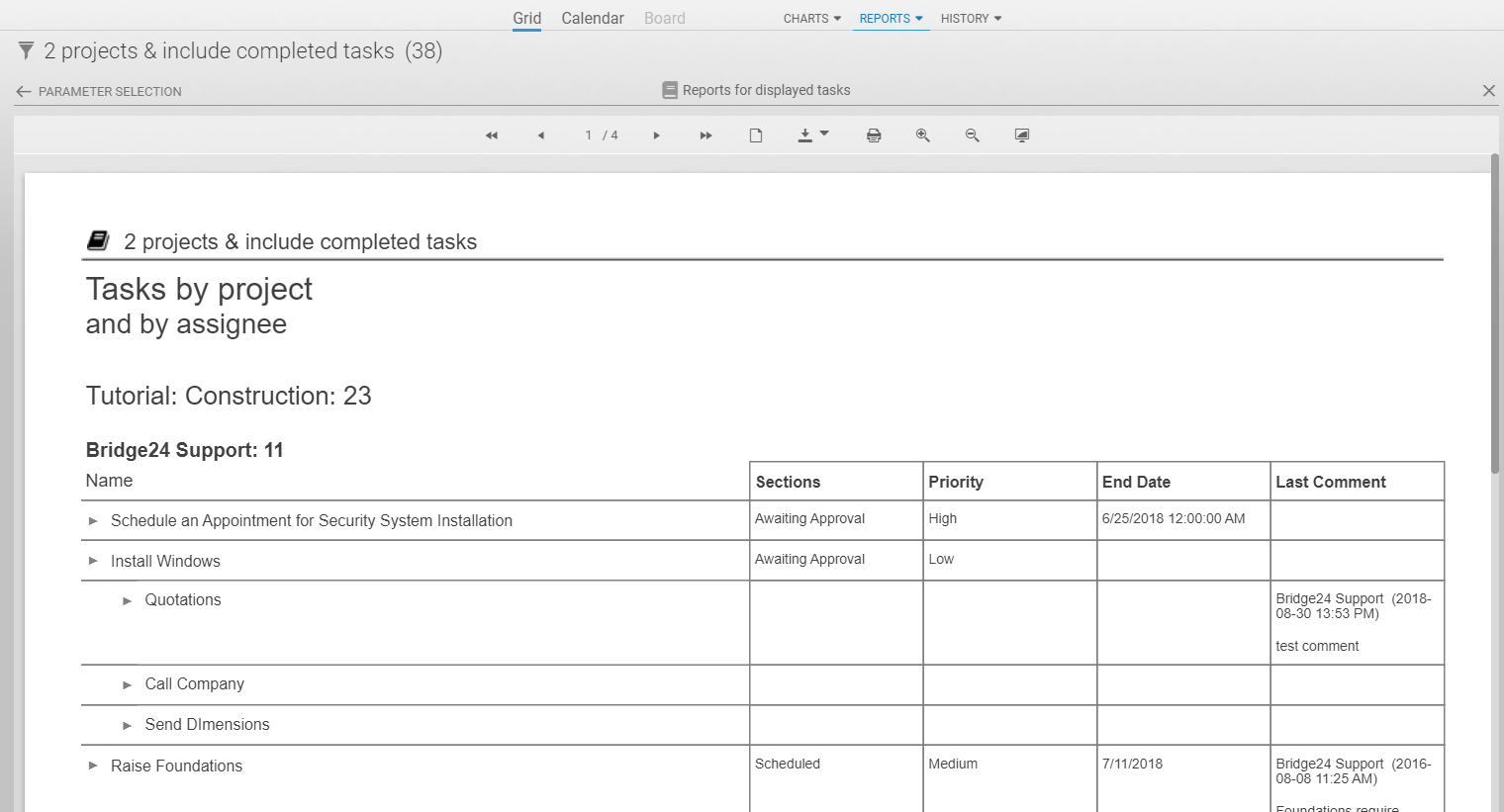 View List Projects as Boards
At present, Asana does not allow users to switch between a board view and a list view. It is not yet possible to change a project layout once the project has been created. But Bridge24 can easily turn section headings into columns. In effect, it provides a better implementation of the board view, and switching between views, than what is available in Asana.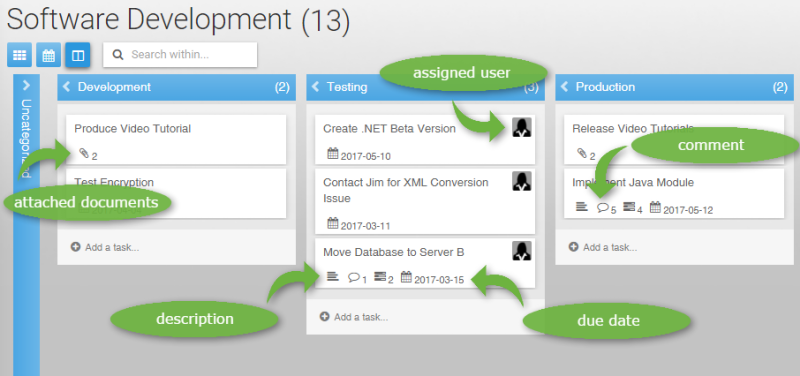 Export to CSV or Excel
Exporting of project data to CSV using Asana produces a messy output. With Bridge24, users can choose which data they want to export from tasks, including custom fields. They can do it easily with a simple drag-and-drop interface. They can even combine data from multiple projects.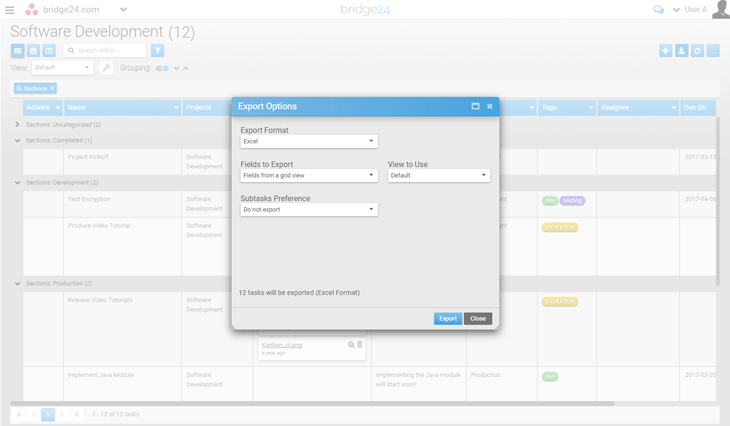 Visualize Data in Interactive Charts
Users can visualize their Asana data in colorful interactive charts. Bridge24 offers several types of charts, such as pie, donut, polar, horizontal and vertical bar charts. They can also easily export it to reports in PDF format.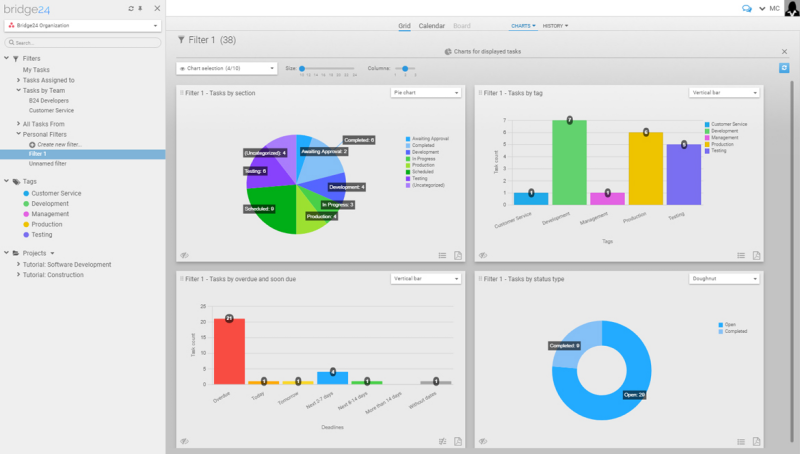 Automatic Report Generation
Bridge24 users can make use of a few predefined reports available now. More custom reports are coming, including those with formatted lists. According to the interview by Todd with Michael Claassen, upcoming reports will also include those that provide analytical data, such as year-to-year comparisons.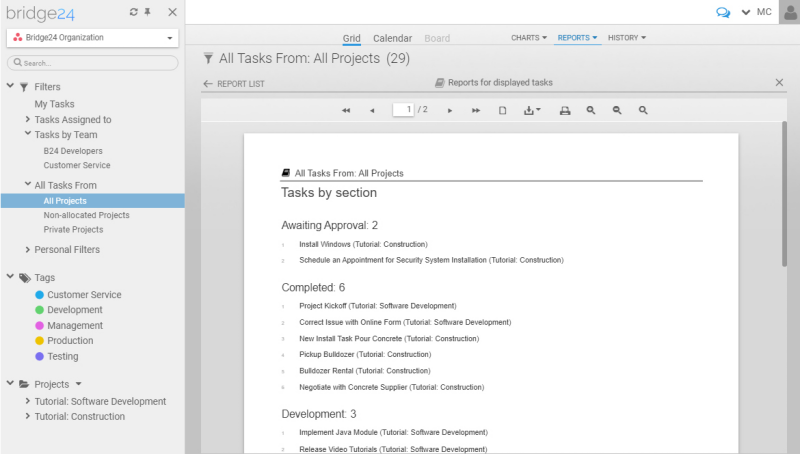 Try Bridge24 for free
Bridge24 continues to add important and essential features that are not yet available or a priority in Asana. Features like history audit are important to companies, as well as the ease of use, such as switching between views, and choosing the right data across projects.