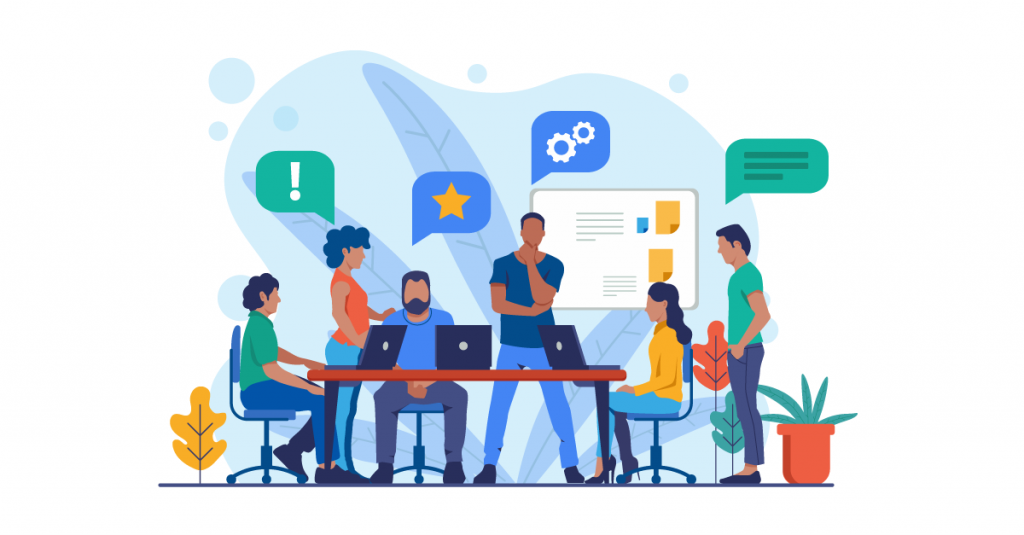 Brainstorming is a group creativity technique used to generate ideas to solve problems. In a brainstorming session, members of the group can express their thoughts and ideas, no matter how crazy they may sound, without fear of being judged. Some of these concepts and proposals are refined into solutions, while others lead to the hatching of brilliant ideas. Teams in different business sectors and departments use these sessions to stimulate creative thinking and spark innovation. However, team members are not always able to gather around and hold physical brainstorming meetings.
When team members work remotely or are distributed across multiple states and even countries, businesses need to look for tools that can help them have an impactful brainstorming session. One of the tools commonly used when teams have a physical meeting to conceive ideas is a whiteboard with sticky notes. However, remote and on-site teams can take advantage of Trello too, a digital whiteboard that makes organizing ideas a breeze. Trello integrates with multiple Power-Ups like Bridge24 for Trello to enhance functionality for teams of all sizes.
Here's how you can use it to brainstorm:
Rules of Brainstorming
To set the stage for a successful brainstorming session, there are rules that need to be followed. These rules help to bring some structure to the meeting.
Set a time limit. The session shouldn't be too short or too long.
Encourage wild ideas as they often lead to creative leaps.
Don't judge ideas. Criticism should temporarily be banned, and everyone should be comfortable to speak their minds.
Try to get as many ideas as possible from the team. The more the ideas, the higher the chances of finding a solution.
Build on each proposed idea and try to develop it further.
Have a target problem or topic that the discussion will focus on.
Give everyone an opportunity to speak and be heard.
Tips for a Productive Brainstorming Session Using Trello
Trello makes brainstorming easier and effective. Here are some steps to help you have an impactful brainstorm.
Prepare the theme of the meeting and create a board with cards explaining what will be discussed and the problem that you want to solve.
Start a video meeting with participants. You can use a Power-Up like Whereby to have a video meeting on your Trello board.
Make sure every team member is in Trello and is invited to the brainstorming board.
How to Set Up Your Brainstorming Session in Trello?
Now that everything is set and ready, decide how you want to use lists to arrange your board. If the session will focus on a narrow topic, let's say a blog post heading, set up a list for each team member, and later create detailed lists to house ideas that are identical. If you are brainstorming a broad topic, you can set up a board with lists that stand for sub-themes.
When your meeting commences, every idea should get its own card and be placed in the relevant list. Any team member can move the cards to different columns, order the cards differently, or add comments. After all the ideas are assembled, you need to minimize the lists and find the strongest ideas. You can narrow down ideas by letting the team vote for their favorite ideas. The Voting Power-Up can come in handy in this phase.
Using the Disruptive Brainstorming Technique
If you want to generate awesome ideas faster, you can deploy the disruptive brainstorming technique. It constantly pushes the team to innovate. During the meeting, team members come up with very broad ideas on the theme, and any idea is encouraged. You then create a board with a list for every round of brainstorming. Then you bring in constraints using 'Disrupt Cards', which add new variables to your theme.
When a new constraint is introduced, it fuels the hatching of a new idea because it forces you to look at things from a particular angle that you weren't looking at. Introduce constraint cards roughly every ten minutes and collaborate to eliminate ideas from each round. By the end of the session, you will have some brilliant ideas that you can start working on. Use Trello to structure the winning ideas into themes. You can create cards for each one of them and assign them to team members.
Closing Thoughts
With Trello, you can start generating ideas form anywhere you are. It gives you a great platform to hold brainstorming meetings with your team and ensures no idea gets lost. Trello is intuitive to use and has minimal barriers to entry. You can start using it almost immediately. Although an excellent tool, Trello isn't complete on its own. That's why it allows you to combine it with other excellent tools. For instance, if you want to bring advanced reporting and exporting features to your board, check out the Bridge24 for Trello Power-Up.