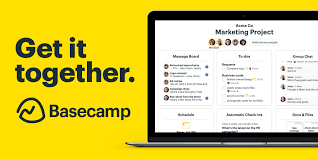 Basecamp is one of today's most popular and preferred project management software. It is a useful tool that gives teams the power to create to-dos and schedule their due dates. Additionally, it can also upload documents and files to share with the team and send messages for collaboration.
Basecamp has numerous benefits and one of them is keeping project communication in one place. It is a tool that replaces many communication methods such as email and chat applications. And since Basecamp has file attachment and commenting capabilities, users can easily find the information they are looking for. This software also integrates seamlessly with other apps that are commonly used by teams and organizations. For example, users can link their Basecamp with Google Drive and never have to leave Basecamp to open files. Of course, this software is suitable for small businesses for $99 a month. But, how about individual users like students, families, and freelancers? Surely, $99 for personal projects is way too expensive, right?
Basecamp Personal
Introducing Basecamp Personal, Basecamp's tier especially designed for freelancers, families, and students. The personal edition is suitable for personal side projects for up to 3 projects. Users can collaborate with up to 20 users and enjoy 1GB of file space for these personal projects. Basecamp Personal is a good tool to use that separates personal projects from the work ones.
Here are some of the most common projects Basecamp Personal can be used for:
Personal side projects
Small freelance gigs
Neighborhood associations
Sports teams
Family events
Volunteer projects
Hobbies
Weddings
Boys/girls scouts
Home improvement projects
Features of Basecamp Personal
One thing that is true about Basecamp Personal is that like the mother version, it aims to promote team productivity. Though not as comprehensive as the capabilities of the original version, Personal also has a suite of features.
Message boards. As Basecamp Personal is for communication and collaboration, it has message boards where users can chat with each other. This is where updates about projects can be seen, as well as who's working on what. Also, important information can be easily found here because communication is done in threads.
Group chat. Users don't have to be formal when communicating in the group chats. If users have quick questions, they can place them here and anyone can answer them. Also, users can chat privately with specific users or create a group with only specific members in them. Group chats can be used for casual chats among team members.
To-dos. Of course, just like the mother version, users can also create to-dos with Basecamp Personal. Here, all users of the account can see the tasks and be updated of their progress.
Basecamp Personal wants to make sure users don't miss a deadline through its schedule feature.
File attachments. Users can also have a place for their files and folders. Anyone who wants to look for files and information can easily find them in the labeled folders.
Basecamp Personal is a very good option for individuals who want to use management software for their projects. It doesn't require a credit card, making it suitable even for younger users. Though its capabilities are not as intuitive as the mother version, it is more than good enough to use for side projects.

For those already using Basecamp 3, Bridge24 can enhance its features further. Bridge24 for Basecamp bridges the reporting and exporting gap of Basecamp 3. It allows users to create customizable reports in a high-quality printable format, among others.