Trello is a popular project management software that helps users to stay organized and productive. It's intuitive, flexible, and simple to use, with powerful productivity and collaboration features. Teams can use it to keep track of their projects and collaborate throughout the workflow process, while individuals can deploy it to organize personal tasks. Due to its versatility, Trello can be used in an infinite number of ways. Regardless of the industry, field, or department you are in, you can always employ Trello to transform your workflow.
Sales and customer support teams are some of the professionals who can benefit from using Trello. It helps such teams become more productive, manage their workload better, build a solid process, get everyone on the same page, and offer customers a great experience. To expand Trello's capabilities, users can also combine it with Power-Up tools. One such tool is Bridge24 for Trello, which brings advanced reporting and exporting features to your board with new perspectives into your sales and support process.
Below are other top Power-Ups for sales and support teams.
1. Crmble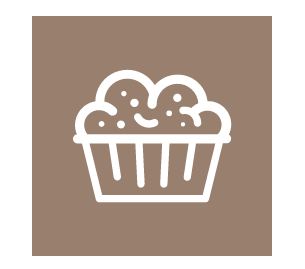 The Crmble Power-Up makes customer relationship management much easier. It transforms your Trello board into a CRM system and lets you stay organized and consistent. You can use it to design your own sales funnel, see at a glance how your sales pipeline is performing, get your customers' contact details, customize your lead source fields, and import CSV and Excel files into Trello. It also provides graphs that you can use to monitor your leads' journey.
2. Salesforce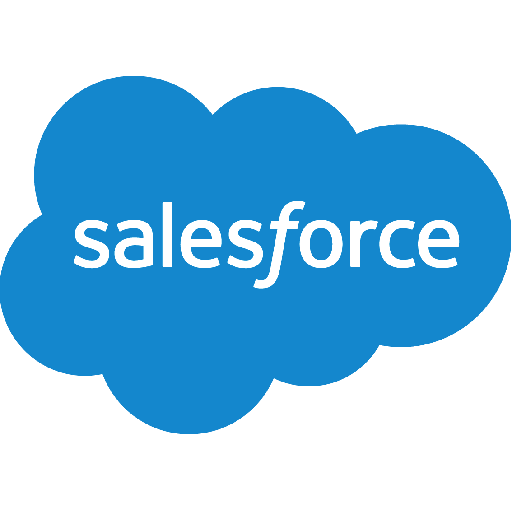 The Salesforce Power-Up lets you bring valuable information about opportunities, leads, contacts, other details to your board. With it, you can learn how your sales pipeline is doing, and know whether you need to readjust your processes. Whether you do sales in the field or from the desk, you can also use it to pursue opportunities without going outside Trello. You can also see the dates you sealed a deal and the amount it was worth.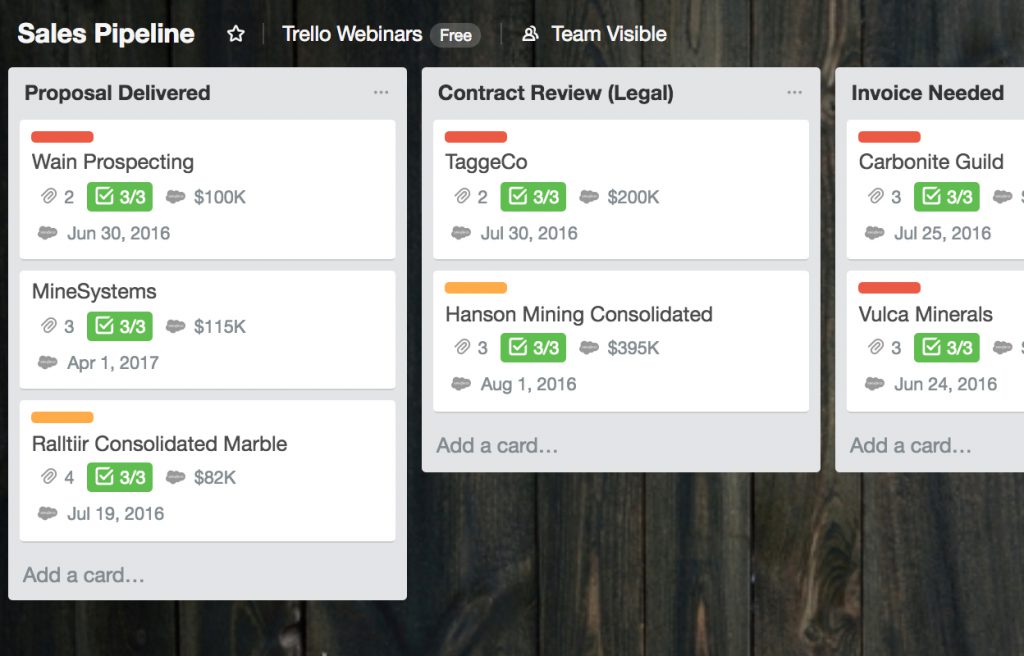 3. Zendesk

The Zendesk Power-Up lets you bring Zendesk tickets and views to your cards. When there is a glitch in a software product, it's common for many users to report the same problem. When tickets come through Zendesk, the support team can create cards for each issue and attach the relevant tickets to the cards. Engineers can view the Trello board and tell which issues need urgent attention. Once the problem is fixed, a bulk email can be sent to notify customers that the problem is solved.
4. Pipedrive

With the Pipedrive-Trello integration, you can seamlessly move information between the two tools. This Power-Up automatically creates cards when you start, close, or move a deal. The created card will include contact details, deal history, and any other relevant information. You can also set up rules so that when a deal reaches a certain stage, a card is automatically created, and the right people are notified.
5. SendBoard
Sales teams send and receive lots of emails. Tracking these emails and putting together the information they hold can be challenging. The Sendboard Power-Up makes managing emails a breeze. Once enabled, your new emails will appear on your Trello board as cards, and your sales team will be able to view the full thread of email messages and collaborate on how to respond, all without leaving Trello. You can also use it to reply to your emails, including adding attachments.
6. Twitter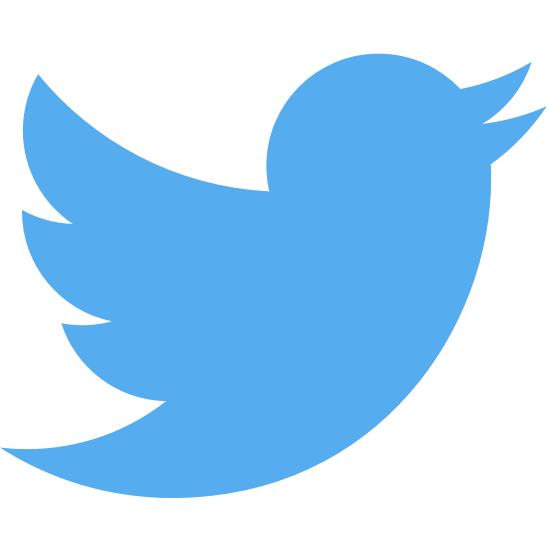 With over 321 million active users, Twitter is one of the platforms that sales and support teams can't afford to ignore. Teams use the Twitter Power-Up to organize support issues, manage new requests, and engage their community without leaving Trello. It allows you to attach tweets to cards from mentions, searches, and links. You can like, retweet, and respond to tweets without going outside Trello. You can use it to prioritize cards based on the number of tweets attached.
7. Zoho Desk

The Zoho Desk Power-Up enhances team productivity and collaboration. It allows you to attach tickets and customer views to cards, and view relevant summaries in one look. Without going outside Trello, you can tell when a ticket is due, which problem needs to be fixed, and who sent the ticket. Your customer service team and software team can collaborate better and fix issues as they happen.
8. Hipporello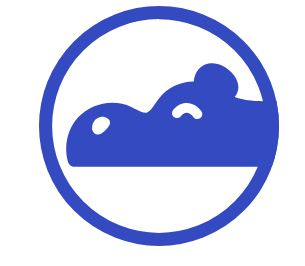 When you want to bring customer requests to Trello boards, turn to Hipporello. This integration allows your customers to create cards on your Trello board whenever they have a feature request. You can also use it as a shared inbox with your team and let team members access emails and collaborate on them.
9. Intercom

The Intercom integration for Trello allows you to add context to the feature requests and reported issues you are handling on Trello. With it, you can search and include conversations, users, and organizations from Intercom straight to your cards. This tool allows you to gauge the priority of a request, understand its background, and see which customer made it.
10. Help Scout

When you want to see current information about conversations attached to cards, Help Scout is the tool for the job. This add-on gives every customer support interaction a human touch and allows you to offer a helpful resolution quickly. You can use it to attach conversations from Help Scout to your cards by copying and pasting the URL.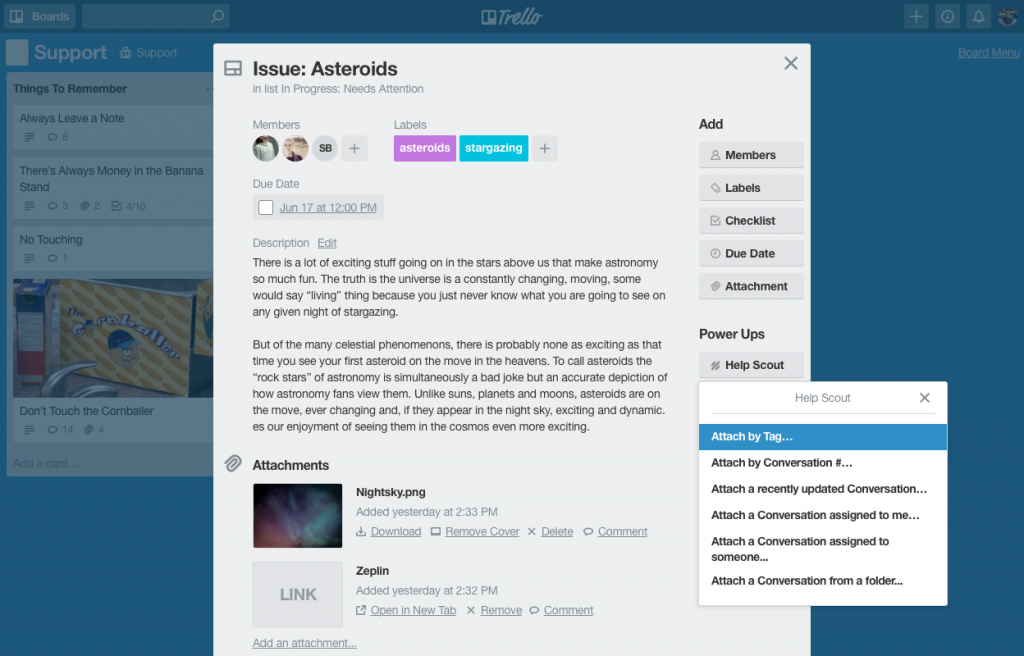 Summary
Sales and support teams can benefit tremendously from Trello. Even better, they can combine Trello with third parties to get a better handle on their projects. This way, you can keep track of your customers, deliver the right products to them, and keep them delighted. In addition to these Power-Ups, sales and support teams can get more out of their Trello information with a tool like Bridge24 for Trello which makes it easy to export information across multiple boards and easily create interactive charts and graphs that provide new perspectives of your task.