Trello online collaboration tool enables users to be productive in a simple and fun way. With click and drag functionality, and a system of visual boards, lists and cards, both individuals and teams are able to organize and prioritize projects the way they want to. A free version is ideal for personal productivity, event organization, or family activity planning. Paid versions like the Business Class and Enterprise are valuable for team collaboration, project management, process improvement, and other productivity enhancement. If you are looking for a great reporting and exporting tool for Trello, we suggest trying out our own tool Bridge24 for Trello.
Trello Enterprise
Trello Enterprise is a multiple team collaboration platform that is characterized by the same simplicity and accessibility found in free Trello. It is a more robust Trello Business Class that targets large teams of 100 users and above. An organization with multiple teams can use the tool for communication and collaboration to reduce email chains and frequent meetings. Ready-to-use boards and tools are available for a variety of teams, such as for engineering, marketing, design, sales, startups, and many more. It has enterprise-grade security features for managing users, content, and permissions. And it can be further customized and enhanced with unlimited Power-Ups.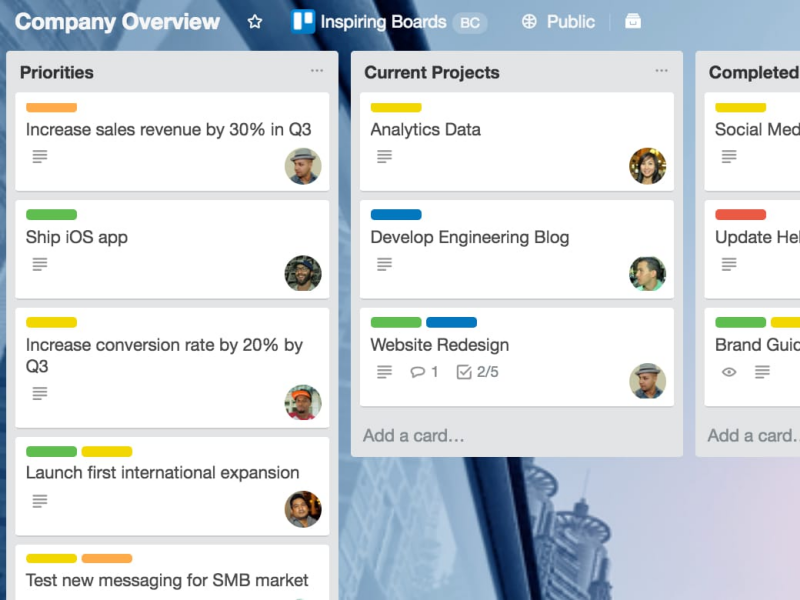 Enterprise Features – Unlimited Trello
Aside from unlimited personal boards, cards, lists, and Power-Ups available only to paid plans, Trello Enterprise also comes with more features. It has a higher 250MB limit per file attachment and priority support with one-day or less turnaround. As an enterprise tool, it comes with unlimited Team Boards, or boards that are available to all team members. It has the Collections feature, which is a way to group boards together according to a custom category, such as team, department, or project. Users can also sort and filter further the boards displayed in tiles. The application also includes exclusive advanced automation features by Butler, such as unlimited buttons, rules, and scheduled commands, unlimited command runs, and more.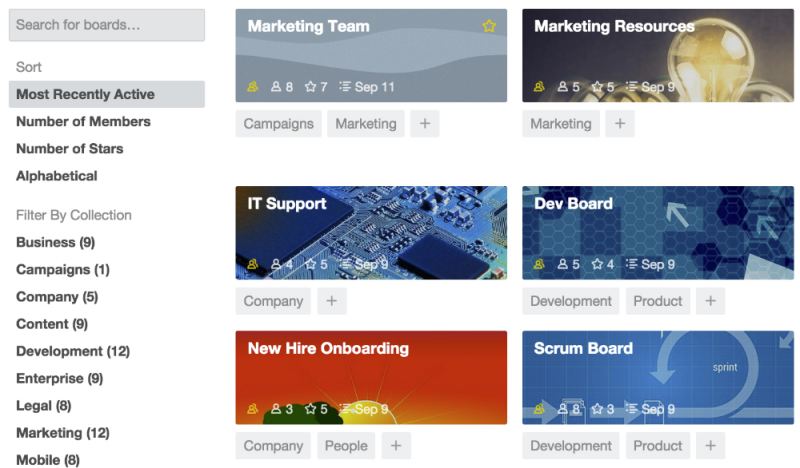 Organizational Visibility and Control
Trello Enterprise can be flexibly organized as a collection of Trello teams linked together under one organization. Each team can represent a different working group or department. It has an extra layer of visibility called 'Organization' that is between 'Team' and 'Public.' The Organization visibility setting makes it easier to share information between teams securely, without having to make the board public. Enterprise admins also have access to Organization-Wide Permissions, which override any individual team settings. Additional features include Team Visibility Controls, Team Membership Restrictions, Board Creation Restrictions, Board Deletion Restrictions, and Team Board Invite Restrictions.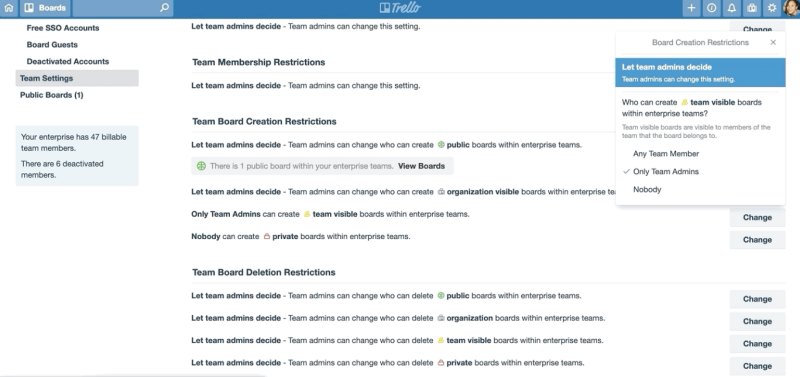 Advanced Enterprise Administration
Admins who are managing large teams need all the tools they need so as not to be slowed down by doing administrative tasks. Trello Enterprise includes tools that give them the additional visibility and capabilities. Automatic single-sign on (SSO) enforcement allows admins to set a date for all Trello accounts on a particular claimed domain to enforce SSO. Email reminders will be sent automatically. After the transfer date, users must log in to Trello via SSO. Enhancement of team board security gives admins the visibility to see all public boards connected to the Enterprise.
Real-time User Management
Trello Enterprise has additional user management functionality that give admins a clearer picture of their users and adjust membership type according to activity. For example, Enterprise admins can upgrade who on their team can also be an Enterprise admin. They can deactivate/reactivate users from their dashboards. They can also deactivate lapsed users by bulk from the dashboard. Enterprise admins can filter members by last active, with a time frame of 30, 60, or 90 days.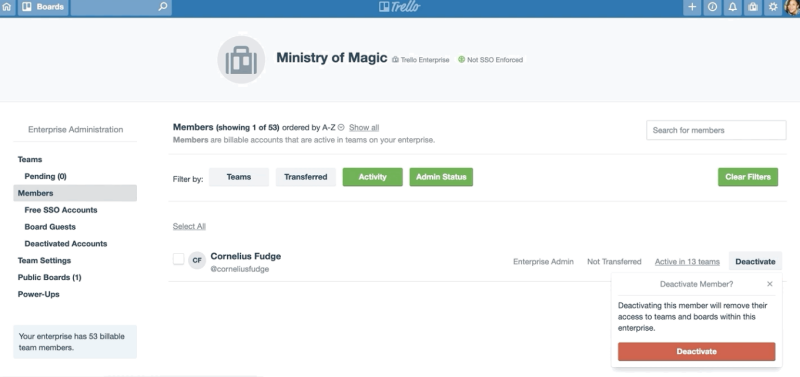 Power-Up Administration
The new Power-Up Administration help Enterprise admins control which third-party apps can be integrated with Trello. They can instantly see what Power-Ups are in use, and also set permissions from a central location that cascades down to all teams.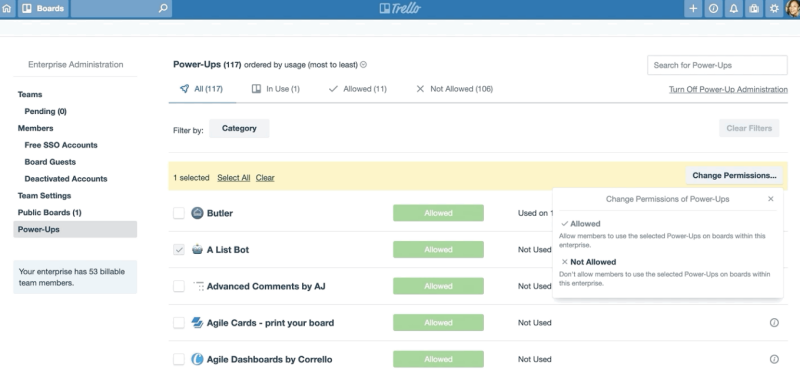 Advanced Security and Compliance, and other features
Trello Enterprise is SOX (Sarbanes-Oxley Act) and SOC (System and Organization Controls) Type 2 compliant for data security concerns. All data traffic runs on HTTPS protocol, and backup of data is hourly, kept in an off-site location. Also, there is encyrption of user data at rest and in transit, and intrusion detection measures are in place 24/7. Other features include:
simple data export
2FA
Google Apps sign-on
Observer member type
custom background, stickers, and more.
Trello Enterprise Pricing
Trello Enterprise pricing depends on the number of users, and starts at 20 users minimum. The total yearly price for 20 users is $5000, or an equivalent average price of $20.83 per user. The average price per user remains the same up to 300 users. Therefore, at user 301, the average price per user goes down to $23.56.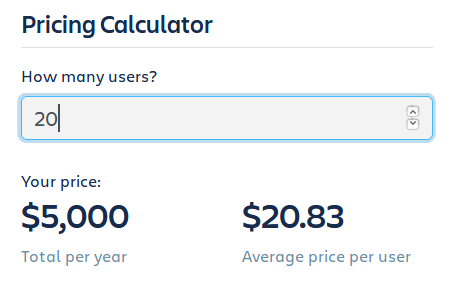 Modern Enterprise Team Collaboration Tool
Trello Enterprise is a reliable platform for teams to collaborate productively and securely. In fact, uptime was 99.99 percent in 2018. Users who are members of an existing Enterprise team can simply request an Enterprise admin to upgrade him or her to an Enterprise team. For more information about new Enterprise features and other product or company announcements, visit Trello also on their Facebook, Twitter, Pinterest, or LinkedIn page.