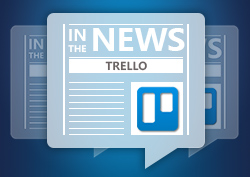 Trello is undoubtedly a mind blowing visual organizing tool which is being heavily used by struggling entrepreneurs to organize their workflow. And, today for all our Kannaban fans, we'll be covering on how businesses are making the most of this amazing tool. Let's explore three recent articles featured on some top blogs and find out how the app can make your workflow a lot easier.
How Trello Became An Important Part of Bit Hound
Bit Hound is a company that helps you build remarkable, resilient software. It's easy to write code, but it takes discipline and craftsmanship to build a fabulous project. This company analyzes your code and gives you invaluable insights besides providing actionable recommendations so that you can emphasize on building the best software. Because of the huge amount of data being processed at Bit Hound, things were in a mess, with some of their analyses not working out. This is when they decided to put their data on a Trello board. As a result, things started moving smoothly and their business was automated. Cards in the backlog list were being processed automatically.

Initially, the use of Trello at Bit Hound was limited, but now it has become a key tool for them to manage abrupt issues in their backend processing.
Contact the Author: Twitter | Gord Tanner
Read the original article from Bit Hound
Setting Up Integration With Trello
Detectify is a SaaS –based web service that assists you to find security loopholes in your site. To start off, you create an account and add your domain that needs to be tested. On completing this step, you can start the security scan for your site. This article shows how to integrate Detectify dashboard to your Trello card. You can select the types of notifications you would love to receive, and then click on "Save Settings".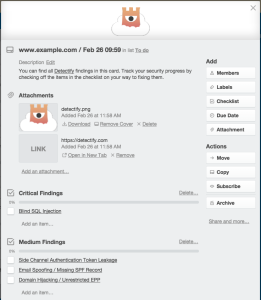 Your reports will be pushed up to your favorite security to-do list. The image above shows how your reports will appear inside Trello.
Contact the Author: Twitter | Facebook
Read the original article from Detectify
11 important integrations with Trello
Make Use Of is the globe's leading hub for learning about technology and how it can make your life better. They recently featured an article on 11 integrations with Trello to make your workflow smooth. Some of the apps that can be integrated with Trello as listed in the blog post are PomoDone, Trello Booklet Marker, Gmail for Trello, Taco,Chromello, Timeneye, Tab for Trello, Plus for Trello, IFTT integrations, Echo for Trello and Websites for Trello.

The visual collaboration and web-based project management tool has been designed to be flexible and these integrations can simplify your productivity greatly. Each of these will solve your day to day problems and that of your team too.
Contact the Author: Twitter | Facebook