Trello is a visual project management application that has helped teams from around the world track their projects, streamline their workflows, and collaborate efficiently. It is very flexible, and people have used it in more creative and productive ways than the creators originally thought possible. This free app made its initial public appearance in September 2011, spun out to be its own company in 2014, and was acquired by Atlassian in January 2017.
Barely a year from its debut, Trello reached 500,000 users in July 2012. People have found that a web-based kanban board can help them get more organized and productive. Then sometime in October 2015, about four years from its launch date, the visual project management app passed the 10 million signups mark. And now, 6 years from the very start, Trello is 25 million users strong. To review by numbers, it took 10 months from zero to 500k, some 3 years for an additional 9.5 million users, and 2 years for an additional 15 million more.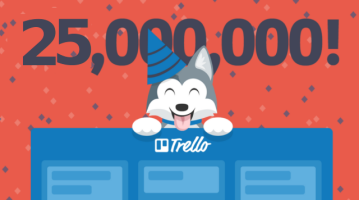 This is exciting, not only for Trello but also for all products that integrate with it, such as our own Bridge24. As an official Trello add-on for reporting as well as for updating, exporting, and more, millions now have the opportunity to extend the capabilities of the PM app and take control of their data in more flexible ways. To learn more about this amazing extension, we suggest trying out Bridge24 for Trello.
Top-Requested Features
As has been in the past, Trello expresses its gratitude to its users in more than just words. It has released 4 of its top-requested features. Thus, all users, from project managers, IT, to product developers and creatives, to name a few, can enable it to be more organized, streamlined and productive.
Trello Desktop App
The new Trello desktop app for Mac and Windows is now available for download. In effect, it is a separate workspace application that will not compete anymore with the other web apps among one's browser tabs. It comes with customizable keyboard shortcuts and desktop notifications. Users can set up their own priority boards, and even make use special technology such as Apple's Touch Bar.
Embedded Cards and Boards
People can now bring their boards and cards to their favorite applications. They can embed Trello interactive cards and boards directly into apps. It works in BitBucket, Confluence, Dropbox Paper, Microsoft Teams, and appear.in. Embedded boards have the same look and feel, and include the flexibility and functionality that users enjoy as if in Trello. Embedded cards also have the same look, but also display at-a-glance information, allow comments, voting, subscribing, and more. If Power-Ups brought other apps into Trello, embedded boards and cards bring it to the other apps.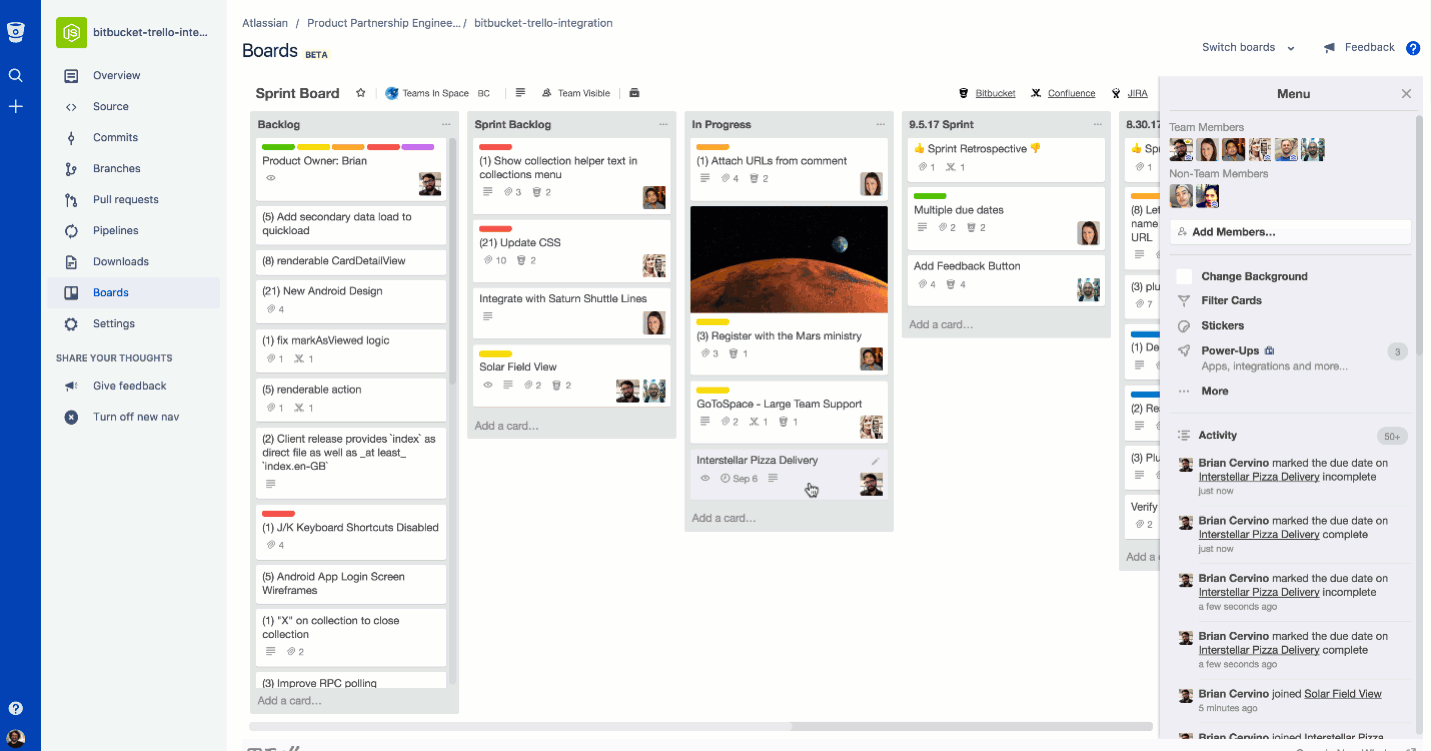 Related Cards
One characteristic of this visual PM app is its flexibility. Related cards and boards now bring this flexibility in a new visual level. When users attach a card or board to another card, they actually look like a card or a board. This feature is available whether on the web app or on the mobile app. From the card back, the user can preview the attached cards or boards. So, an attached card will also display its card members, due date, list status, and more. This feature is available in the Attachments button, or by dragging a Trello URL into a card.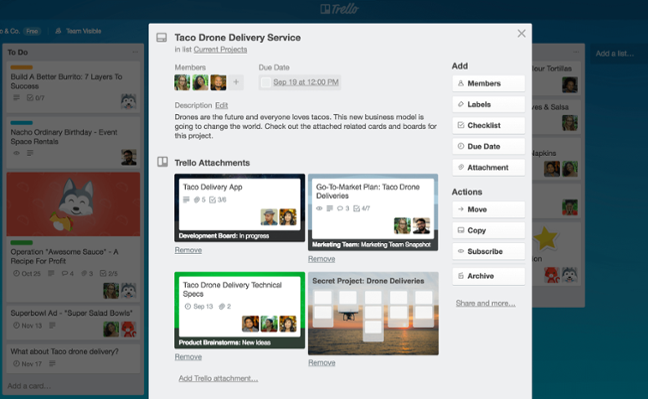 InVision Power-Up
InVision is a leading prototyping and collaboration application. In fact, many designers, developers and product managers use InVision for prototypes and mockups. This free Power-Up enables users to directly embed their prototypes and mockups to Trello cards as attachments. They can easily access up-to-date prototypes, leave comments, and check for the latest update. They can reference designs without leaving Trello, or quickly jump into Inspect mode in InVision with just a click. Now, the cycle of product spec to product launch has become smoother with the InVision Power-Up.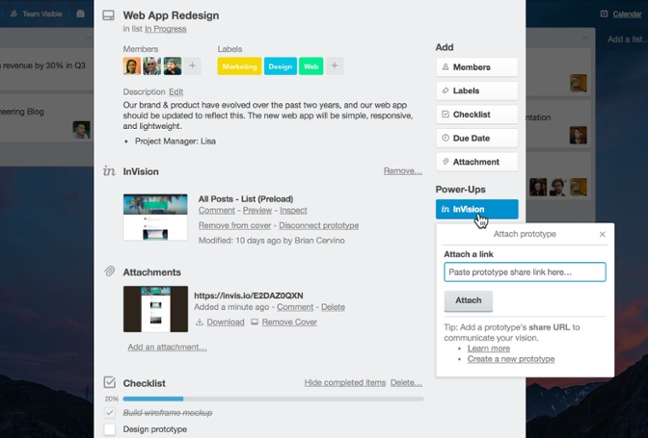 To know more about the new features, the latest releases and other updates, visit also Trello on Facebook, Twitter or LinkedIn.