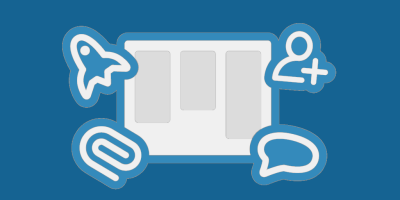 Trello web-based productivity and collaboration software recently announced the release of several new features. It made news some months ago when CEO Michael Pryor mentioned that as many as 120,000 new users are signing up for the application every week. In response to that, it will now be easier for users to invite even more people to join their boards. Also, users can share links to comment faster and easier for other people to read. Users have a quicker access to helpful tips as well as to integrations.
Easier Invites with Links
Trello users can invite other people to join their visual productivity and collaboration boards by sending out invitation through email. However, this means that for a user to send an invitation, he or she must first know the email address of the one being invited. And that would probably mean having to look it up, from a physical address book, opening an email contacts list, or some other application.
A faster way to invite with the recent update is to create an Invite Link, which is unique every time it is generated, and share it where other people can easily see it, such as in chat, email, text message, etc., click on it, and get to join a board or team. To create one, users should open the Add Members menu, click the link "Invite people by giving them a special link." If the link has served its purpose, or has leaked out, it can be disabled from the same Add Members menu.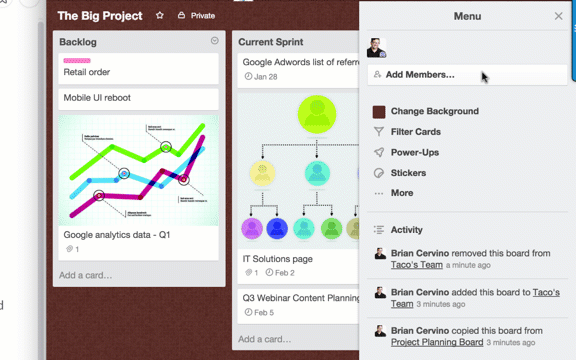 Direct Link to Comments
Trello provides the single interface for all collaboration and communication needs. The cards can contain every conversation for an idea or task, and members can easily get back and go through it for review. However, some conversations can get very long, and it can be a challenge at times to scroll through to find the exact spot for the comment. Not anymore, with the new link to comments or any other action.
To help a team member to read or get to any particular comment, users simply need to go to the comment to be shared, click the timestamp of that comment, usually just below, choose to copy the link address, and paste it. When others click on it, they will be transported directly to the exact comment they need to see.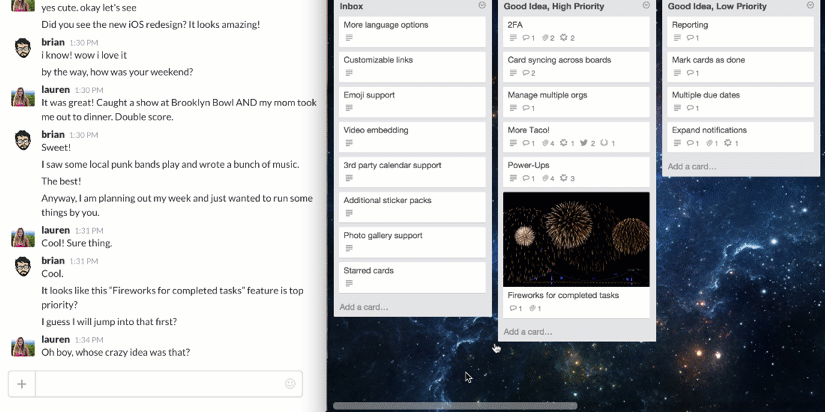 New Menu for Integrations (Power-ups)
Trello is dedicated to keep their visual productivity and collaboration software simple. But for teams that need more, they have Power-ups, which are extra features and integrations that provide the users' boards more capabilities and functionality. To help users have an easier time choosing the integrations they want, the old layout has been redesigned to present a more compact and straightforward layout where users can easily learn more about it and enable it. It also makes room for new ones to appear more noticeably.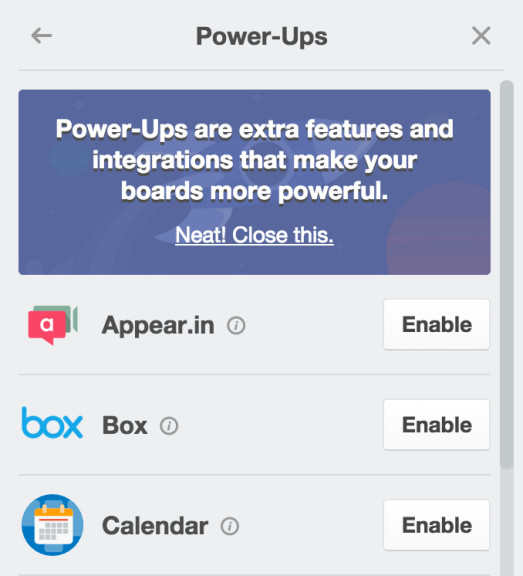 New Available Tips
Although simple to use, Trello can be used in a variety of ways that even regular users may have not yet discovered. Tips are now available just by clicking the information button on the upper right corner. From these tips, links will be available to show the user many helpful sites they can learn from in how to maximize the use of their visual software. For example, the Inspiration page shows how other users have configured and used their boards. They can also see links on the Getting Started Guide for some basics or the Webinars page for a more detailed discussion.
Other Fixes and Improvements
The theme of this release seems to be making Trello easier to use overall. But aside from easier invites, easier links to comments, easier way to use Power-ups and easy ways to get tips, several important fixes and improvements were also made, overall, to make it work faster, such as faster switching between boards, faster data fetching, and adding React to codebase for faster rendering time. Comments now also look nicer, and users can now cancel editing comments, among other improvements and bug fixes.