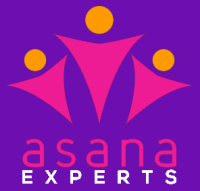 Asana project management software is an online application that enables its users to centrally collaborate on project and task information. With this tool, teams are able to coordinate their work better together. Members know what to do, who will do it, and when they need to do it. Businesses and organizations have been transformed for the better, and those who adopted it are enthusiastic to share their knowledge and experience to others. As an experts directory, Asana Experts is one of the most complete for people looking for help. For a powerful reporting and exporting tool for Asana, give our own tool Bridge24 for Asana a try, or access it at their Integration page.
Introducing Asana Experts
Asana Experts is the go-to place for individuals, teams, and companies looking for expert resources and professional services regarding Asana. It is a comprehensive list that includes experts across the globe. Its main goal is to encourage interactions within the Asana community. Now, Asana hosts its own community site that includes a forum for questions and answers, for sharing stories, and also for certification. However, Asana Experts is part of the Asana Superheroes toolbox created by French engineers Bastien Siebman and Paul Mayer. Bastien is a front-end developer who created the first Asana micro incubator program. Together with Paul, a full-stack developer, they created Asana Experts as the incubator program's first project.

Categories
The Asana Experts website is straight-forward and will get a person in need of help get in contact with an expert quickly. The left-most part of the site lists the categories of experts. It contains a navigation tree that acts as a filter. It can show 'All' the resources, a particular type of resource, or several together. On the rest of the screen is a grid that displays resources. The grid displays experts with different qualifications. It also includes other resources, such as ebooks about Asana, tools, and training. A resource will appear on the page after applying a selection or filter depending on the tags or qualifications it possesses.
Expert Classification
The directory classifies an expert as someone who uses Asana to work. They can be a designer, developer, or virtual assistant, for example. They can also be someone who is mastering the application, such as a consultant or a champion. Some experts also have completed Asana's certification program.
Asana Certified Pro
The categories are listed alphabetically. After the default 'All' filter and the official 'Asana' support category, the first group of experts are the Asana Certified Pro. With this setting, the page displays 5 resources and their contact information, all with the designation of Asana Certified Pro among their qualifications or tags. They are Bastien Siebman from France, Sebastian Paasch from Germany, and Larry Berger, Amber Slaughter, and Alex Tressler from the US. It is important to note that clicking another category while the previous one is active adds all other resources in that category to the display. So, it is an 'or' filter, and not an 'and'.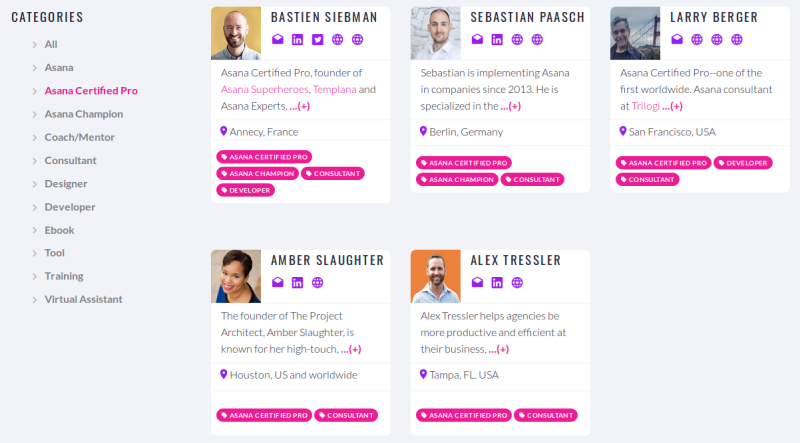 Developer
One of the categories in the directory is Developer. When clicking this, the page displays 8 Asana experts and their contact information who are developers. Two, Bastien and Paul, are from France, while others are from USA, UK, Chile, Finland, and Greece.
Training
Another category in the directory is Training. With this filter, the page displays a variety of training resources. It includes a link to a 'Getting started' video, a bi-weekly group call, both from Asana consultant Paul Minors. It also includes the link to Asana Training, Intro to Asana, and other official Asana resources.
Other categories and resources
Asana Experts also include a directory for Asana Champions, coach/mentors, and consultants. Other categories and resources are designers and virtual assistants. The site also has a link to a public roadmap of features they would like to add. To get in touch with them, just send an email to contact@productivity-experts.com.