Whether you are running a SaaS business, e-commerce store, or design agency, finding new customers and promoting your products or services is the ultimate goal of every marketer. Investing your efforts and time in launching a successful marketing campaign is a sensible idea to reach your target audience and grow your business.
Incorporating a well-organized marketing campaign into your business strategy can help marketers attract new customers to your brands. Running an effective marketing campaign requires planning, execution, the right tools, and a clear objective. When you have all these, you will accomplish more and enjoy more success.
If you are a marketer and thinking of launching a campaign for your upcoming product, it is important to know the right tool to keep your team organized. Trello is an intuitive project management tool that you can use for your next marketing campaign. It can help you keep your marketing campaign organized and every team member on the same page.
In this post, I'll highlight how to use Trello to make your marketing campaign a big hit. Here are some benefits of using Trello:
Trello is a project management tool that helps marketers establish a productive workflow to keep their team organized and on the right track.
It makes communication easier and simpler across the organization.
It offers a great framework that can be reused for your next campaign.
Trello, if used right for your marketing campaign, can help you achieve your leads and sales goals.
Create a Solid Plan
Once a great idea came to your mind, now is the time to create an actionable plan by using the Trello board. Make sure the idea perfectly matches your business goal and give your prospects what they want from your brand. However, if you are still in the process of ideation, you can use Trello's brainstorming and ideas board to get a killer idea for your marketing campaign.
A Trello board is comprised of four basic components:
Board
List
Cards
Menu
Let's check out the basic purpose of these components:

1) Board
Since you are working on your marketing campaign, a Trello board allows you to organize your tasks and collaborate with your team members to stay informed about the campaign updates.
2) Lists
This feature allows you to keep cards organized that can be used to track your ideas and campaign information. You can add as many lists as you can to the board. You can arrange the lists as per your preferences to create a campaign workflow.
A simple list alignment for a board is To Do, Doing, and Done. But Trello is a customizable tool that lets its users make tweaks as per their needs. Marketers can name lists as per their campaign and establish a workflow so that your marketing team can work best and fulfill their campaign goals.
3) Cards
The card is the fundamental component of a board that is used to represent your campaign idea or important tasks. It is used to describe a task that needs to be remembered. The interesting part is; you can customize cards and store useful information on them. Try to keep the title short so that you can easily scan and see the status. You can drag and drop cards and add as many cards as you want to the board.
You can add more information such as due dates, checklists, attachments, descriptions, checklists, comments.
4) Menu
The menu serves as a mission control center for your board that allows you to manage team members, control settings, filter cards, and use Power-Ups. Invite team members to your board so that you can assign tasks and collaborate with them. The menu activity feed allows you to see every single activity that is taking place on the board.
Create a Campaign Development Process
Developing a campaign development process is important to make your campaign a huge success. A survey suggests that 86% of employees and marketers think that lack of collaboration is the biggest reason for project failure. Thanks to the efficient Trello workflow that makes campaign collaboration easier with team members.
Trello offers complete transparency on the boards and activities that matter most to your team. Trello allows you to create groups and collaborate on boards.
All you need is to set up a team. A Trello team is the easiest way to group boards together and make collaboration easier with your team members. Trello enables you to make boards visible to team members and allow them to comment. You can also invite other team members to join your team. By clicking on the + button present on the top right corner of the Trello website, you will see the option of "create team."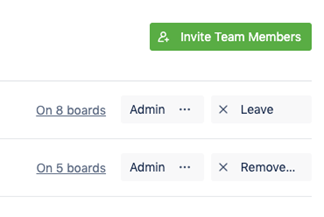 Your team page shows all the boards for your campaigns that are visible to your team members. Collections is an amazing option for marketers that allows them to sort. Collections can be easily be organized by groups of teams working on shared boards.
You can assign one or more team members to each card in your campaign. You can assign multiple members to each card. Besides creating boards for your individual campaign, you can specifically create a Marketing Team board. You can use it to assign different roles and responsibilities to your team members.
One of the best things about using Trello is its transparency. The real-time synchronization promotes transparency across teams. You can share the status of the task and get instant feedback by inviting team members of other departments.
Trello is a great collaborative tool that can share what initiatives your team is taking with other team members so that everyone stays on the same page. It will help you gain engagement and increase transparency.
Create a Campaign Workflow
Once you have a great idea, your goals are identified, and resources are decided, it's time to create the campaign workflow. Your campaign can easily be managed by following these easy steps:
List down all of the tasks you need to launch the campaign by using cards.
Assign team members to each card that is responsible for completing the task.
Provide important information and attach reference files that will be helpful for your team members.
Assign due dates to each card so that your team members know when the task needs to be completed.
Trello allows you to use your preferred file management system, such as Google Drive, Dropbox, and OneDrive, and attach links to your files instead of uploading your documents to Trello.
Campaign Development Steps
When it comes to creating a campaign workflow, obviously, you want to get every team member on the same track with the common goal.
You will find a Start Here option, in which you can describe how to use this board, campaign summary, inspiration, and goals.
You will also find the Blocked list that allows team members to place cards that they find difficult and could not complete. Adding these tasks in front of all the responsible members can brighten the chances to get a quicker and faster solution.
You can also create a Needs Approval list that can be added to get the campaign manager's final approval. All you need is to add the manager onto the card, so he/she is notified that the task needs his/her approval.
A Launched Final Assets is a list where you can add all the products and materials that are completed and ready to launch. It organizes all your files in one place, which you can use for reporting.
How Trello Fosters Transparency and Collaboration?
By adding certain elements, you can maintain a high level of transparency and increase collaboration within a team. Here is the list of key elements that are important for your campaign organization.
Labels
Labels can be used to sort cards by type of campaign deliverable, such as social media, content, newsletter, paid marketing, and much more. The best part is they are customizable.
Checklists
You can divide the cards into more detailed tasks, making it a bit easier to track each task's progress. Furthermore, you will see a summary of checklist progress on the front of the card.
Power-Ups
Trello offers many customized tools and apps that you will need to boost your marketing efforts. Power-Ups include many interesting features, including:
Advanced search
Approvals for Trello
Card Mirror
Daily Updates
Time tracking and reporting
Wishlist
Voting
Slack
Proto.io
You can integrate different apps and platforms and customize the campaign workflow as per your campaign requirements.
Time to start your marketing campaign with Trello
Okay, now you know all the important steps required to run a stellar marketing campaign on Trello, it's your turn to come up with a marketing campaign objective and start using Trello. When you know how your team can develop, execute and track a marketing campaign, you will be able to launch a result-driven marketing campaign for your business. Stay organized and focused with Trello, and you will achieve your conversions and sales goals.