Asana is an online project management software for teams. As companies deal with a more fast-paced disruptive business landscape, teams are in need of better tools to help them achieve their projects and objectives. They need tools that are intuitive, effective, and insightful, so that they can spend more time on their real work. This June 2019, Asana introduced several new features, such as Workload to view team capacity, a new Admin Console for managing accounts better, a new course for marketers, and more. For a powerful reporting and exporting tool for Asana, give our own tool Bridge24 for Asana a try.
Workload – View Your Team's Capacity
Asana provides the right tools to people, so they can propel their projects and their organizations to success. By the same token, it recently launched Workload that allows Business and Enterprise users to have a centralized view of their team's capacity. Through a visual capacity trendline, it gives them an overview of how each member is assigned across projects. Based on task count, the graph can show how much work a team member is taking. From there, users can determine if one is working on too much, or too little. Workload makes it easier for project managers to plan and rebalance work.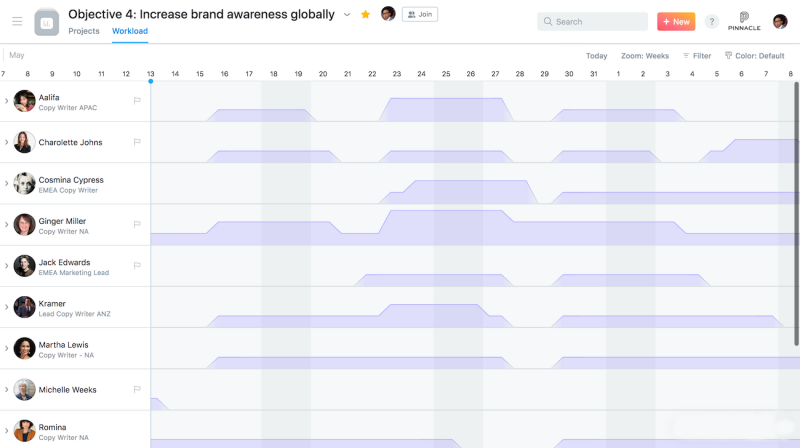 Workload Use Cases
Creative teams can use Workload to determine their capacity for new requests. Marketing teams can get a real-time view of who is working on which top initiative, and celebrate standout work. Business operations teams are able to see if they have enough headcount to support more initiatives. Additionally, an updated Workload now includes effort functionality. Therefore, users can set a weight to their tasks, such as hours or points, to understand exactly how much work each member has on their plate.
Organization Admin Console Update
Asana also updated their Admin Console to provide software administrators a more powerful tool to manage the team's account. The Console now has an Insights tab where admins can see daily data on teams and individuals using the PM software the most. Together with this, they can also see project and task activity over time. Thus, admins can easily identify and connect with power users and share recommendations and best practices in using the software.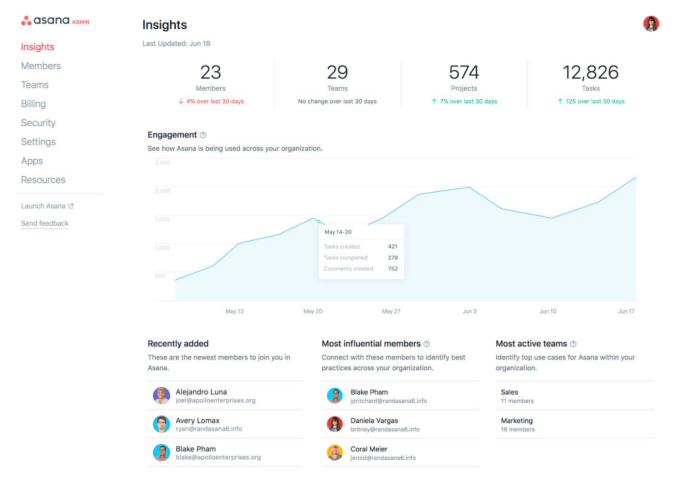 Simplified User Management
The update on the Admin Console also includes a simplified member provisioning. The Members tab shows an accurate count of registered members, pending invites, and guest users. It also has provisioning controls, so admins can add and remove users. Therefore, the right users can continue to access work in Asana, while individuals who no longer work at the company are removed. The full screen Console can help users visualize information quickly about the company's organization and provide full control over the members.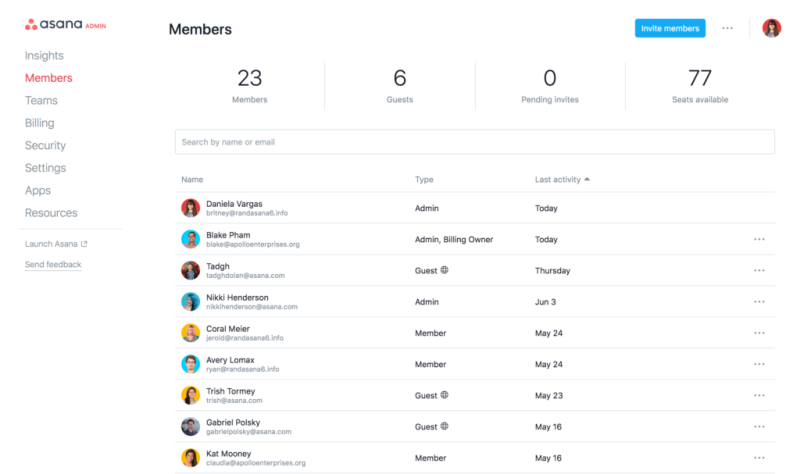 Manage Apps, Integrations and Resources
It is easier to manage apps and integrations with the new Console. The Apps tab highlights the different connections to the team's existing tools. In this case, it is easy to discover new integrations to simplify work management. A new Resources tab enables admins to access training and other resources, so they can help users learn how to use the PM software. All Premium, Business and Enterprise users now have access to the updated Admin Console.
New Asana Academy Course
Asana Academy is a resource site where users can learn the best ways to use Asana. The in-depth online video courses cover from learning the basics to mastering the premium features. A new course for marketers became available coinciding with the June 2019 release. Introduction to Asana Marketing is a 15-minute course that includes 2 units with a 5- to 10-minute video each. It is for marketing and creative teams, where they can learn to identify pain points in their current marketing process and workflows. Also, they will be able to determine where Asana can simplify and speed up their marketing work.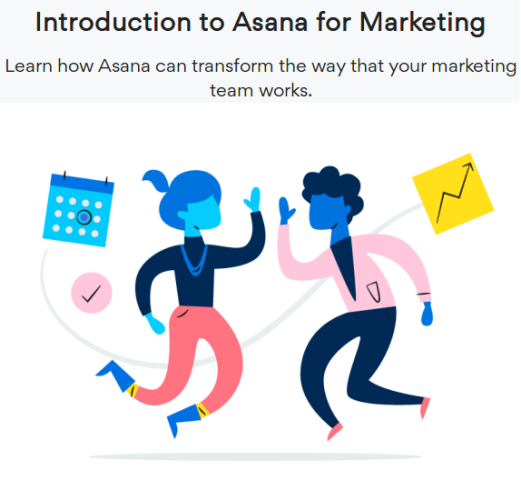 Other Features
In this June 2019 release, search has been improved by identifying and reducing loads on the search infrastructure. Also, more help is now available for new users. The project structure tour gives the guidance when users first set up their project. The tour now gives real-time feedback, allowing them to better understand Asana the moment they start using it. Based on forum comments, users are really excited to use the new features and enroll in the course. For more information about the latest release, new features, and other announcements, visit also their Twitter or Facebook page.