Asana project tracking software enables teams, departments, and companies to track and manage all kinds of work. They rely on the application to help them track the stage of a project, the priority level of a ticket, or the cost of a product. When custom fields became available in 2016, customers were able to track different types of work specific to their organization. Just recently, Asana has updated their custom fields feature and made it even more flexible. For a powerful reporting and exporting tool for Asana, give our own tool Bridge24 for Asana a try.
Custom Fields = Track Anything
Custom fields allow users to add additional data to tasks in their Asana projects. These special, customizable containers make it possible to track almost anything across tasks and projects. For example, teams can create fields for work stage to help them track how work is progressing. They can create fields for priority level to help them see the importance or urgency of a ticket or request. A custom field for distribution channel allows users to improve their product or service delivery. Custom fields can also act as filters for work, providing information at-a-glance on where a task, a project, or a portfolio currently stands.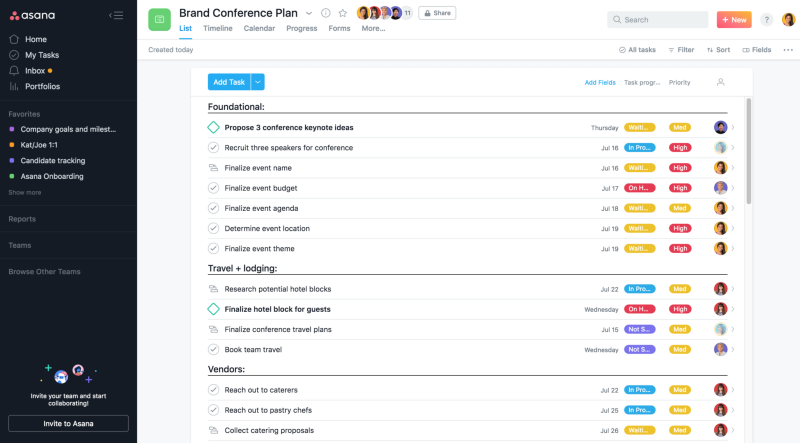 The Updated Custom Fields
Asana recently announced that users on Premium, Business and Enterprise plans can add custom fields for a single project or portfolio. This is in addition to its ability to track across the entire organization. When adding custom fields, they now have the option to add it to the organization's library or not. Adding it to the library makes the custom field reusable and accessible to anyone. Not adding it makes the custom field available only to a specific project or portfolio. This setting is applicable mostly for one-off use cases.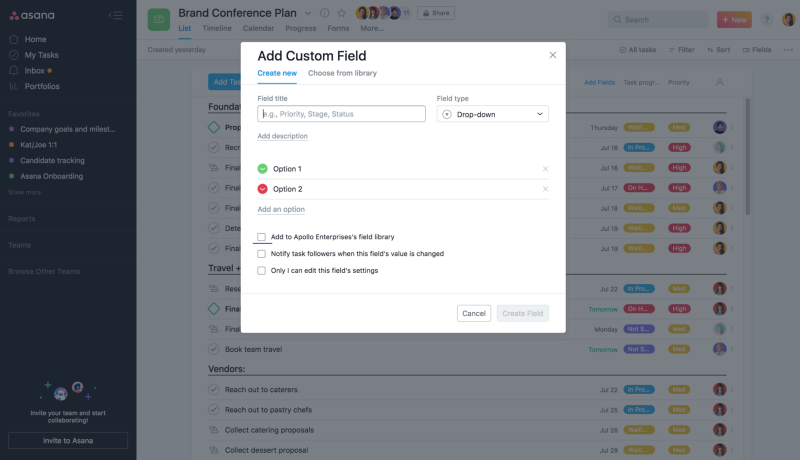 However, for custom fields that are broadly relevant to general use cases, such as priority, budget, or hours, they are better added to the organization's library. In the future, custom fields can be used to track team effort on tasks in Workload.
Adding a Custom Field
Users can add a custom field by clicking the Fields button at the top right area of the project page. On the context menu, choose to '+ Add field." To make it accessible to anyone, check the box that adds it to the organization's library. To make it available only for the specific project or portfolio, leave the box unchecked. Adding a custom field to a portfolio follows the same procedure.
Field Types and Limitations
Asana custom field types can be a drop-down, a number, or a text. With a drop-down custom field, the additional options are the drop-down items. Also, it can only have up to 50 options/items. With a number custom field, the additional options are the decimal places. At the moment, it is only possible to have 20 fields in a single project. Moreover, up to 5 custom fields only can be visible in the task list at any one time.
Viewing, Filtering, Sorting, and Advanced Search
After adding custom fields successfully, they will now appear across project views and in the task details pane. Users can search, sort, and filter work using a custom field as the basis. With a list layout view, they can filter their projects by one of the custom fields, and then sort the results by another field. They can also use the Advanced Search to find a particular work across the organization, filter it by a custom field, and then save the search as a report.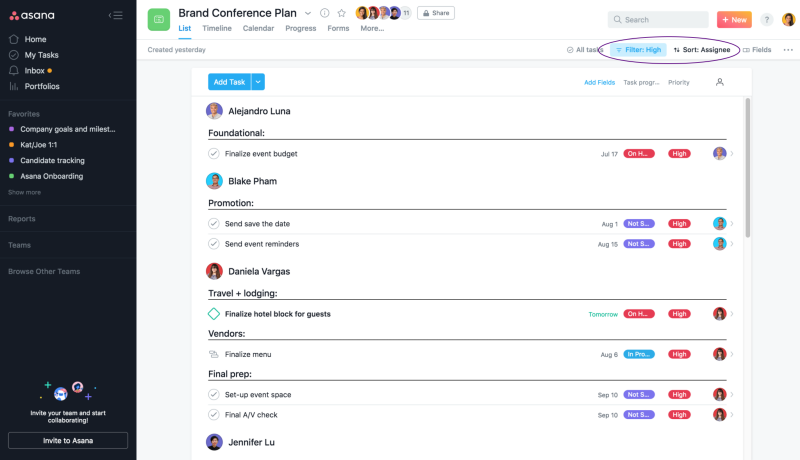 Making it easy
Asana custom fields make it easy for users to identify and track work details that are most critical for their business and team. With custom fields, they have clarity on work, whether happening on a single project, or across the their organization. To know more about the updated custom fields, new features, and latest releases, follow Asana also on Twitter or Facebook.