Asana is helping Organization Administrators as it announced new security features. Admins can now enforce stronger password requirements for members. Apparently, poor or weak passwords are the cause of two out of three data breaches. This is according to a recent report that investigated business data breaches. Moreover, Admins can now force a company-wide password reset in case of emergency or to further ensure security. These new features are available to organization admins in Premium accounts.
New Password Strength Controls
Asana is providing its users more options for their password standards. Admins can set an organization's standard to "simple". Accordingly, this will require users to create passwords that are 6 characters long. "Strong" passwords should be at least 8 characters from at least 3 of the following types:
lowercase
uppercase
numbers
symbols (!@#&)
Furthermore, users can choose to log in via Google SSO or via SAML, if the organization has its own system to manage identities of its members.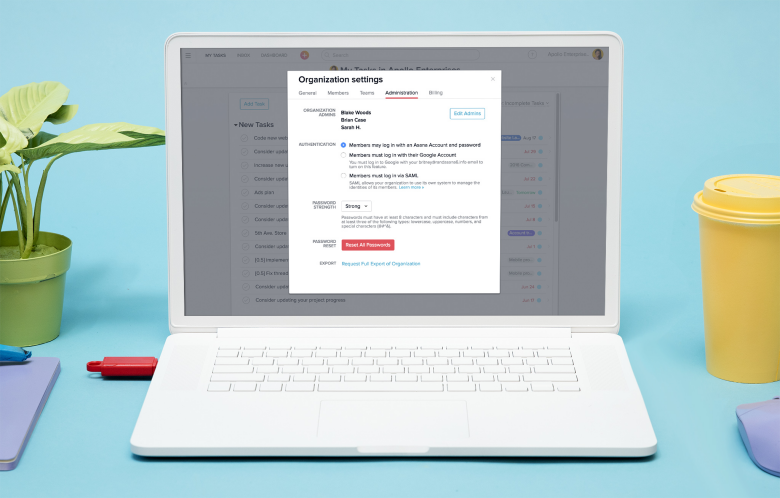 When to Use Password Strength Requirements
Enabling stronger passwords for the organization will trigger Asana to help members create a strong password. This will happen when they decide to change their password. In addition, users can also create a password that specifically meets strength requirements. This ensures that company-wide login is secure.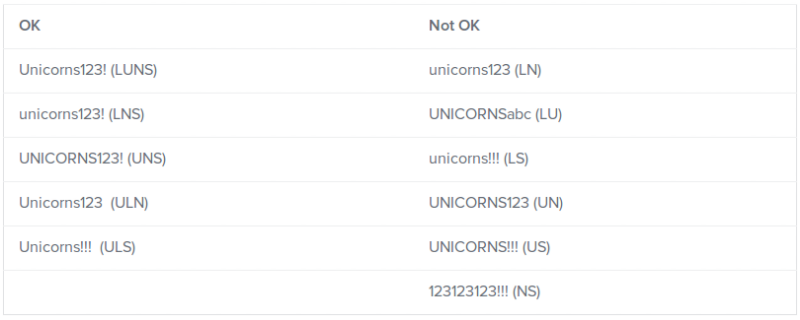 When to Reset All Passwords
Using the Reset All Passwords is one way to ensure that the whole organization is implementing strong passwords. This feature allows admins to reset all passwords of the organization in one click. This may be necessary in case passwords are compromised. For example, a team member may accidentally disclose their Asana login to an external or unauthorized person. Admins can click the red Reset All button. A confirmation will pop up before initiating the reset. After the reset, each member will get an email from Asana. They can click the unique login link which will enable them to reset their password. This feature will probably be used only once in a while. However, it is a quick and effective way to reset all passwords for precautionary measure.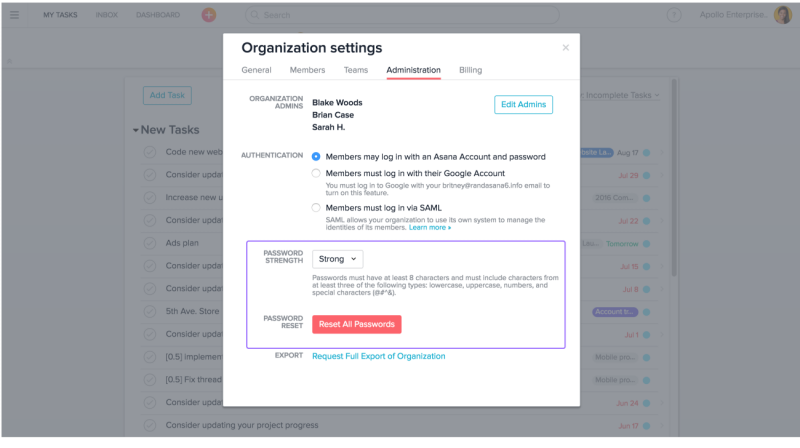 How to Use Password Controls
Organizational administrators in Premium accounts can enable these new password and security controls easily. They should go to their profile picture in the top right corner of the screen and click it. Next, they should click their domain Settings. A window will appear and they should select the Administration tab. They can toggle between Simple or Strong options for Password strength, and then click Save after they have chosen. Clicking the red Reset All Passwords will display a window asking for confirmation. Confirming will initiate the organization-wide reset, including administrator passwords.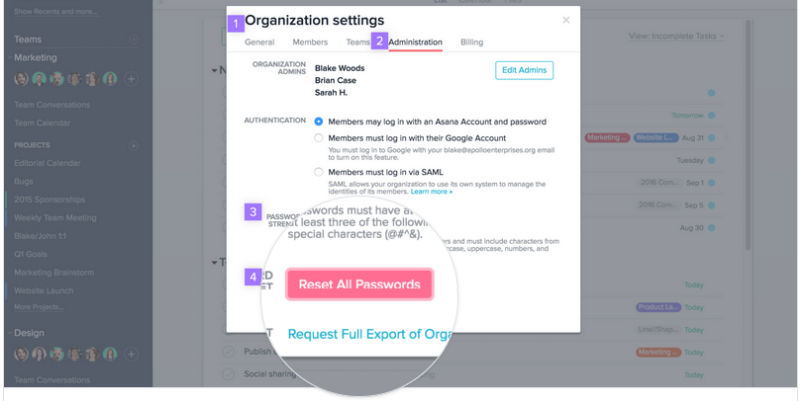 Asana team productivity software continues to provide Admins with specific features. Overall, this focus on security features helps teams to manage and store their data in a more organized and secure way. Learn about the latest news and updates by visiting them on Twitter, Facebook, LinkedIn or YouTube.