Asana collaborative project management makes it easy to plan a project and track its progress from start to finish. With different tools and views available, users are able to add tasks, organize them, and enable the rest of the team know who is working on what, by when, and in which order. Timeline became available this March of 2018 to enable teams better map out their project plan and see how it fits together. It also allowed them to share those plans, and adjust it easily as needed. Thus, they are able to keep their work on track and successfully reach their goals. Now, a new feature called Sections is slowly going out to Premium customers. For a powerful reporting and exporting tool for Asana, give our own tool Bridge24 for Asana a try.
Asana Timeline and improvements
After introducing Timeline early this year, an improvement about 3 months later allowed users to draw dependencies between tasks. Therefore, not only are they able to map out their plans better, they can also connect work as they create their plan. They are able to spot timing conflicts and make the adjustments quickly, before issues arise. Also, team members know when they can start their tasks, as soon as dependent work is completed.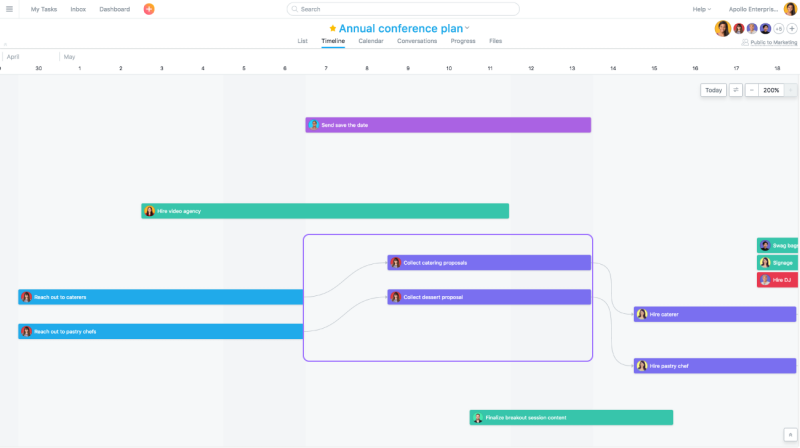 Timeline now has Sections
Asana is once again adding an improvement to Timeline. This time, the new Sections feature allows users to add another level of categorization to their project plan. It brings another way to view work. Teams can share their plans with more visual indicators of task types. With more information available, they can better adapt their plan to priorities and resources available, while knowing the particular groupings of their tasks. With the new Sections, they have another way to view their Timeline, in addition to viewing it with sorted by date.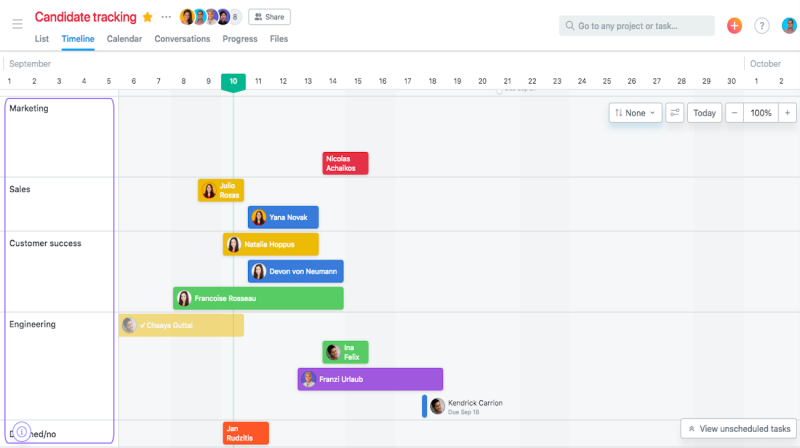 Sort tasks by date
Users can also view their project plans in Timeline with tasks sorted by date. Do this in just a few steps. First, (1) click the 'Sort by' icon on the upper left area of the window. Next, (2) select the type of sorting, either by 'Start Date' or 'Due Date' from the popup menu. Finally, (3) click 'Save View for Everyone' at the bottom of the menu.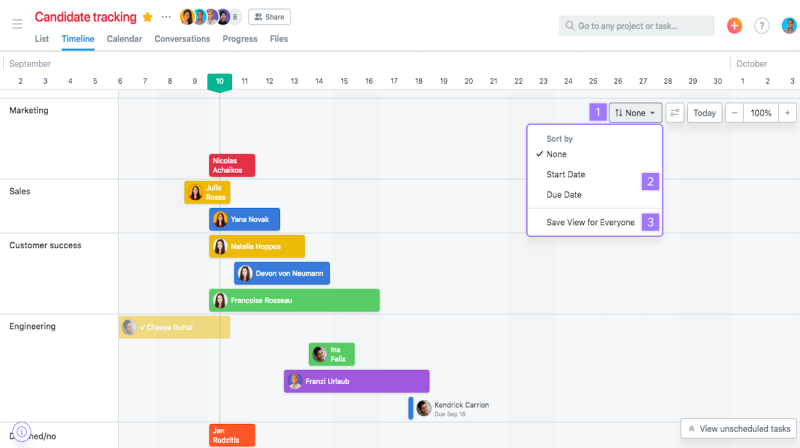 Other Timeline Section details
It is important to know that Sections is slowly being rolled out to Premium customers, so not everyone will immediately get this functionality. Also, when a user sorts tasks by date in Timeline, the project Sections will disappear. It cannot be both at the same time. To navigate back and display the project's Sections, they should click the 'Sort by' icon, and select 'None'. It is also not yet possible to view Sections on the Timeline of board projects. Those who received the Sections feature earlier but do not want to adjust their plans with this improvement were given the option to revert their Timeline view to without Sections. However, the deadline to choose this option expired last October 24.
Plan your Projects, View your Work, Your Way
Asana Timeline enables teams to create project plans in more ways that will help them stay on schedule. It is a project view that works best as teams begin to add start dates, due dates, and dependencies. It is ideal to use with campaign management projects, product launches, event planning, or sprint planning. To learn more about new features for Premium customers, and other product announcements, visit Asana also on Facebook, Twitter, LinkedIn, or YouTube.