Asana project management software makes it easier for people to be more productive. Every feature can be used to simplify or streamline processes that require more time and effort. Teams are able to communicate and collaborate more effectively. So, work proceeds more smoothly and accurately, allowing team members to do it right the first time. These past weeks, they released new exciting features. They are rolling out a new voice recognition for iOS and a Rules feature for automation. For a powerful reporting and exporting tool for Asana, give our own tool Bridge24 for Asana a try.
Introducing Voice Recognition for iOS
In the last week of September, Asana announced a new voice recognition feature available for the iOS platform. Users can now create a task by recording a voice message. When you use its mobile app, you will see a microphone icon together with the other Asana icons (calendar, image, paperclip, etc.). You can make a dictation, and the VR feature will transcribe it and save it as a task description.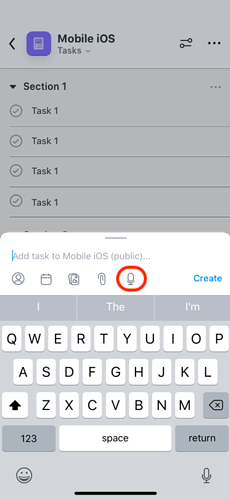 Some possible use cases for this is if you need to quickly create tasks on the go. It can also be useful if you need to add a long description to your task. For now, transcription capabilities are limited to the language configured on your iOS device. Therefore, this feature may not be available in all languages.
iOS Dictation vs Asana
Some users are asking how is this different from the iOS voice dictation button. You can see its icon at the bottom right of the screen, below the keyboard. Apparently, when you use the iOS dictation, it will put your dictation as the name of the task.
In contrast, Asana voice recognition will put your dictation as text in the task's Description field. It will then get the first 37 characters of your dictation and use it as the name of the task. Also, the VR feature will attach the recording as an audio file attachment to the task. This new feature is also different from the Siri integration introduced in 2017.
Rules Feature Roll-out
Asana also launched a new Rules feature that is slowly being rolled out to Premium, Business and Enterprise account users. The Rules feature can streamline routine tasks and help users establish workflows easily. They are applicable to projects and will automate manual actions on tasks. You cannot apply Rules on My Tasks, at least not yet.

How to create a Rule
You can create a Rule for your project in two ways. When you click the Rules icon on your toolbar, select Add rule. You will see the Gallery screen where you can pick a preset Rule that already has a trigger and action set. You can complete the parameters needed, such as supplying the particular column or the particular assignee.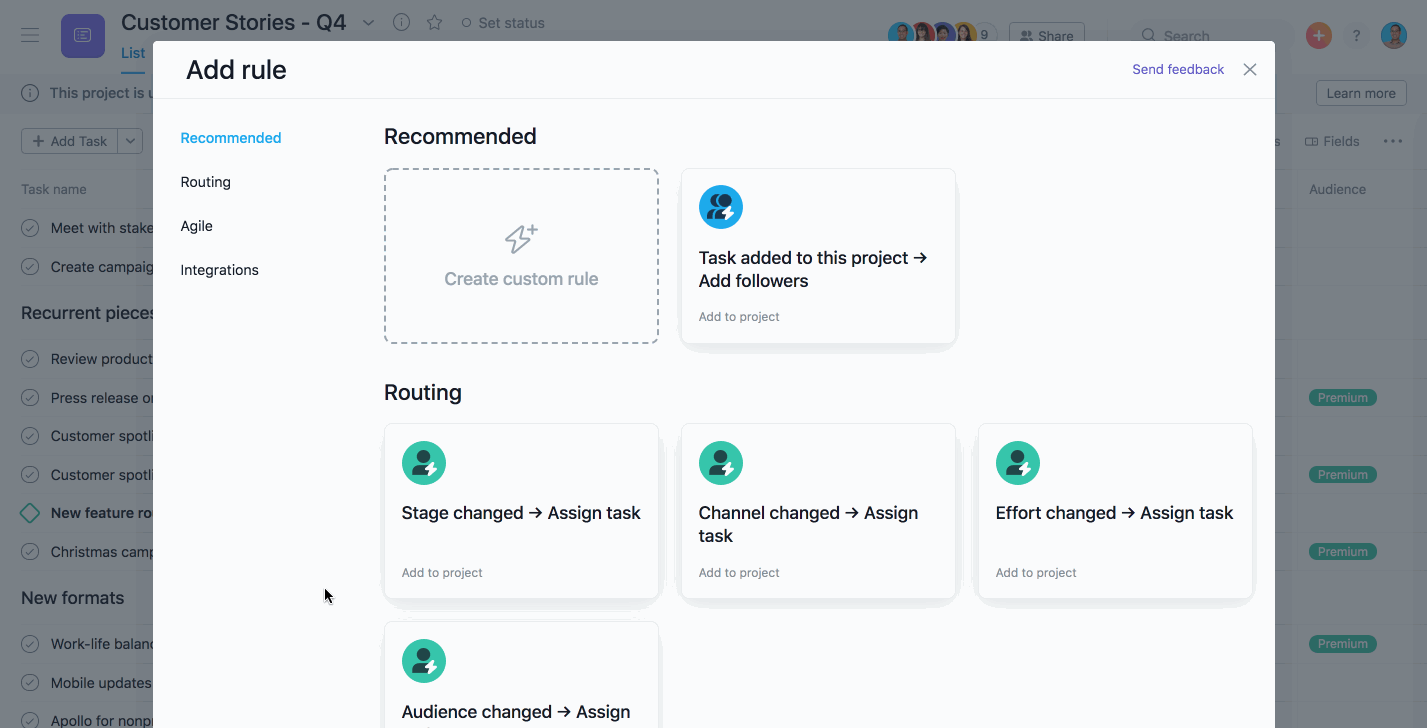 Another way to create a rule is through the Custom Rule builder. When you click the Rules icon > Add rule option, choose Create custom rule. It is the first option in the Gallery. Here, you have access to a number of combinations of triggers and actions. To create a custom rule, (1) choose a name for your Rule. Then (2) choose a trigger, (3) then an action. When you are finished with your options, (4) click the Create rule button.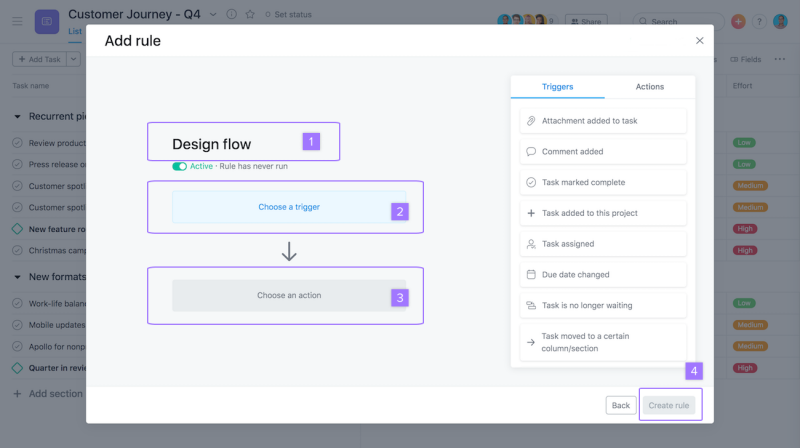 Other actions
Aside from creating Rules, users can also edit an existing one. Simply navigate back to the project, click the Rules icon, and then click the pencil icon next to the Rule you want to edit. You can also pause a Rule by clicking the pencil icon of the selected Rule, and sliding the toggle to change the status from Active to Paused. Finally, you can also delete a Rule through the same steps but clicking the Delete rule button at the lower left of the screen instead.
Rule types and limitations
Column- or Section-based triggers are for Boards view projects or those with collapsible sections. On the other hand, Custom Field Rules are available on all projects with Custom Fields.
Depending on your Asana account, you have access to particular triggers and action sets. If you're a Premium account user, you can use trigger-action pairs such as:
mark a task complete when a task is moved to a certain column/section
move a task to a certain column section after it is marked complete
mark a task complete when a custom field is changed
set a custom field after a task is marked complete
move a task to a certain column/section when a custom field is changed, or
set a custom field when a task is moved to a certain column/section.
For Business and Enterprise account users, they can mix and match a greater number of trigger and action choices, including due date changes, comments added, attachments added, assigning tasks, adding followers, and more.
More Rules details
Asana is slowly implementing the Rules feature to paid account users, so it will become available to more people as time goes. This automation feature will enable people to save time as they perform more tasks. Anyone can trigger a Rule, including Guests. Users can also trigger Rules on projects they do not have access to. And you can initiate triggers whether using the web app, mobile app, or integrations. For more information on new features and other company announcements, visit Asana also on their Twitter or Facebook page.