Overview Presentation

At its most fundamental level, Asana is an online task management system for teams. The tool allows you to write down an assignment that needs to be worked upon, assign it to someone in your team, give that individual a due date, and finally keep a track on the assignment. Productivity enthusiasts simply admire Asana, and for a good number of reasons. This web and mobile-based application specializes mainly in workflow management. It helps to get your team members align and get notifications on each and every stage of the project. It was launched in the year 2008 by co-founder of Facebook Dustin Moskovitz along with Justin Rosenstein, an ex-engineer at the social media giant. If you need add-ons for asana, we are offering Bridge24 for Asana.
Features, Benefits and Product Strengths
Transparent Inbox: The inbox of Asana has been designed not only to hold tasks, but also to keep them. In reality, if you keep them in the inbox, it becomes far more transparent compared to a normal email inbox. Since comments and notes are updated by members in the team, it gives everyone a clear perspective on the state of the task.
Worskpaces: The workspace in Asana allows you to group projects based on their categories or other factors. For instance, if you have a business, your workspaces can be labeled as marketing or sales. These workspaces will hold projects associated to marketing and sales in your business. For your personal life, you can include Hobby or Travel Workspaces that contain relevant projects.
Projects and Tasks: The Project area is where your entire tasks are grouped, listed, prioritized and tagged. The Tasks section has specific information about a particular task like tagging, due dates, responsibility assignment, sub-tasks, comments, notes and much more.

Pricing
The basic version of Asana is completely free and can accommodate up to 15 team members. If you choose to upgrade to Asana Premium, you'll be upgrading your Team, Organization and Workspace, and not your individual account. The premium version stands at $8.33 per member per month and is billed annually.

Social Network Presence
Target Market
Asana is mainly used by companies who offer their products and services online. Teams use the tools for almost anything-from tracking their latest initiative to building a meeting agenda, brainstorming ideas and recording goals. It's basically used by companies who want to customize their workflow.

Supported Languages
At this moment, Asana is available only in English.
Some of Their Clients
Some of the big names that use Asana include Dropbox, Pinterest, Ideo, NASA, Airbnb, Mail Chimp, BBC Worldwide and Uber.
Testimonials
"I absolutely love the user interface – it's pretty seamless across mobile, tablet and desktop. It's pretty intuitive to the average non PMP-certified person."-Steve R, Executive Sponsor in Marketing and Advertising
"Asana sort of forces a task management paradigm on your company."-Erich R-Cofounder at CirrusCPQ
"I love the ability to organize projects and check tasks of the to-do list. My internal marketing department recently completely a website migration project by using Asana."-Alessandro C, Marketing and Advertising
Why Asana?
Asana helps you to manage multiple tasks, sub-tasks and projects. It eradicates the use of email for corresponding with your team. The tool allows you to prioritize tasks easily by moving their positions, checking the tasks class and revising due dates. To sum up, Asana makes your life super easy and convenient.
Company Info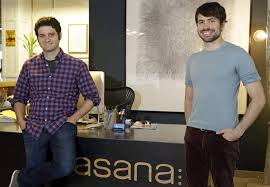 Justin Rosenstein and Dustin Moskoviz started their own business after quitting Facebook in 2008. They named it Asana after realizing that technology could assist every organization reach their goals. Currently, they have a team of over 200 experts spread across three offices in Dublin, NYC and SF. Their investors include Benchmark Capital, Founders Fund, Peter Thiel and Andreessen Horowitz.
This slideshow requires JavaScript.
Here is a short video on how Asana can help you and your team to make the task of working on projects easier and effective.